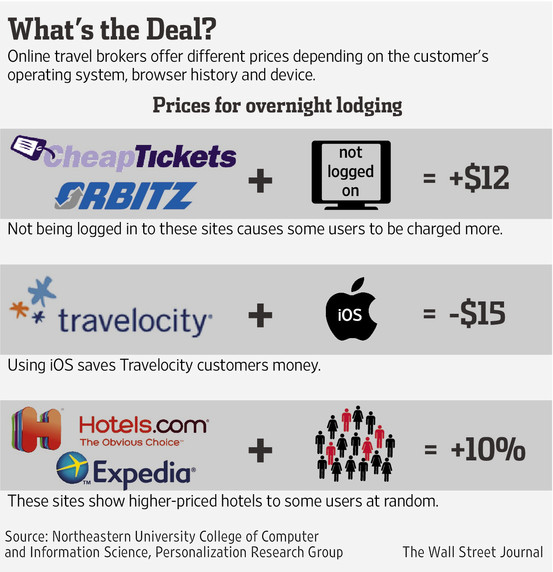 In a world of high speed news, global information, instant communication, data, algorithms, and cookies, we tend to stay on our own side of the screen and trust that things are handled appropriately. 
In this digital age, we also have instant shopping and when making purchases online, one would like to think that businesses conduct themselves with transparency and fairness, especially online business that take our money. Because how would we know if something was slightly off?
Recently a few observant online shoppers who lived only a few miles apart discovered they were being sold the same thing but at different prices by Staples. And that raised all kinds of questions.
Are shoppers somehow profiled or targeted? Why would the same item ordered at the same time cost different amounts? How is the price difference determined? What technical methods and data are being utilized to determine pricing? We all know algorithms are used to form marketing and advertising campaigns, but should consumers be made aware that they can expect to pay widely differing prices based on certain individual factors and their personal Internet habits?
The Computer Information Sciences Department at Northeastern University decided to conduct a study to answer these and other questions. Using the crowd-sourcing site Amazon Turk, they recruited 300 people to create hundreds of fake accounts to run product searches and gather data on 16 sites including 10 major e-retailers such as Wal-Mart, Expedia, Home Depot and other hotel/rental car companies to determine if they use personalized pricing and if so, what are the triggers?
So, there actually is something called 'personalized pricing'. It sounds awfully benign, so we let's take a look at what it means, and more importantly, do you think it is okay?
Example: You book a hotel room online. You may not realize it, but with price steering and discrimination, you are likely to pay more if you happen to be viewing those hotel rooms from your Mac computer (and yes, they can tell). You will pay less if you logged in a member of the site, but if you happen to be booking that room from your Android phone, you are for sure going to pay more. At the same time, you will be offered many more options on the Android than if you are trying to compare hotels and book from your desktop PC. 
Why? Because companies are collecting a lot of data and using it to profile you and charge you more or less than your next door neighbor who is buying the same item at the same time. 
Personalized pricing is based on many things but all based on data that companies are collecting including your cookies, what browser you use, and even your geographic location.
One might argue that is a common practice in brick and mortar stores. However, consumers also have reasonable expectations about pricing and fairness and what they should find when they purchase anything online.
The expectation is based on the premise that businesses should operate with transparency and fairness. That means that when shopping online, consumers have the right to know and understand what is being offered in order to make decisions about where they shop and how they spend their money. Certainly w
hen consumers know what the discounts are or how the prices are levied, they then have an equal opportunity to spend a dollar there or somewhere else.
What's the deal? Don't use big data against us and then charge us one way or another without disclosing to us what you are doing.