Last week
Vínsula, Inc.
, a Seattle-based cybersecurity firm, released a free
ZeroLocker decryption tool
that brute forces the decryption key for the ZeroLocker file-encrypting ransomware. When we first
reported
on ZeroLocker, we discovered that the malware was uploading the generated decryption key to a web page that did not exist and thus the key was not saved anywhere for later retrieval. Vinsula's utility now allows those affected by ZeroLocker to brute force the decryption key from an encrypted file in a realistic time frame. Typically, brute forcing a decryption key is not realistic due to the length of time that is required. Vinsula was able to come up with a technique that can brute force this key on the user's computer typically within a day, but sometimes up to 5 weeks.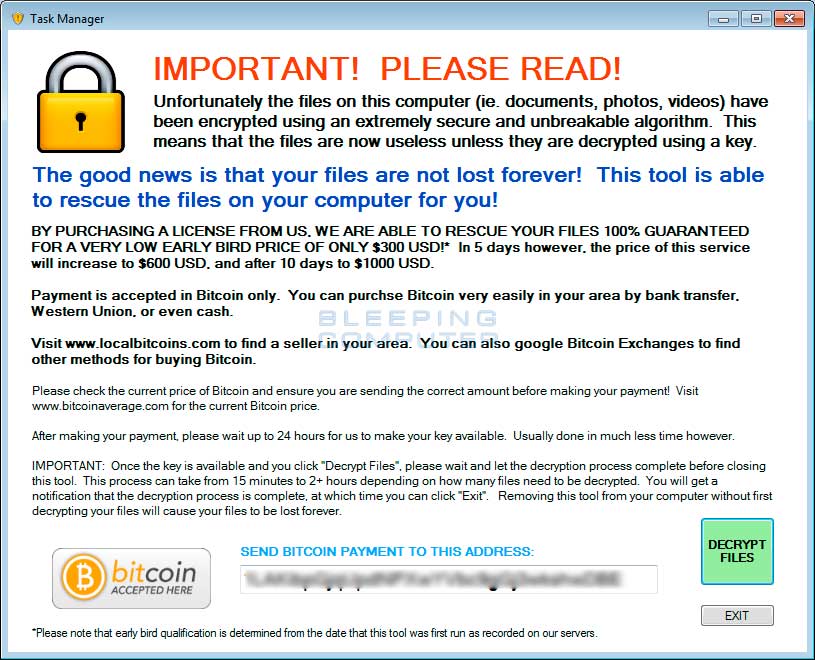 This is a huge gift for those who were infected with ZeroLocker as it was previously thought that their files were irretrievably lost. Now an affected user can follow the
instructions
on Visula's site and potentially decrypt their files and regain full access to them again. In order to use the
decryption tool
a user will need to have Microsoft Net Framework v4.0 installed and should run the tool on the fastest computer they own. The more CPUs a computer has the faster the tool will be able to brute force the decryption key.
If the data is time sensitive, then you can use a service like Amazon Web Services and rent c3.8xlarge Windows server. This will allow you to throw 32 virtual cores at the brute force task and significantly speed up the process. The only caveat to this is that it costs $1.68/hour to rent these servers.
As always if you have any questions regarding this process, please feel free to ask us and we will help as much as we can. A big thanks to Vinsula for releasing this free tool and reaching out to us to so that we can let our visitors know about it.