At the Windows Event today Microsoft officially announced that the next version of Windows will be Windows 10. Windows 10 is being designed to have a common feel across all devices, while still allowing traditional desktop keyboard users to have the Windows interface that they are familiar with. This includes bringing back a full featured Start Menu that also allows you to personalize it with Windows 8 style apps. Windows 10 is slated to be released in 2015, with a technical preview being available tomorrow as part of the new Windows Insider Program.
Windows 10 adapts to the devices customers are using from Xbox to PCs and phones to tablets and tiny gadgets and what theyre doing with a consistent, familiar and compatible experience, enabling even greater productivity. Windows 10 will run across the broadest range of devices ever from the Internet of Things to enterprise datacenters worldwide.
Some of the new features of Windows 10 are:
A
Unified App Store
that contains programs that can be run on any device that is running Windows 10. For Windows 10 a new programming platform will be released that will allow developers to create applications that will run on all devices using Windows 10. That means that if a developer creates an application for Windows Phone, it can still be able used on Surface tablets and Windows 10 desktops.
The
Start Menu
is back with the ability to embed Windows 8 style (Metro) apps. In addition to the traditional start menu look, you will now be able to personalize it to display Metro style applications, pin folders, and pin favorite applications. The Start Menu will also contain universal search that includes web search results.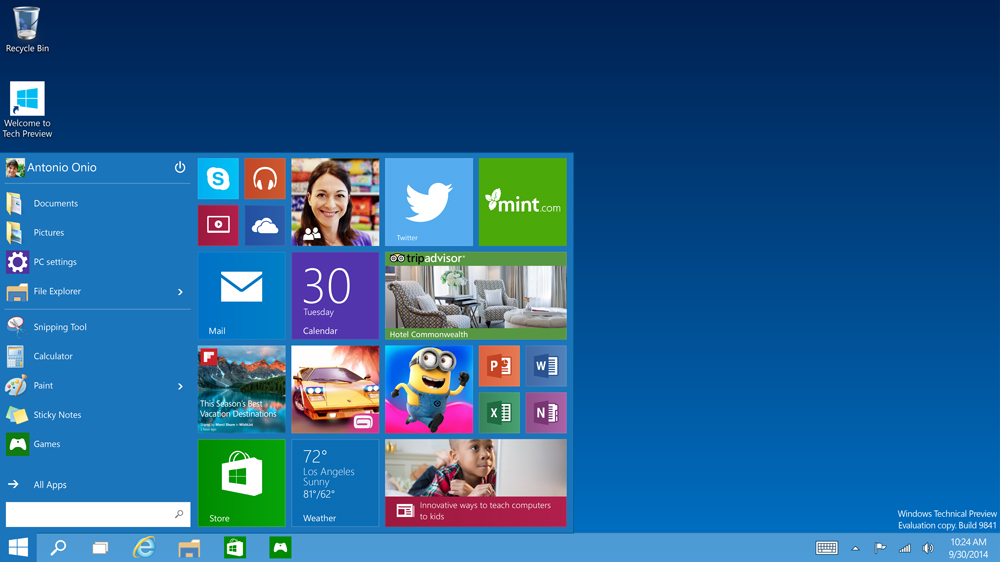 Windows 10 Start Menu
Virtual Desktops
allow you to create numerous desktops and assign specific applications that you wish to run on them. You can then switch between the various desktop as needed to access those particular programs.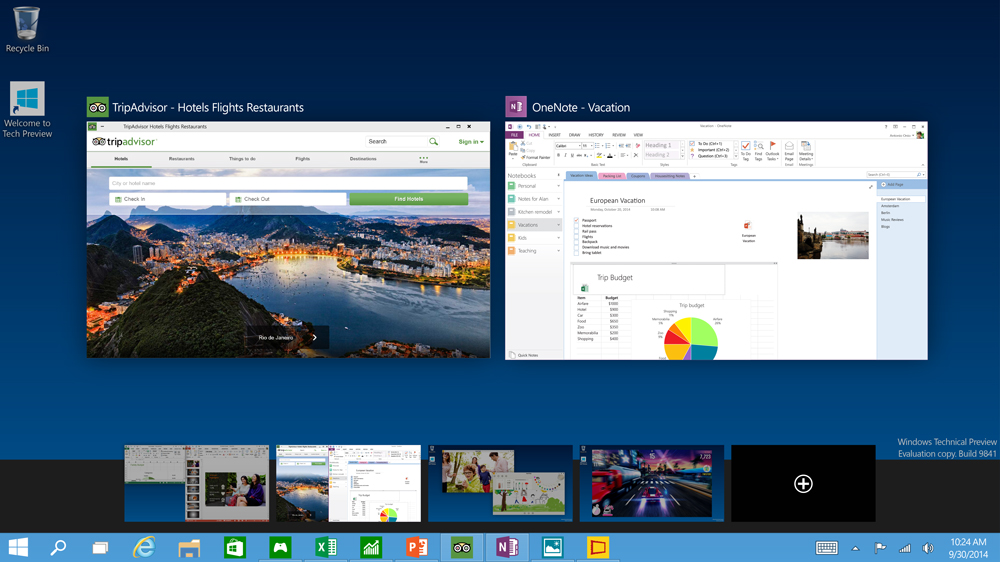 Virtual Desktops
Windows 10 also introduces the new
Task-View button
on the task bar to see all of your running apps and programs. From this view you can quickly find an open application, the virtual desktop it's running on, and switch to it.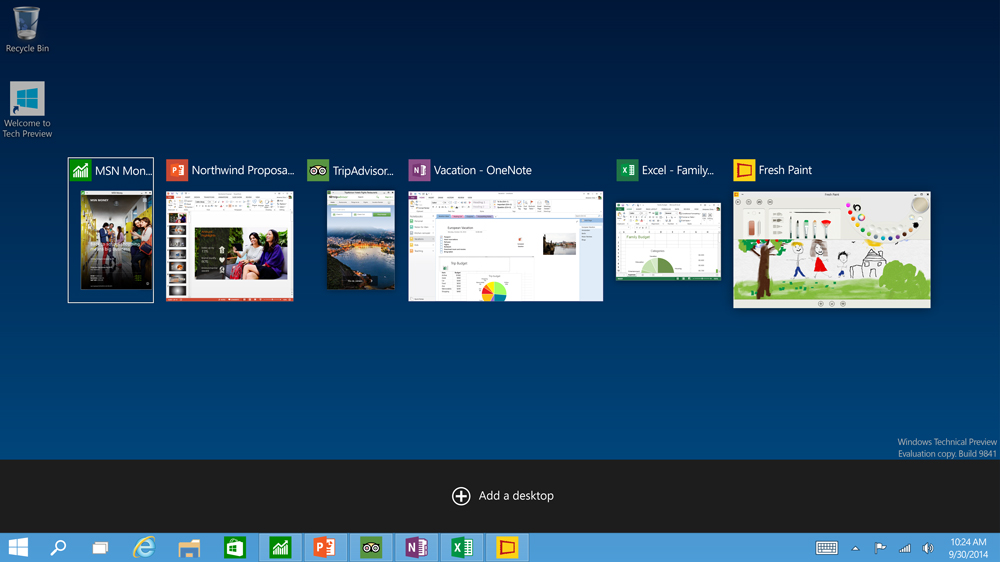 Task-View Button
Windows has added improvements to their
Snap
feature that will offer tips on what programs to fill the remaining space on your screen when you snap a program's window.
Windows Apps
now run within a Window like normal desktop programs. This means they can resized, moved around, have title bars, etc. This is a big benefit for those developers who design apps under the new unified app store platform. Now developers can create an app that works on all devices, but still feels like a Windows desktop application when run on a keyboard driven device such as a computer.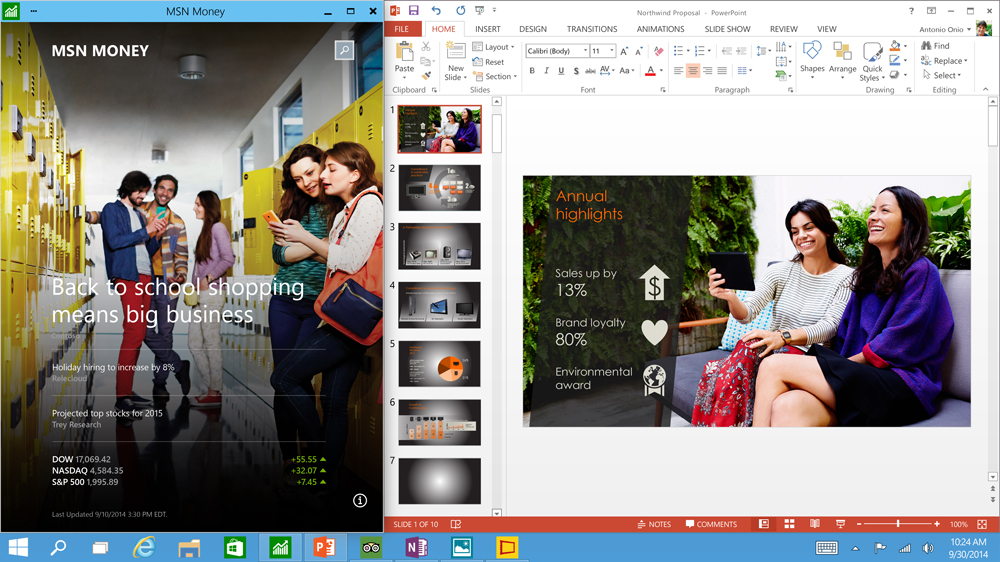 Windows App running in a Window
There will now be a
Touch and Keyboard mode
that allows you to switch between a Windows 8 like interface or the traditional desktop UI depending on whether you use a keyboard or touch. This allows Windows 10 to be usable across all platforms.
The
Charms Bar
is back for this release of Windows 10. They kept this in for users of touch screen devices.
The
Command Prompt
has been tweaked to make it easier to enter information. Now it is possible to copy and paste directly into the command prompt instead of enabling quick edit. This was a unexpected but welcome announcement for power users who work in the Command Prompt.
Tomorrow Microsoft will be launching the Windows Insider Program that is geared towards power users and technology gurus who want to learn more about the new version of Windows and test drive a preview. User's can sign up for the program and interact with peers and Microsoft product development staff on the current and upcoming features of Windows 10. The Windows Insider Program will contain a downloadable Windows 10 Technical Preview and a feedback app that allows you to report bugs and give feedback as you test it. The Windows Insider Program and the site to download the Windows 10 Technical Preview will be launched tomorrow at the following URL:
http://preview.microsoft.com//
If you are interested in Windows 10 and plan on installing the technical preview, feel free to discuss it in our dedicated
Windows 10 Forum
.