We are late on the announcement, but I still wanted to share the news about one of the companies we like here at BleepingComputer.com. On Monday, Emsisoft released
Emsisoft Internet Security
which combines both Emsisoft Anti-Malware and Emsisoft Online Armor into one product. Users of Emsisoft Internet Security now get the proven security of EAM, but also the protection of a built-in software firewall.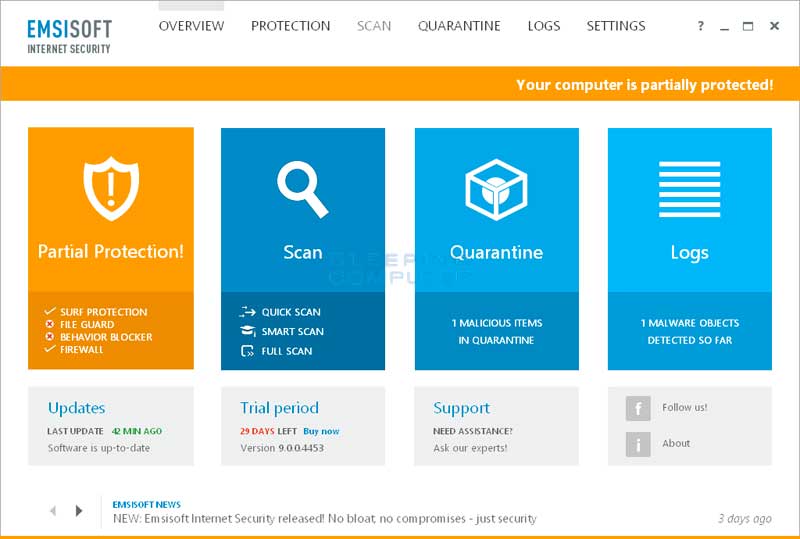 Instead of listing all of its features, which are better described in their
blog post
, I wanted to put it to a real life test against a new encrypting ransomware (2 days old) that I received a sample of yesterday that I have not had the chance to write about yet.
Once the free trial of Emsisoft Internet Security was installed and I started the free 30 day trial, I launched the installer for this malware. Emsisoft Internet Security quickly detected the launcher when I tried starting it and prevented it from running and encrypting my test files. It should be noted that Emsisoft Anti-Malware would have performed the same way as they share virus definitions.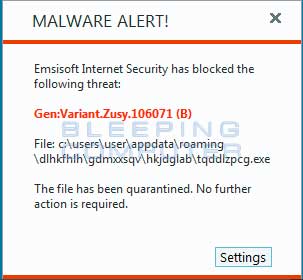 Checking on
virustotal
, this malware is only being detected by 18/54 AV programs, with Emsisoft being one of them. Among the list of AV vendors that did not detect the same are some pretty big and well known AV vendors.
For malware that creates outgoing connections and did not have a specific malware signature, I couldn't find one from the samples I used that did not get detected by the Behavior blocker protection. When testing the firewall it performed a good job blocking access to the computer from external connections and ports that were opened on the test box were not visible from other computers on the same network. For those who use laptops and are not behind a hardware router, this product will do a good job protecting your computer from remote intrusion.
Along with the release, Emsisoft is giving some deals on how you can get your hands on a copy:
Deal 1
Do you already have licenses for an Emsisoft Internet Security Pack?
Then exchange your Emsisoft Anti-Malware & Emsisoft Online Armor bundle licenses for a new Emsisoft Internet Security license free of charge!
License Exchange link:
https://helpdesk.emsisoft.com/Knowledgebase/Article/View/83/48/how-can-i-switch-from-emsisoft-internet-security-pack-to-emsisoft-internet-security-9
Deal 2
Affordable upgrade for Emsisoft Anti-Malware customers!
Customers may upgrade to Emsisoft Internet Security at any time, when renewing an existing license.
Upgrade Link:
http://www.emsisoft.com/en/order/renew/
Deal 3
20% off for new customers!
You can purchase Emsisoft Internet Security for the introductory price of US$ 39.95 instead of US$ 49.95 until the end of September 2014. This equals a discount of about 20%!
New Customer Link:
http://www.emsisoft.com/en/order/software/#eis
It should be noted that BleepingComputer
is not
earning a commission from any of the deals above. We just like Emsisoft and their products!