Warnings and Screens - startup and shutdown - problem solved (in MY case). Now what caused it?
I had a problem, temporarily, hopefully, permanently solved, in Ubuntu 14.04.1 Trusty Tahr, with my bootup and shutdown displaying warnings, which I can detail if anyone is interested.
I am a newbie to Linux, very much so, coming from Windows 7 Home Premium environment. My Acer Aspire Z5761 All-in-One shipped to me in late September 2012 with (amongst other packages and components) an nVidia GeForce GT 420 (up to 4GB) graphics package, and also a 23" touchscreen from Acer.
I am at this moment using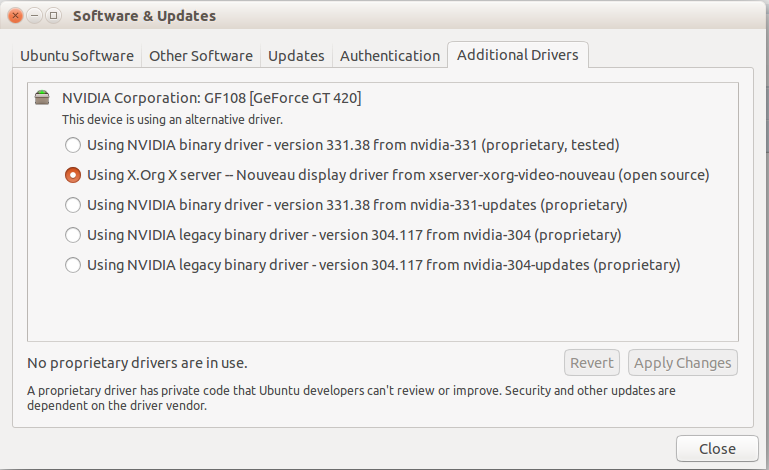 Suffice it to say, for now, that I am using Nouveau driver instead of my own nVidia.
In my preliminary inquiries, I was told that the Nouveax display driver is an nVidia driver, although it may not be the ideal one for my computer.
Close, but no cigar, as you can see below. I am, however, eternally grateful for the input, gimme more!! Everyone I have "met" here (in BC) has been so friendly, and knowledgeable.
My research last few days reveals as follows:
searches reveal:

"This driver for the X.Org X server (see xserver-xorg for a further description) provides support for NVIDIA Riva, TNT, GeForce, and Quadro cards."
source - http://packages.ubuntu.com/lucid/xserver-xorg-video-nouveau
NB reference to Lucid Lynx 10.04 LTS may date this back as far as 29th April 2010
The Lucid reference above says, amongst other things:
"This package is built from the FreeDesktop.org xf86-video-nouveau driver."
Further searches reveal -
at http://www.freedesktop.org/wiki/ "freedesktop.org is open source / open discussion software projects working on interoperability and shared technology for X Window System desktops. The most famous X desktops are GNOME and KDE, but developers working on any Linux/UNIX GUI technology are welcome to participate." AND

"freedesktop.org is building a base platform for desktop software on Linux and UNIX. The elements of this platform have become the backend for higher-level application-visible APIs such as Qt, GTK+, XUL, VCL, WINE, GNOME, and KDE. The base platform is both software and specifications."

at http://en.wikipedia.org/wiki/Nouveau_%28software%29 , of interest is "nouveau (/nuːˈvoʊ/) is a free and open-source graphics device driver for Nvidia video cards as well as for the Tegra family of SoCs written by independent software engineers, with minor help from Nvidia employees."

Somewhat contra to that above comment, it goes on to say, under History, "As of 31 January 2014, Nvidia's Alexandre Courbot committed an extensive patch set which add initial support for the GK20A (Tegra K1) to nouveau.[22]".

In the footnotes/references section at the bottom of the article, item [30] refers to benchmarking tests conducted by Phoronix, and the article is found at

http://www.phoronix.com/scan.php?page=article&item=nvidia_nouveau_linux316&num=1 published as recently as 28th July just passed. It is 5 pages, but most of that graphical comparisons, but may be of considerable interest to Mega Gamers.
DISCLAIMER – I have not checked yet with the X.org Foundation themselves, nor with nVidia themselves, about the problems I have been experiencing. I will do so imminently, and if interest is expressed in this Topic, I will detail the results.
Likewise, for ALL those, whatever your Linux distribution, whom have experienced problems coming from a Windows environment to Linux, and are experiencing problems with nVidia driver replacement or substitution in the "new" (yeah, yeah, I know it has been around for over 20 years, lol) Linux world, give me your thoughts and experiences.
BTW - I am NOT a Gamer - reflexes are probably too slow, nowadays, so high-end graphics are not a worry to me. As long as my desktop wallpaper looks pretty (awesome) and the refresh rate on screens is acceptable, I figure if it ain't broke, don't fix it, lol.
Cheers for now, hope to swap info with you
Wizard
Edited by wizardfromoz, 04 September 2014 - 12:33 AM.