Note:Sorry If I seem scatter brained, my network is doing so many weird things. Some of these problems are old and I just havent figured out...and now I have brand new interests thanks to google and microsoft....................................................I will concisely explain  this in the greatest possible detail I can.
Hey guys, I usually never have to do this but...my knowledge of computers and networking has recently risen because of school. Now I'm aware of certain things that are happening on my network and I'm having trouble figuring out what "all my problems" mean.
List of Devices on network: Two tablets, 3 work stations with windows 7, wii, wireless printer.
Problems: 
Anyways, first problem is my printer is wireless...it always asks me for a connection. My IDS says "packet injection to network, if this is not something your doing then you might want to block it"
(I'm gonna say this is a normal thing for wireless printers, I updated the firmware as well) It's main connection is through SNMP and a network ip is allocated to it.
Second problem is that I have something on one of my computers...and im not sure which one. and it's pinging all the computers on my network. When I run wireshark I see many foreign/weird protocols but usually can be explained when i do a whois.com search.
In my firewall I see this, I'm not sure if its my nic card acting up or what but my router is spamming my computers.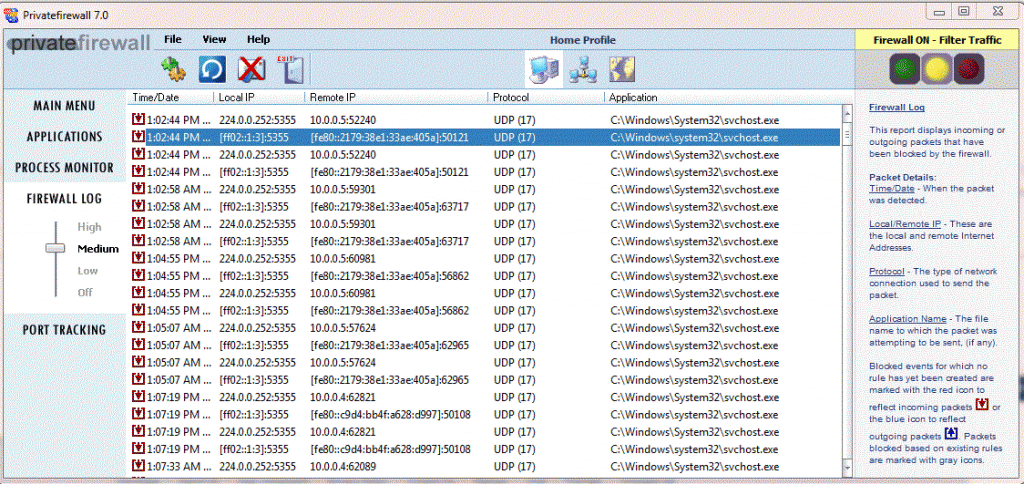 I don't understand what ff02::1:3 is ....fe80 is my router........on computer two it shows the local ip as ffc0::c  <--hmmm
So I have no idea why my router is sending me these weird packets.
I am running apache on computer 1. I know this causes a lot of unnecessary commotion on the network as well.
The next problem is that all of my computers are spamming google at IP 74.125.196.1
It's spamming google from all of my devices....every 1-3 seconds or so...I hate google so this isn't really a problem but...LOL jk...still hate google though.
All computers are spamming googleupdate.exe night and day without rest to the IP stated above. So I have to block this in my firewall. If this is how they wrote the coding them they are idiots. The amount of packets I'm sending to them is absurd and it's non-stop. How often do they update chrome?
wicaobjectinventory(not sure how to spell it) rundll32.exe and two other programs in windows32 are suddenly starting to ask for connections???? Damnit microsoft stop spying on me
(I'm sorry I can't replicate this, it only happens when I'm sleeping. lol) Of course my IDS picks it up and blocks it temporarily until I wake up. I've been using windows 7 for 3-4 years and these connections have never been initiated before... I just updated windows but they were "security fixes", my guess is that they were holes placed into my operating system. There was no need to do whetever they did. Now I have 4 extra programs wanting to connect to the god damn internet. I call that a "security risk".
I have run malware-bytes, combofix, spybot, hijackthis and several other programs to determine what problems I have.
I believe someone was hacking my wifi but I kept changing the password often and making it extremely long(also learned some things about network+). Also, I have a google chrome cast and it's been acting up lately as well. It won't let me change the input on my tv sometimes and I think this is odd. Are there any known exploits for google chrome cast? One big problem I have is that I have to disable wireless isolation to get it to work as with any networked game, shared folder or whatever. I realize wireless nic cards are a huge security risk as well...but I have to work with what I have and I'm not running cables anytime soon.
As for the second computer, it got some very bad  trojan/malware and the computer was affected. I can no longer load a desktop image on it. It's my wifes computer and it has the sims 3 with 13 expansions on it and formatting or reinstalling windows is out of the question. Never use a computer as an administrator, lesson learned
Always, make a seperate account without admin privilages so that way the machine is always "like new" if something happens you can just make a new user too !
again, lessons learned, microsoft sucks. 
So Google and Microsft are pushing lots of packets into and out of my network. Please give me plenty of program suggestions and ideas. I want to put an end to my fear that my ass is being spied on and my information is safe... google chrome is becoming more and more demanding. My IDS blocks the notifcation bell, lol. Stay off my computer google, you're a "web" browser. And microsoft...god damn you.