I bought a very basic mp3player yesterday (Difrnce, mp851) and put some music on it. I didn't do anything odd, just opening the Fdrive which appeared when I plugged in the USB and then putting the mp3files on there. This went just fine, 2.5GB on a 4GB memory. No worries.
So now I tried to play it and I put power into the device for the first time (AAAbattery). The device says "initiating" and opens the menu. However, all folders are empty! That's odd, so I plug the mp3player into the computer (ASUS laptop, windows 8.1) again, and the Fdrive has indeed 2.5GB of its memory in use. HOWEVER, this time, when I open the Fdrive folder, it is empty (0 items). Where I saw a list of mp3files the first time round, it is all empty now. But "properties" still gives 2.5GB to read! I am certain I am not in some subfolder, but apart from that I really have no clue what is going on.
Does anybody have any ideas on what I can do? I would like to bring it back to the shop, but they'll probably just give me a new one without the possibilities of copying the files and I do want this for I put them on the mp3player permanently... no back up...
BASICALLY: files are mysteriously gone (0 items), memory still occupied...
Screenshot (note: Dutch version of windows)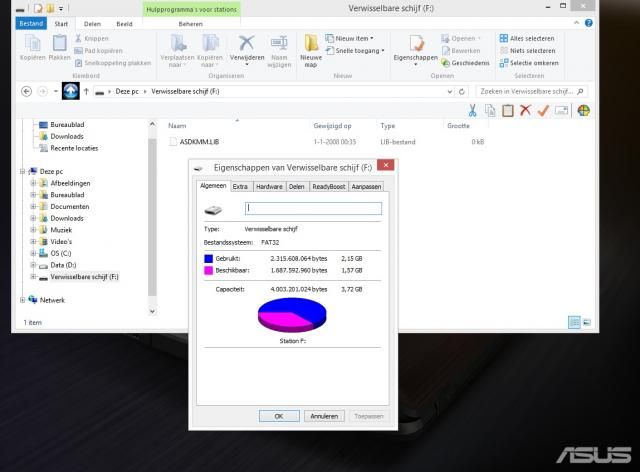 Edited by DefinitelyNoExpert, 20 August 2014 - 06:11 AM.