I'm having trouble with the audio on my desktop. All of my audio plugs have stopped working, however USB audio devices are fine. Whenever I plug in a cord to either the front or back, nothing is detected. 
Clicking on the sound icon in the system tray immediately brings up the troubleshooter, which prompts me to plug something in. After I unplug and plug whatever it is back in, it won't recognize it: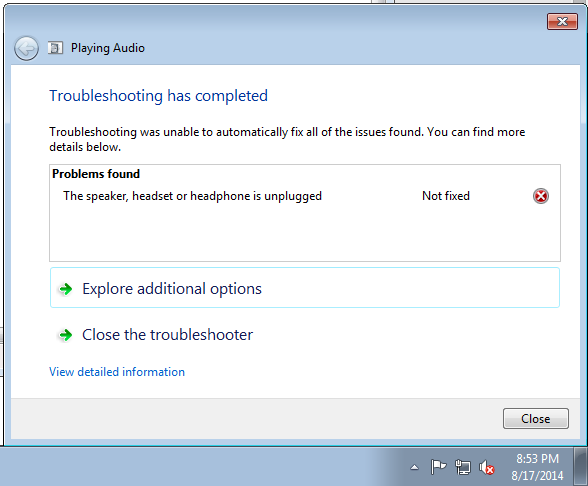 When I right click on the sound icon and hit on playback devices, I see 6 AMD HD devices, which would be for an HDMI cable I believe, and then my speakers device which supposedly isn't plugged in: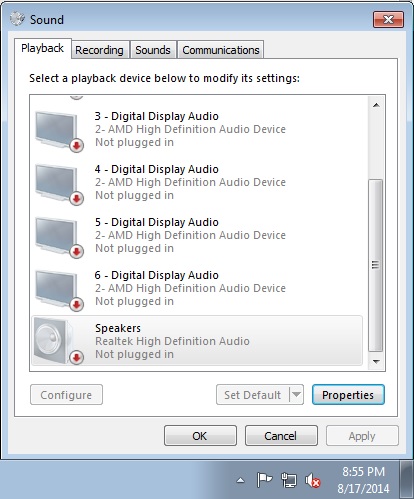 I can't set any of them to be default devices; the options to do anything but disable them are grayed out.
So then looking at Realtek HD Audio Manager, everything appears blank. No nice icons on top to select and then configure, just a blank page:
I'm not given the option to click on absolutely any of the plug icons on the right hand side. 
Clicking on the wrench in the bottom right gives me the following page:
Now, I've tried disabling the front panel detection, which does allow me to "manage" the device, ie it gives me the option to change volume and such. However, sound still doesn't come out.
The gear in the top right gives me:
Selecting options here doesn't work either, even in conjunction with disabling front panel detection.
My relevant specs are :
MSI Z97 G55
Intel i5 - 4670
Sapphire Radeon R9 280
Win 7 x64
I've tried the following:
Uninstalling/reinstalling realtek audio drivers
Uninstalling/reinstalling amd drivers
Rolling back both the AMD and realtek sound drivers as well as the high definition audio controller
Checking/unplugging/replugging the front panel audio on my mobo.
Reinstalling windows
Anybody have any ideas or solutions?