Nick
, of
Foolish IT LLC
, was kind enough to offer BleepingComputer.com members a permanent 30% discount off of his
CryptoPrevent Premium
and
dMaintenance Home Edition Premium
programs. To take advantage of this offer simply use coupon code
bleeping30off
when checking out. This discount brings the normal cost of $15 for each of these programs to $10.50. Details about each program can be found below:
CryptoPrevent Premium
is a program that configures various Windows policies that prevent executables from running when they are located in non-standard locations such as the %Temp%, %AppData%, and %UserProfile% folders. These locations were not designed to store executables and are a common place for malware to store files and launch from. With this said, CryptoPrevent makes it impossible for these executables to start and thus effectively eliminates their threat. Though you can use the free CryptoPrevent version to setup these Policies, the Premium version includes some very useful features. These features include automatic and silent updating of application and definitions on a regular schedule, email alerts when an application blocked, and custom allow and block policies to fine-tune your protection.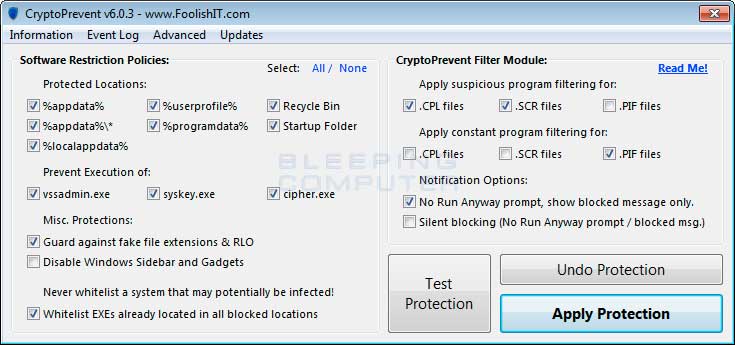 dMaintenance Home Edition Premium
is a maintenance suite that performs a variety of housekeeping tasks on your Windows computer. These tasks include:
Clear Print Queue
Delete Temp Files
Delete Temp Internet Files
Delete Internet History
Delete Cookies
Runs Cleanmgr.exe
Delete %windir%\$NTUninst dirs
Executes ProcessIdleTasks
Performs an anti-malware scan
The premium version of dMaintenance allows you to perform these tasks on a scheduled basis, deliver reports via email, automatically update the software, and unlocks certain maintenance options.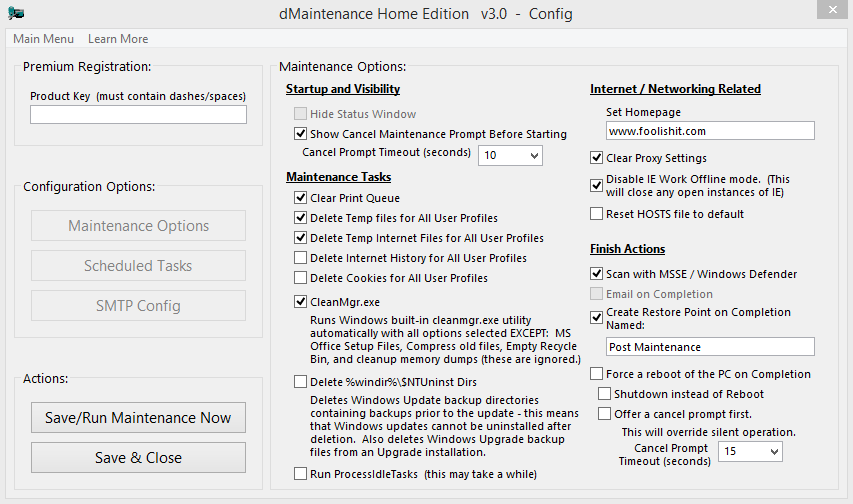 Offer Details:Description:
30% off
CryptoPrevent Premium
and
dMaintenance Home Edition PremiumCoupon Code:
bleeping30off
Start Date:
7/25/14
End Date:
Permanent
Disclosure: BleepingComputer.com makes a commission for the sales of these programs.