Hi all,
Not too long ago I started receiving malware warning messages from my antivirus software, Avast free. They seemed to vary but something very similar to these lines: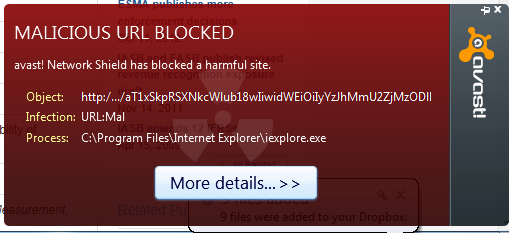 I was just browsing on 'normal and safe' websites, as I always do. I ran a system scan with both Malwarebytes and Avast (including Avast's boot-time scan function). I removed the infections it found, rebooted, then ran another Malwarebytes scan. The subsequent scan showed up clean, so I assumed everything was OK.
However, not too long later a similar message came up, but I scanned again and nothing was found.
Despite the clean result, I suspected there was still something else. I didn't have time to deal with it at the time so I refrained from using the computer for about a week or so (meaning - computer off, and ethernet cable disconnected for good measure).
Today, right when I started up to scan, Avast showed the following before I even had a chance to start the Malwarebytes scan: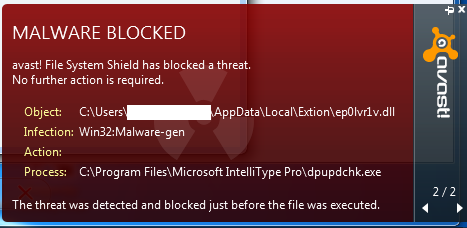 (I do have Intellitype pro installed, as I have a wireless keyboard/mouse). This was pretty much right after I briefly connected my ethernet cable to update Malwarebytes, after which point I disonnected the cable again.
I ran another Malwarebytes scan and it showed up with seven (!) infections...this after a clean result from a previous scan, after which the computer was not even turned on for a while. Although, this was with Malwarebytes' newly released version 2.0, so perhaps it picked up something it couldn't before? I can post the log from today if required.
 
I did go ahead and proceed with cleaning per Malwarebytes, then ran another scan just now which came up OK. However, I would like to confirm that the system is in fact clean - especially after last time saying clean, when Avast still kept detecting something with its real-time shield afterward. Hesitant to connect to internet right now as I'm not sure what's still lurking.
System is Windows 7 with wired internet connection (no wireless capabilities). For now, I have disconnected the ethernet cable just in case.
Please let me know if any further info required. Thanks in advance!
Edited by funnytim, 25 June 2014 - 09:27 PM.