FBI Cracks Down on Blackshades Malware
Written By
May 19, 2014 // 4:02 PM CDT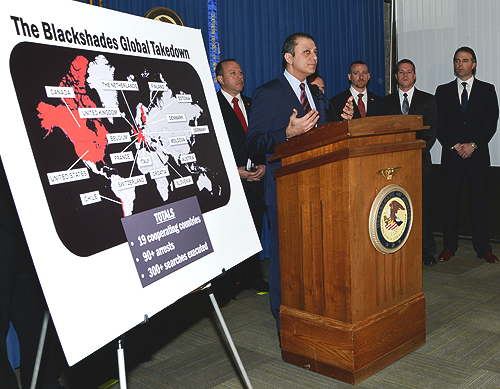 FBI press conference
Today, the FBI arrested over 100 individuals in more than a dozen countries all over the world in a coordinated massive cyber takedown.

Blackshades, according to the FBI, is a particularly insidious form of malware which has been used to infect over a million computers worldwide. Blackshades is a remote-administration tool also known as RAT. It is a backdoor that is used by attackers to take control of computers, steal passwords, steal PPI (personally-identifiable information), confiscate Facebook and other social media accounts, record and copy all keystrokes, access documents and photos, operate webcams and spy on people. Blackshades has also been used to initiate large-scale distributed denial of service (DDoS) attacks.

The software that was developed was available for as low as about $40.00 and was widely abused by hackers known to infect computers and also used to install ransomware.

The FBI has been working in conjunction with other law-enforcement agencies worldwide, most notably in the UK. Ongoing investigations in preparation for the arrests involved interviews, email and physical searches, seizing computers and almost 2,000 domains used by Blackshades.

This massive raid is the largest since 2012 when the FBI arrested over 20 people involved with the program.
Further Reading
International Blackshades Malware Takedown
Malwarebytes Unpacked Blog Post