Hi Guys,
First post so lets hope I get it right.
I ran malwarebytes and it detected a very large number of threats so I selected the delete all option (probably a big mistake)
Now when I try to run the exe of any downloads I get an error message: "Can not create Temp folder archive"
As well, when I try to run your ComboFix.exe I get this message below: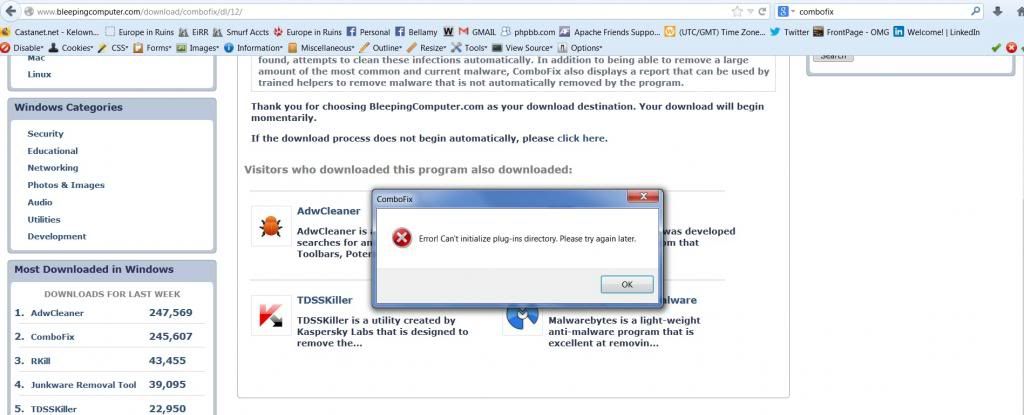 Several of my other software programs are not running correct either. FOr example, Google sketchup is unable to acces some of it's features. I uninstalled it and tried to reinstall, but I then get the " Can not create Temp folder archive" so it fails.
I followed one of your other threads and got these attached reports for you as well:
Scan result of Farbar Recovery Scan Tool (FRST.txt) (x64) Version: 05-05-2014 01
Ran by Les (administrator) on LES-PC on 05-05-2014 11:39:57
Running from C:\Users\Les\Downloads
Windows 7 Ultimate Service Pack 1 (X64) OS Language: English(US)
Internet Explorer Version 11
Boot Mode: Normal

The only official download link for FRST:
Download link for 32-Bit version: http://www.bleepingcomputer.com/download/farbar-recovery-scan-tool/dl/81/
Download link for 64-Bit Version: http://www.bleepingcomputer.com/download/farbar-recovery-scan-tool/dl/82/
Download link from any site other than Bleeping Computer is unpermitted or outdated.
See tutorial for FRST: http://www.geekstogo.com/forum/topic/335081-frst-tutorial-how-to-use-farbar-recovery-scan-tool/

==================== Processes (Whitelisted) =================

(AVG Technologies CZ, s.r.o.) C:\Program Files (x86)\AVG\AVG2013\avgrsa.exe
(AVG Technologies CZ, s.r.o.) C:\Program Files (x86)\AVG\AVG2013\avgcsrva.exe
(AMD) C:\Windows\System32\atiesrxx.exe
(AMD) C:\Windows\System32\atieclxx.exe
(Apple Inc.) C:\Program Files (x86)\Common Files\Apple\Mobile Device Support\AppleMobileDeviceService.exe
(Autodesk, Inc.) C:\Program Files (x86)\Autodesk\Content Service\Connect.Service.ContentService.exe
(AVG Technologies CZ, s.r.o.) C:\Program Files (x86)\AVG\AVG2013\avgidsagent.exe
(AVG Technologies CZ, s.r.o.) C:\Program Files (x86)\AVG\AVG2013\avgwdsvc.exe
(Apple Inc.) C:\Program Files\Bonjour\mDNSResponder.exe
(CrypKey (Canada) Ltd.) C:\Windows\System32\Crypserv.exe
() C:\Program Files (x86)\GIGABYTE\EnergySaver2\des2svr.exe
(FileZilla Project) D:\EIR2Website\FileZillaFTP\FileZillaServer.exe
(Realtek Semiconductor) C:\Program Files\Realtek\Audio\HDA\RAVCpl64.exe
(Samsung) C:\Program Files (x86)\Samsung\Kies\Kies.exe
(http://tortoisesvn.net) C:\Program Files\TortoiseSVN\bin\TSVNCache.exe
() C:\Program Files (x86)\Samsung\Kies\External\FirmwareUpdate\KiesPDLR.exe
(AMD) C:\Program Files (x86)\ATI Technologies\HydraVision\HydraDM.exe
(Dropbox, Inc.) C:\Users\Les\AppData\Roaming\Dropbox\bin\Dropbox.exe
(AMD) C:\Program Files (x86)\ATI Technologies\HydraVision\HydraDM64.exe
() C:\Windows\SysWOW64\XSrvSetup.exe
(AVG Technologies CZ, s.r.o.) C:\Program Files (x86)\AVG\AVG2013\avgnsa.exe
(AVG Technologies CZ, s.r.o.) C:\Program Files (x86)\AVG\AVG2013\avgemca.exe
(Malwarebytes Corporation) C:\Program Files (x86)\Malwarebytes Anti-Malware\mbamscheduler.exe
(NEC Electronics Corporation) C:\Program Files (x86)\NEC Electronics\USB 3.0 Host Controller Driver\Application\nusb3mon.exe
(InstallShield Software Corporation) C:\Program Files (x86)\Common Files\InstallShield\UpdateService\issch.exe
(Sage) C:\Program Files (x86)\winsim\ConnectionManager\Simply.SystemTrayIcon.exe
(Adobe Systems Inc.) C:\Program Files (x86)\Adobe\Acrobat 10.0\Acrobat\acrotray.exe
(Nuance Communications, Inc.) C:\Program Files (x86)\Nuance\PaperPort\pptd40nt.exe
() C:\Program Files (x86)\GIGABYTE\ET6\GUI.exe
(Nuance Communications, Inc.) C:\Program Files (x86)\Nuance\PDF Viewer Plus\pdfPro5Hook.exe
(Brother Industries, Ltd.) C:\Program Files (x86)\Browny02\Brother\BrStMonW.exe
(Samsung Electronics Co., Ltd.) C:\Program Files (x86)\Samsung\Kies\KiesTrayAgent.exe
(AVG Technologies CZ, s.r.o.) C:\Program Files (x86)\AVG\AVG2013\avgui.exe
(Brother Industries, Ltd.) C:\Program Files (x86)\ControlCenter4\BrCtrlCntr.exe
(Safer-Networking Ltd.) C:\Program Files (x86)\Spybot - Search & Destroy 2\SDTray.exe
(AVG Technologies CZ, s.r.o.) C:\Program Files (x86)\AVG\AVG2013\avgcsrva.exe
(Pitney Bowes, Inc.) C:\Program Files (x86)\Pitney Bowes\PC Meter Connect\mailstationAssistant.exe
(Apple Inc.) C:\Program Files (x86)\iTunes\iTunesHelper.exe
(Advanced Micro Devices Inc.) C:\Program Files (x86)\ATI Technologies\ATI.ACE\Core-Static\MOM.exe
(Malwarebytes Corporation) C:\Program Files (x86)\Malwarebytes Anti-Malware\mbamservice.exe
(Brother Industries, Ltd.) C:\Program Files (x86)\ControlCenter4\BrCcUxSys.exe
() D:\EIR2Website\mysql\bin\mysqld.exe
(Malwarebytes Corporation) C:\Program Files (x86)\Malwarebytes Anti-Malware\mbam.exe
(Nuance Communications, Inc.) C:\Program Files (x86)\Nuance\PaperPort\PDFProFiltSrvPP.exe
(Safer-Networking Ltd.) C:\Program Files (x86)\Spybot - Search & Destroy 2\SDFSSvc.exe
(Sage) C:\Program Files (x86)\winsim\ConnectionManager\SimplyConnectionManager.exe
(Gigabyte Technology CO., LTD.) C:\Program Files (x86)\GIGABYTE\smart6\timelock\TimeMgmtDaemon.exe
(Gigabyte Technology CO., LTD.) C:\Program Files (x86)\GIGABYTE\smart6\timelock\AlarmClock.exe
(TeamViewer GmbH) C:\Program Files (x86)\TeamViewer\Version9\TeamViewer_Service.exe
(TorchMedia Inc.) C:\Users\Les\AppData\Local\Torch\Update\TorchCrashHandler.exe
(Safer-Networking Ltd.) C:\Program Files (x86)\Spybot - Search & Destroy 2\SDUpdSvc.exe
(ATI Technologies Inc.) C:\Program Files (x86)\ATI Technologies\ATI.ACE\Core-Static\CCC.exe
(Safer-Networking Ltd.) C:\Program Files (x86)\Spybot - Search & Destroy 2\SDWSCSvc.exe
(Apple Inc.) C:\Program Files\iPod\bin\iPodService.exe
(Brother Industries, Ltd.) C:\Program Files (x86)\Browny02\BrYNSvc.exe
(Microsoft Corporation) C:\Program Files\Common Files\Microsoft Shared\OfficeSoftwareProtectionPlatform\OSPPSVC.EXE
(Safer-Networking Ltd.) C:\Program Files (x86)\Spybot - Search & Destroy 2\SDUpdate.exe
(Mozilla Corporation) C:\Program Files (x86)\Mozilla Firefox\firefox.exe
(Microsoft Corporation) C:\Program Files\Microsoft Office\Office14\OUTLOOK.EXE
(AVG Technologies CZ, s.r.o.) C:\Program Files (x86)\AVG\AVG2013\avgcsrva.exe


==================== Registry (Whitelisted) ==================

HKLM\...\Run: [RtHDVCpl] => C:\Program Files\Realtek\Audio\HDA\RAVCpl64.exe [10135584 2010-03-26] (Realtek Semiconductor)
HKLM\...\Run: [BCSSync] => C:\Program Files\Microsoft Office\Office14\BCSSync.exe [108144 2012-11-05] (Microsoft Corporation)
HKLM\...\Run: [AdobeAAMUpdater-1.0] => C:\Program Files (x86)\Common Files\Adobe\OOBE\PDApp\UWA\UpdaterStartupUtility.exe [497648 2010-09-16] (Adobe Systems Incorporated)
HKLM\...\Run: [Autodesk Sync] => C:\Program Files\Autodesk\Autodesk Sync\AdSync.exe [415680 2012-02-06] (Autodesk, Inc.)
HKLM\...\Run: [svhost.exe] => "C:\Users\Les\AppData\Roaming\svhost.exe"
HKLM-x32\...\Run: [JMB36X IDE Setup] => C:\Windows\RaidTool\xInsIDE.exe [43632 2010-01-18] ()
HKLM-x32\...\Run: [NUSB3MON] => C:\Program Files (x86)\NEC Electronics\USB 3.0 Host Controller Driver\Application\nusb3mon.exe [106496 2009-11-20] (NEC Electronics Corporation)
HKLM-x32\...\Run: [EasyTuneVI] => C:\Program Files (x86)\GIGABYTE\ET6\ETcall.exe [20480 2007-07-26] ()
HKLM-x32\...\Run: [ISUSScheduler] => C:\Program Files (x86)\Common Files\InstallShield\UpdateService\issch.exe [81920 2005-02-17] (InstallShield Software Corporation)
HKLM-x32\...\Run: [ConnectionManager] => C:\Program Files (x86)\Winsim\ConnectionManager\Simply.SystemTrayIcon.exe [152880 2013-08-15] (Sage)
HKLM-x32\...\Run: [Adobe ARM] => C:\Program Files (x86)\Common Files\Adobe\ARM\1.0\AdobeARM.exe [937920 2011-03-29] (Adobe Systems Incorporated)
HKLM-x32\...\Run: [AppleSyncNotifier] => C:\Program Files (x86)\Common Files\Apple\Mobile Device Support\AppleSyncNotifier.exe [59240 2012-02-23] (Apple Inc.)
HKLM-x32\...\Run: [AdobeCS5ServiceManager] => C:\Program Files (x86)\Common Files\Adobe\CS5ServiceManager\CS5ServiceManager.exe [406992 2010-02-22] (Adobe Systems Incorporated)
HKLM-x32\...\Run: [SwitchBoard] => C:\Program Files (x86)\Common Files\Adobe\SwitchBoard\SwitchBoard.exe [517096 2010-02-19] (Adobe Systems Incorporated)
HKLM-x32\...\Run: [Adobe Acrobat Speed Launcher] => C:\Program Files (x86)\Adobe\Acrobat 10.0\Acrobat\Acrobat_sl.exe [36760 2010-10-25] (Adobe Systems Incorporated)
HKLM-x32\...\Run: [Acrobat Assistant 8.0] => C:\Program Files (x86)\Adobe\Acrobat 10.0\Acrobat\Acrotray.exe [821144 2010-10-25] (Adobe Systems Inc.)
HKLM-x32\...\Run: [ROC_roc_dec12] => "C:\Program Files (x86)\AVG Secure Search\ROC_roc_dec12.exe" /PROMPT /CMPID=roc_dec12
HKLM-x32\...\Run: [APSDaemon] => C:\Program Files (x86)\Common Files\Apple\Apple Application Support\APSDaemon.exe [43848 2014-02-12] (Apple Inc.)
HKLM-x32\...\Run: [HF_G_Jul] => "C:\Program Files (x86)\AVG Secure Search\HF_G_Jul.exe"  /DoAction
HKLM-x32\...\Run: [IndexSearch] => C:\Program Files (x86)\Nuance\PaperPort\IndexSearch.exe [46368 2010-03-09] (Nuance Communications, Inc.)
HKLM-x32\...\Run: [PaperPort PTD] => C:\Program Files (x86)\Nuance\PaperPort\pptd40nt.exe [29984 2010-03-09] (Nuance Communications, Inc.)
HKLM-x32\...\Run: [PPort12reminder] => C:\Program Files (x86)\Nuance\PaperPort\Ereg\Ereg.exe [328992 2010-02-09] (Nuance Communications, Inc.)
HKLM-x32\...\Run: [PDFHook] => C:\Program Files (x86)\Nuance\PDF Viewer Plus\pdfpro5hook.exe [636192 2010-03-05] (Nuance Communications, Inc.)
HKLM-x32\...\Run: [PDF5 Registry Controller] => C:\Program Files (x86)\Nuance\PDF Viewer Plus\RegistryController.exe [62752 2010-03-05] (Nuance Communications, Inc.)
HKLM-x32\...\Run: [ControlCenter4] => C:\Program Files (x86)\ControlCenter4\BrCcBoot.exe [139264 2011-04-20] (Brother Industries, Ltd.)
HKLM-x32\...\Run: [BrStsMon00] => C:\Program Files (x86)\Browny02\Brother\BrStMonW.exe [2629632 2011-05-19] (Brother Industries, Ltd.)
HKLM-x32\...\Run: [KiesTrayAgent] => C:\Program Files (x86)\Samsung\Kies\KiesTrayAgent.exe [3524536 2012-08-31] (Samsung Electronics Co., Ltd.)
HKLM-x32\...\Run: [AVG_UI] => C:\Program Files (x86)\AVG\AVG2013\avgui.exe [4411952 2014-01-21] (AVG Technologies CZ, s.r.o.)
HKLM-x32\...\Run: [QuickTime Task] => C:\Program Files (x86)\QuickTime\QTTask.exe [421888 2012-10-25] (Apple Inc.)
HKLM-x32\...\Run: [SDTray] => C:\Program Files (x86)\Spybot - Search & Destroy 2\SDTray.exe [3825176 2012-11-13] (Safer-Networking Ltd.)
HKLM-x32\...\Run: [Wondershare Helper Compact.exe] => C:\Program Files (x86)\Common Files\Wondershare\Wondershare Helper Compact\WSHelper.exe
HKLM-x32\...\Run: [BrowserPlugInHelper] => C:\Program Files (x86)\Wondershare\Video Converter Ultimate\BrowserPlugInHelper.exe [1969440 2013-05-03] ()
HKLM-x32\...\Run: [PC Meter Connect] => C:\Program Files (x86)\Pitney Bowes\PC Meter Connect\mailstationAssistant.exe [3514368 2012-02-07] (Pitney Bowes, Inc.)
HKLM-x32\...\Run: [StartCCC] => C:\Program Files (x86)\ATI Technologies\ATI.ACE\Core-Static\CLIStart.exe [642656 2013-03-28] (Advanced Micro Devices, Inc.)
HKLM-x32\...\Run: [iTunesHelper] => C:\Program Files (x86)\iTunes\iTunesHelper.exe [152392 2013-11-02] (Apple Inc.)
Winlogon\Notify\GoToAssist: C:\Program Files (x86)\Citrix\GoToAssist\607\G2AWinLogon_x64.dll (Citrix Online, a division of Citrix Systems, Inc.)
Winlogon\Notify\SDWinLogon-x32: SDWinLogon.dll [X]
HKU\.DEFAULT\...\RunOnce: [SpUninstallDeleteDir] - rmdir /s /q "\SearchProtect"
HKU\S-1-5-21-257852021-1263701145-2354934621-1000\...\Run: [ISUSPM Startup] => C:\Program Files (x86)\Common Files\InstallShield\UpdateService\ISUSPM.exe [221184 2005-02-17] (InstallShield Software Corporation)
HKU\S-1-5-21-257852021-1263701145-2354934621-1000\...\Run: [downloadhq] => "C:\Program Files (x86)\DownloadHQ\DownloadHQ.exe" -h
HKU\S-1-5-21-257852021-1263701145-2354934621-1000\...\Run: [Adobe Acrobat Synchronizer] => C:\Program Files (x86)\Adobe\Acrobat 10.0\Acrobat\AdobeCollabSync.exe [1216416 2010-10-25] (Adobe Systems Incorporated)
HKU\S-1-5-21-257852021-1263701145-2354934621-1000\...\Run: [AdobeBridge] => [X]
HKU\S-1-5-21-257852021-1263701145-2354934621-1000\...\Run: [MobileDocuments] => C:\Program Files (x86)\Common Files\Apple\Internet Services\ubd.exe
HKU\S-1-5-21-257852021-1263701145-2354934621-1000\...\Run: [ISUSPM] => C:\ProgramData\FLEXnet\Connect\11\ISUSPM.exe [222496 2009-05-05] (Acresso Corporation)
HKU\S-1-5-21-257852021-1263701145-2354934621-1000\...\Run: [KiesPreload] => C:\Program Files (x86)\Samsung\Kies\Kies.exe [964024 2012-08-31] (Samsung)
HKU\S-1-5-21-257852021-1263701145-2354934621-1000\...\Run: [KiesAirMessage] => C:\Program Files (x86)\Samsung\Kies\KiesAirMessage.exe -startup
HKU\S-1-5-21-257852021-1263701145-2354934621-1000\...\Run: [KiesPDLR] => C:\Program Files (x86)\Samsung\Kies\External\FirmwareUpdate\KiesPDLR.exe [21432 2012-08-31] ()
HKU\S-1-5-21-257852021-1263701145-2354934621-1000\...\Run: [Steam] => D:\Steam\steam.exe [1825984 2014-04-23] (Valve Corporation)
HKU\S-1-5-21-257852021-1263701145-2354934621-1000\...\Run: [Spybot-S&D Cleaning] => C:\Program Files (x86)\Spybot - Search & Destroy 2\SDCleaner.exe [3713032 2012-11-13] (Safer-Networking Ltd.)
HKU\S-1-5-21-257852021-1263701145-2354934621-1000\...\Run: [HydraVisionDesktopManager] => C:\Program Files (x86)\ATI Technologies\HydraVision\HydraDM.exe [380928 2009-11-10] (AMD)
HKU\S-1-5-21-257852021-1263701145-2354934621-1000\...\Run: [svhost.exe] => "C:\Users\Les\AppData\Roaming\svhost.exe"
HKU\S-1-5-21-257852021-1263701145-2354934621-1000\...\Run: [Browser Infrastructure Helper] => C:\Users\Les\AppData\Local\Smartbar\Application\QuickShare.exe startup
HKU\S-1-5-21-257852021-1263701145-2354934621-1000\...\Run: [BackgroundContainer] => "C:\Windows\SysWOW64\Rundll32.exe" "C:\Users\Les\AppData\Local\Conduit\BackgroundContainer\BackgroundContainer.dll",DllRun <===== ATTENTION
HKU\S-1-5-21-257852021-1263701145-2354934621-1000\...\Policies\Explorer: []
HKU\S-1-5-21-257852021-1263701145-2354934621-1000\...\MountPoints2: H - "H:\Adobe CS5\Set-up.exe"
HKU\S-1-5-21-257852021-1263701145-2354934621-1000\...\MountPoints2: L - L:\setup2.exe
HKU\S-1-5-21-257852021-1263701145-2354934621-1000\...\MountPoints2: N - N:\setup2.exe
HKU\S-1-5-21-257852021-1263701145-2354934621-1000\...\MountPoints2: {3eaa016e-38c1-11e0-93f4-1c6f65311c00} - G:\LaunchU3.exe -a
HKU\S-1-5-21-257852021-1263701145-2354934621-1000\...\MountPoints2: {896a9065-5890-11e1-a48a-1c6f65311c00} - C:\Windows\system32\RunDLL32.EXE Shell32.DLL,ShellExec_RunDLL L:\drivers\setup.exe
HKU\S-1-5-21-257852021-1263701145-2354934621-1000-{ED1FC765-E35E-4C3D-BF15-2C2B11260CE4}-0\...\Run: [ISUSPM Startup] => C:\Program Files (x86)\Common Files\InstallShield\UpdateService\ISUSPM.exe [221184 2005-02-17] (InstallShield Software Corporation)
HKU\S-1-5-21-257852021-1263701145-2354934621-1000-{ED1FC765-E35E-4C3D-BF15-2C2B11260CE4}-0\...\Run: [downloadhq] => "C:\Program Files (x86)\DownloadHQ\DownloadHQ.exe" -h
HKU\S-1-5-21-257852021-1263701145-2354934621-1000-{ED1FC765-E35E-4C3D-BF15-2C2B11260CE4}-0\...\Run: [Adobe Acrobat Synchronizer] => C:\Program Files (x86)\Adobe\Acrobat 10.0\Acrobat\AdobeCollabSync.exe [1216416 2010-10-25] (Adobe Systems Incorporated)
HKU\S-1-5-21-257852021-1263701145-2354934621-1000-{ED1FC765-E35E-4C3D-BF15-2C2B11260CE4}-0\...\Run: [AdobeBridge] => [X]
HKU\S-1-5-21-257852021-1263701145-2354934621-1000-{ED1FC765-E35E-4C3D-BF15-2C2B11260CE4}-0\...\Run: [MobileDocuments] => C:\Program Files (x86)\Common Files\Apple\Internet Services\ubd.exe
HKU\S-1-5-21-257852021-1263701145-2354934621-1000-{ED1FC765-E35E-4C3D-BF15-2C2B11260CE4}-0\...\Run: [ISUSPM] => C:\ProgramData\FLEXnet\Connect\11\ISUSPM.exe [222496 2009-05-05] (Acresso Corporation)
HKU\S-1-5-21-257852021-1263701145-2354934621-1000-{ED1FC765-E35E-4C3D-BF15-2C2B11260CE4}-0\...\Run: [KiesPreload] => C:\Program Files (x86)\Samsung\Kies\Kies.exe [964024 2012-08-31] (Samsung)
HKU\S-1-5-21-257852021-1263701145-2354934621-1000-{ED1FC765-E35E-4C3D-BF15-2C2B11260CE4}-0\...\Run: [KiesAirMessage] => C:\Program Files (x86)\Samsung\Kies\KiesAirMessage.exe -startup
HKU\S-1-5-21-257852021-1263701145-2354934621-1000-{ED1FC765-E35E-4C3D-BF15-2C2B11260CE4}-0\...\Run: [KiesPDLR] => C:\Program Files (x86)\Samsung\Kies\External\FirmwareUpdate\KiesPDLR.exe [21432 2012-08-31] ()
HKU\S-1-5-21-257852021-1263701145-2354934621-1000-{ED1FC765-E35E-4C3D-BF15-2C2B11260CE4}-0\...\Run: [Steam] => D:\Steam\steam.exe [1825984 2014-04-23] (Valve Corporation)
HKU\S-1-5-21-257852021-1263701145-2354934621-1000-{ED1FC765-E35E-4C3D-BF15-2C2B11260CE4}-0\...\Run: [Spybot-S&D Cleaning] => C:\Program Files (x86)\Spybot - Search & Destroy 2\SDCleaner.exe [3713032 2012-11-13] (Safer-Networking Ltd.)
HKU\S-1-5-21-257852021-1263701145-2354934621-1000-{ED1FC765-E35E-4C3D-BF15-2C2B11260CE4}-0\...\Run: [HydraVisionDesktopManager] => C:\Program Files (x86)\ATI Technologies\HydraVision\HydraDM.exe [380928 2009-11-10] (AMD)
HKU\S-1-5-21-257852021-1263701145-2354934621-1000-{ED1FC765-E35E-4C3D-BF15-2C2B11260CE4}-0\...\Run: [svhost.exe] => "C:\Users\Les\AppData\Roaming\svhost.exe"
HKU\S-1-5-21-257852021-1263701145-2354934621-1000-{ED1FC765-E35E-4C3D-BF15-2C2B11260CE4}-0\...\Run: [Browser Infrastructure Helper] => C:\Users\Les\AppData\Local\Smartbar\Application\QuickShare.exe startup
HKU\S-1-5-21-257852021-1263701145-2354934621-1000-{ED1FC765-E35E-4C3D-BF15-2C2B11260CE4}-0\...\Run: [BackgroundContainer] => "C:\Windows\SysWOW64\Rundll32.exe" "C:\Users\Les\AppData\Local\Conduit\BackgroundContainer\BackgroundContainer.dll",DllRun <===== ATTENTION
HKU\S-1-5-21-257852021-1263701145-2354934621-1000-{ED1FC765-E35E-4C3D-BF15-2C2B11260CE4}-0\...\Policies\Explorer: []
HKU\S-1-5-21-257852021-1263701145-2354934621-1000-{ED1FC765-E35E-4C3D-BF15-2C2B11260CE4}-0\...\MountPoints2: H - "H:\Adobe CS5\Set-up.exe"
HKU\S-1-5-21-257852021-1263701145-2354934621-1000-{ED1FC765-E35E-4C3D-BF15-2C2B11260CE4}-0\...\MountPoints2: L - L:\setup2.exe
HKU\S-1-5-21-257852021-1263701145-2354934621-1000-{ED1FC765-E35E-4C3D-BF15-2C2B11260CE4}-0\...\MountPoints2: N - N:\setup2.exe
HKU\S-1-5-21-257852021-1263701145-2354934621-1000-{ED1FC765-E35E-4C3D-BF15-2C2B11260CE4}-0\...\MountPoints2: {3eaa016e-38c1-11e0-93f4-1c6f65311c00} - G:\LaunchU3.exe -a
HKU\S-1-5-21-257852021-1263701145-2354934621-1000-{ED1FC765-E35E-4C3D-BF15-2C2B11260CE4}-0\...\MountPoints2: {896a9065-5890-11e1-a48a-1c6f65311c00} - C:\Windows\system32\RunDLL32.EXE Shell32.DLL,ShellExec_RunDLL L:\drivers\setup.exe
AppInit_DLLs: C:\PROGRA~2\SearchProtect\SearchProtect\bin\SPVC64Loader.dll => C:\PROGRA~2\SearchProtect\SearchProtect\bin\SPVC64Loader.dll File Not Found
AppInit_DLLs-x32: C:\PROGRA~2\SearchProtect\SearchProtect\bin\SPVC32Loader.dll => "C:\PROGRA~2\SearchProtect\SearchProtect\bin\SPVC32Loader.dll" File Not Found
AppInit_DLLs-x32:  c:\progra~2\zoomex\sprote~1.dll => C:\Program Files (x86)\ZoomEx\sprotector.dll [461824 2012-10-11] ()
Startup: C:\Users\Les\AppData\Roaming\Microsoft\Windows\Start Menu\Programs\Startup\Dropbox.lnk
ShortcutTarget: Dropbox.lnk -> C:\Users\Les\AppData\Roaming\Dropbox\bin\Dropbox.exe (Dropbox, Inc.)
Startup: C:\Users\Les\AppData\Roaming\Microsoft\Windows\Start Menu\Programs\Startup\Logitech blank Product Registration.lnk
ShortcutTarget: Logitech blank Product Registration.lnk -> C:\Program Files (x86)\Logitech\G930\eReg.exe (No File)

==================== Internet (Whitelisted) ====================

HKCU\Software\Microsoft\Internet Explorer\Main,Start Page = http://search.conduit.com/?ctid=CT3291326&octid=CT3291326&SearchSource=61&CUI=UN39670272392727227&UM=2&UP=SPBD1D7EA2-5444-4603-BFB6-25031434859B&SSPV=
HKCU\Software\Microsoft\Internet Explorer\Main,Start Page Redirect Cache = http://www.msn.com/?ocid=iehp
HKCU\Software\Microsoft\Internet Explorer\Main,Start Page Redirect Cache_TIMESTAMP = 0x27D26DA54B96CC01
HKCU\Software\Microsoft\Internet Explorer\Main,Start Page Redirect Cache AcceptLangs = en-us
URLSearchHook: HKLM-x32 - BrowseToolE0170 Toolbar - {5E5AB302-7F65-44CD-8211-C1D4CAACCEA3} - C:\Users\Les\AppData\LocalLow\XfireXO\prxtbXfi2.dll (ClientConnect Ltd.)
URLSearchHook: HKCU - BrowseToolE0170 Toolbar - {5E5AB302-7F65-44CD-8211-C1D4CAACCEA3} - C:\Users\Les\AppData\LocalLow\XfireXO\prxtbXfi2.dll (ClientConnect Ltd.)
SearchScopes: HKLM-x32 - DefaultScope {afdbddaa-5d3f-42ee-b79c-185a7020515b} URL = http://search.conduit.com/ResultsExt.aspx?q={searchTerms}&SearchSource=4&ctid=CT2304157
SearchScopes: HKLM-x32 - {0633EE93-D776-472f-A0FF-E1416B8B2E3A} URL =
SearchScopes: HKLM-x32 - {afdbddaa-5d3f-42ee-b79c-185a7020515b} URL = http://search.conduit.com/ResultsExt.aspx?q={searchTerms}&SearchSource=4&ctid=CT2304157
SearchScopes: HKCU - DefaultScope {014DB5FA-EAFB-4592-A95B-F44D3EE87FA9} URL = http://search.conduit.com/ResultsExt.aspx?q={searchTerms}&SearchSource=4&ctid=CT3291326&CUI=UN39670272392727227&UM=2&UP=SPBD1D7EA2-5444-4603-BFB6-25031434859B&SSPV=
SearchScopes: HKCU - {014DB5FA-EAFB-4592-A95B-F44D3EE87FA9} URL = http://search.conduit.com/ResultsExt.aspx?q={searchTerms}&SearchSource=4&ctid=CT3291326&CUI=UN39670272392727227&UM=2&UP=SPBD1D7EA2-5444-4603-BFB6-25031434859B&SSPV=
SearchScopes: HKCU - {0633EE93-D776-472f-A0FF-E1416B8B2E3A} URL = http://searchab.com/?aff=7&uid=7109f1b7-511f-11e2-87a2-1c6f65311c00&q={searchTerms}
SearchScopes: HKCU - {0ECDF796-C2DC-4d79-A620-CCE0C0A66CC9} URL = http://www.delta-search.com/?q={searchTerms}&affID=119776&babsrc=SP_ss&mntrId=8027c83f0000000000001c6f65311c00
SearchScopes: HKCU - {171DEBEB-C3D4-40b7-AC73-056A5EBA4A7E} URL =
SearchScopes: HKCU - {21C0C0BB-91B9-414F-9CD4-72784514CB39} URL = http://searchou.com/?q={searchTerms}&id=8027c83f0000000000001c6f65311c00&r=345
SearchScopes: HKCU - {95B7759C-8C7F-4BF1-B163-73684A933233} URL = http://isearch.avg.com/search?cid={18DC7266-2DC5-43A0-8155-DA83EC01120D}&mid=16e661a8632b74496bfb3f54b80b858b-2737dbc488a73ef16112c12b7f5265ee690f6ff2&lang=en&ds=AVG&pr=fr&d=2011-10-13 11:47:15&v=9.0.0.18&sap=dsp&q={searchTerms}
SearchScopes: HKCU - {afdbddaa-5d3f-42ee-b79c-185a7020515b} URL = http://search.conduit.com/ResultsExt.aspx?q={searchTerms}&SearchSource=4&ctid=CT3291326&CUI=UN39670272392727227&UM=2
SearchScopes: HKCU - {CAE33F29-99CB-4762-B695-3EB462B5E58F} URL = http://www.mysearchresults.com/search?c=4004&t=01&q={searchTerms}
BHO: QuickShare WidgetEngine - {31AD400D-1B06-4E33-A59A-90C2C140CBA0} - C:\Windows\system32\mscoree.dll (Microsoft Corporation)
BHO: AVG Safe Search - {3CA2F312-6F6E-4B53-A66E-4E65E497C8C0} - C:\Program Files (x86)\AVG\AVG2012\avgssiea.dll No File
BHO: Groove GFS Browser Helper - {72853161-30C5-4D22-B7F9-0BBC1D38A37E} - C:\Program Files\Microsoft Office\Office14\GROOVEEX.DLL (Microsoft Corporation)
BHO: Office Document Cache Handler - {B4F3A835-0E21-4959-BA22-42B3008E02FF} - C:\Program Files\Microsoft Office\Office14\URLREDIR.DLL (Microsoft Corporation)
BHO-x32: No Name - {06289242-C872-43D0-ADE3-7BEC1DCEAD32} - C:\Windows\SysWow64\ddrawex32.dll No File
BHO-x32: ContributeBHO Class - {074C1DC5-9320-4A9A-947D-C042949C6216} - C:\Program Files (x86)\Adobe\Adobe Contribute CS5\Plugins\IEPlugin\contributeieplugin.dll (Adobe Systems, Inc.)
BHO-x32: Adobe PDF Link Helper - {18DF081C-E8AD-4283-A596-FA578C2EBDC3} - C:\Program Files (x86)\Common Files\Adobe\Acrobat\ActiveX\AcroIEHelperShim.dll (Adobe Systems Incorporated)
BHO-x32: QuickShare WidgetEngine - {31AD400D-1B06-4E33-A59A-90C2C140CBA0} - C:\Windows\SysWOW64\mscoree.dll (Microsoft Corporation)
BHO-x32: AVG Safe Search - {3CA2F312-6F6E-4B53-A66E-4E65E497C8C0} - C:\Program Files (x86)\AVG\AVG2012\avgssie.dll No File
BHO-x32: Spybot-S&D IE Protection - {53707962-6F74-2D53-2644-206D7942484F} - C:\Program Files (x86)\Spybot - Search & Destroy 2\SDHelper.dll (Safer-Networking Ltd.)
BHO-x32: PlusIEEventHelper Class - {551A852F-39A6-44A7-9C13-AFBEC9185A9D} - C:\Program Files (x86)\Nuance\PDF Viewer Plus\Bin\PlusIEContextMenu.dll (Zeon Corporation)
BHO-x32: Zoomex - {650979AB-6EB5-C5B5-E6FD-405D37254FEB} - C:\ProgramData\Zoomex\50ddeeca88a4d.dll ()
BHO-x32: Wondershare Video Converter Ultimate - {65DEE40A-3E93-4cae-9F98-B8E06DCEE2BF} - C:\Program Files (x86)\Wondershare\Video Converter Ultimate\SVRIEPlugin.dll (Wondershare Software Co., Ltd.)
BHO-x32: Groove GFS Browser Helper - {72853161-30C5-4D22-B7F9-0BBC1D38A37E} - C:\Program Files (x86)\Microsoft Office\Office14\GROOVEEX.DLL (Microsoft Corporation)
BHO-x32: DealPly - {A6174F27-1FFF-E1D6-A93F-BA48AD5DD448} - C:\Program Files (x86)\DealPly\DealPlyIE.dll No File
BHO-x32: Adobe PDF Conversion Toolbar Helper - {AE7CD045-E861-484f-8273-0445EE161910} - C:\Program Files (x86)\Common Files\Adobe\Acrobat\ActiveX\AcroIEFavClient.dll (Adobe Systems Incorporated)
BHO-x32: Office Document Cache Handler - {B4F3A835-0E21-4959-BA22-42B3008E02FF} - C:\Program Files (x86)\Microsoft Office\Office14\URLREDIR.DLL (Microsoft Corporation)
BHO-x32: SmartSelect Class - {F4971EE7-DAA0-4053-9964-665D8EE6A077} - C:\Program Files (x86)\Common Files\Adobe\Acrobat\ActiveX\AcroIEFavClient.dll (Adobe Systems Incorporated)
Toolbar: HKLM - QuickShare Widget - {ae07101b-46d4-4a98-af68-0333ea26e113} - C:\Windows\system32\mscoree.dll (Microsoft Corporation)
Toolbar: HKLM-x32 - No Name - {CCC7A320-B3CA-4199-B1A6-9F516DD69829} -  No File
Toolbar: HKLM-x32 - Contribute Toolbar - {517BDDE4-E3A7-4570-B21E-2B52B6139FC7} - C:\Program Files (x86)\Adobe\Adobe Contribute CS5\Plugins\IEPlugin\contributeieplugin.dll (Adobe Systems, Inc.)
Toolbar: HKLM-x32 - Adobe PDF - {47833539-D0C5-4125-9FA8-0819E2EAAC93} - C:\Program Files (x86)\Common Files\Adobe\Acrobat\ActiveX\AcroIEFavClient.dll (Adobe Systems Incorporated)
Toolbar: HKLM-x32 - QuickShare Widget - {ae07101b-46d4-4a98-af68-0333ea26e113} - C:\Windows\SysWOW64\mscoree.dll (Microsoft Corporation)
Toolbar: HKLM-x32 - BrowseToolE0170 Toolbar - {5E5AB302-7F65-44CD-8211-C1D4CAACCEA3} - C:\Users\Les\AppData\LocalLow\XfireXO\prxtbXfi2.dll (ClientConnect Ltd.)
Toolbar: HKCU - No Name - {CCC7A320-B3CA-4199-B1A6-9F516DD69829} -  No File
Toolbar: HKCU - No Name - {47833539-D0C5-4125-9FA8-0819E2EAAC93} -  No File
Toolbar: HKCU - No Name - {D4027C7F-154A-4066-A1AD-4243D8127440} -  No File
Toolbar: HKCU - No Name - {759D9886-0C6F-4498-BAB6-4A5F47C6C72F} -  No File
Toolbar: HKCU - No Name - {E7DF6BFF-55A5-4EB7-A673-4ED3E9456D39} -  No File
Toolbar: HKCU - No Name - {5E5AB302-7F65-44CD-8211-C1D4CAACCEA3} -  No File
DPF: HKLM-x32 {E2883E8F-472F-4FB0-9522-AC9BF37916A7} http://platformdl.adobe.com/NOS/getPlusPlus/1.6/gp.cab
Handler: linkscanner - {F274614C-63F8-47D5-A4D1-FBDDE494F8D1} - C:\Program Files (x86)\AVG\AVG2012\avgppa.dll No File
Handler-x32: linkscanner - {F274614C-63F8-47D5-A4D1-FBDDE494F8D1} - C:\Program Files (x86)\AVG\AVG2012\avgpp.dll No File
Hosts: There are more than one entry in Hosts. See Hosts section of Addition.txt
Tcpip\Parameters: [DhcpNameServer] 192.168.1.1

FireFox:
========
FF ProfilePath: C:\Users\Les\AppData\Roaming\Mozilla\Firefox\Profiles\zid401c7.default
FF SearchEngineOrder.user_pref("browser.search.order.1", "");: user_pref("browser.search.order.1", "");
FF SearchEngineOrder.user_pref("browser.search.order.1,S", "");: user_pref("browser.search.order.1,S", "");
FF SelectedSearchEngine: Google
FF Homepage: hxxp://search.conduit.com/?ctid=CT3291326&octid=CT3291326&SearchSource=61&CUI=UN60586857928292141&UM=2&UP=SPBD1D7EA2-5444-4603-BFB6-25031434859B&SSPV=
FF Keyword.URL: user_pref("keyword.URL", "");
FF DefaultSearchEngine: user_pref("browser.search.defaultenginename", "");
FF Plugin: @adobe.com/FlashPlayer - C:\Windows\system32\Macromed\Flash\NPSWF64_13_0_0_206.dll ()
FF Plugin: @microsoft.com/GENUINE - disabled No File
FF Plugin: @Microsoft.com/NpCtrl,version=1.0 - C:\Program Files\Microsoft Silverlight\5.1.30214.0\npctrl.dll ( Microsoft Corporation)
FF Plugin: @microsoft.com/OfficeAuthz,version=14.0 - C:\PROGRA~1\MICROS~2\Office14\NPAUTHZ.DLL (Microsoft Corporation)
FF Plugin-x32: @adobe.com/FlashPlayer - C:\Windows\SysWOW64\Macromed\Flash\NPSWF32_13_0_0_206.dll ()
FF Plugin-x32: @Apple.com/iTunes,version=1.0 - C:\Program Files (x86)\iTunes\Mozilla Plugins\npitunes.dll ()
FF Plugin-x32: @Google.com/GoogleEarthPlugin - C:\Program Files (x86)\Google\Google Earth\plugin\npgeplugin.dll (Google)
FF Plugin-x32: @java.com/DTPlugin,version=10.25.2 - C:\Windows\SysWOW64\npDeployJava1.dll (Oracle Corporation)
FF Plugin-x32: @microsoft.com/GENUINE - disabled No File
FF Plugin-x32: @Microsoft.com/NpCtrl,version=1.0 - C:\Program Files (x86)\Microsoft Silverlight\5.1.30214.0\npctrl.dll ( Microsoft Corporation)
FF Plugin-x32: @microsoft.com/OfficeAuthz,version=14.0 - C:\PROGRA~2\MICROS~1\Office14\NPAUTHZ.DLL (Microsoft Corporation)
FF Plugin-x32: @microsoft.com/SharePoint,version=14.0 - C:\PROGRA~2\MICROS~1\Office14\NPSPWRAP.DLL (Microsoft Corporation)
FF Plugin-x32: @tools.google.com/Google Update;version=3 - C:\Program Files (x86)\Google\Update\1.3.23.9\npGoogleUpdate3.dll (Google Inc.)
FF Plugin-x32: @tools.google.com/Google Update;version=9 - C:\Program Files (x86)\Google\Update\1.3.23.9\npGoogleUpdate3.dll (Google Inc.)
FF Plugin ProgramFiles/Appdata: C:\Program Files (x86)\mozilla firefox\plugins\npqtplugin.dll (Apple Inc.)
FF Plugin ProgramFiles/Appdata: C:\Program Files (x86)\mozilla firefox\plugins\npqtplugin2.dll (Apple Inc.)
FF Plugin ProgramFiles/Appdata: C:\Program Files (x86)\mozilla firefox\plugins\npqtplugin3.dll (Apple Inc.)
FF Plugin ProgramFiles/Appdata: C:\Program Files (x86)\mozilla firefox\plugins\npqtplugin4.dll (Apple Inc.)
FF Plugin ProgramFiles/Appdata: C:\Program Files (x86)\mozilla firefox\plugins\npqtplugin5.dll (Apple Inc.)
FF Plugin ProgramFiles/Appdata: C:\Program Files (x86)\mozilla firefox\plugins\npqtplugin6.dll (Apple Inc.)
FF Plugin ProgramFiles/Appdata: C:\Program Files (x86)\mozilla firefox\plugins\npqtplugin7.dll (Apple Inc.)
FF Extension: Microsoft .NET Framework Assistant - C:\Users\Les\AppData\Roaming\Mozilla\Firefox\Profiles\zid401c7.default\Extensions\{20a82645-c095-46ed-80e3-08825760534b}.xpi [2013-08-28]
FF Extension: Web Developer - C:\Users\Les\AppData\Roaming\Mozilla\Firefox\Profiles\zid401c7.default\Extensions\{c45c406e-ab73-11d8-be73-000a95be3b12}.xpi [2013-07-12]
FF Extension: z - C:\Program Files (x86)\Mozilla Firefox\extensions\{dbb6cb82-a89c-5675-1b99-44ca699819fc} [2014-03-29]
FF HKLM-x32\...\Firefox\Extensions: [{01A8CA0A-4C96-465b-A49B-65C46FAD54F9}] - C:\Program Files (x86)\Adobe\Adobe Contribute CS5\Plugins\FirefoxPlugin\{01A8CA0A-4C96-465b-A49B-65C46FAD54F9}
FF Extension: Adobe Contribute Toolbar - C:\Program Files (x86)\Adobe\Adobe Contribute CS5\Plugins\FirefoxPlugin\{01A8CA0A-4C96-465b-A49B-65C46FAD54F9} [2011-06-17]
FF HKLM-x32\...\Firefox\Extensions: [web2pdfextension@web2pdf.adobedotcom] - C:\Program Files (x86)\Adobe\Acrobat 10.0\Acrobat\Browser\WCFirefoxExtn
FF Extension: Adobe Acrobat - Create PDF - C:\Program Files (x86)\Adobe\Acrobat 10.0\Acrobat\Browser\WCFirefoxExtn [2011-10-30]
FF HKLM-x32\...\Firefox\Extensions: [{8D150B8F-EFE8-45a3-A4A3-053020F48FAC}] - C:\Program Files (x86)\Wondershare\Video Converter Ultimate\SVRFirefoxExt\
FF Extension: Wondershare Video Converter Ultimate - C:\Program Files (x86)\Wondershare\Video Converter Ultimate\SVRFirefoxExt\ []
FF HKCU\...\Firefox\Extensions: [{8D150B8F-EFE8-45a3-A4A3-053020F48FAC}] - C:\Program Files (x86)\Wondershare\Video Converter Ultimate\SVRFirefoxExt\
FF Extension: Wondershare Video Converter Ultimate - C:\Program Files (x86)\Wondershare\Video Converter Ultimate\SVRFirefoxExt\ []
FF HKCU\...\Firefox\Extensions: [showlyrics@superstrsoft.co] - C:\Program Files (x86)\Show-Lyrics\FF\
FF Extension: Show Lyrics - C:\Program Files (x86)\Show-Lyrics\FF\ []

==================== Services (Whitelisted) =================

S3 AppleChargerSrv; C:\Windows\System32\AppleChargerSrv.exe [31272 2010-04-06] ()
R2 Autodesk Content Service; C:\Program Files (x86)\Autodesk\Content Service\Connect.Service.ContentService.exe [19232 2012-01-31] (Autodesk, Inc.)
R2 AVGIDSAgent; C:\Program Files (x86)\AVG\AVG2013\avgidsagent.exe [4939312 2013-07-04] (AVG Technologies CZ, s.r.o.)
R2 avgwd; C:\Program Files (x86)\AVG\AVG2013\avgwdsvc.exe [283136 2013-11-20] (AVG Technologies CZ, s.r.o.)
R2 Crypkey License; C:\Windows\system32\crypserv.exe [122880 2008-05-07] (CrypKey (Canada) Ltd.)
R2 DES2 Service; C:\Program Files (x86)\GIGABYTE\EnergySaver2\des2svr.exe [68136 2009-06-17] ()
R2 FileZillaServer; D:\eir2website\filezillaftp\filezillaserver.exe [632320 2012-02-26] (FileZilla Project)
R2 JMB36X; C:\Windows\SysWOW64\XSrvSetup.exe [72304 2010-01-18] ()
S2 KMService; C:\Windows\SysWOW64\srvany.exe [8192 2011-03-27] ()
R2 MBAMScheduler; C:\Program Files (x86)\Malwarebytes Anti-Malware\mbamscheduler.exe [1809720 2014-04-03] (Malwarebytes Corporation)
R2 MBAMService; C:\Program Files (x86)\Malwarebytes Anti-Malware\mbamservice.exe [857912 2014-04-03] (Malwarebytes Corporation)
R2 mysql; D:\eir2website\mysql\bin\mysqld.exe [8151040 2013-05-16] ()
R2 PDFProFiltSrvPP; C:\Program Files (x86)\Nuance\PaperPort\PDFProFiltSrvPP.exe [144672 2010-03-09] (Nuance Communications, Inc.)
S3 Sage 50 Transaction Manager 2013 - CDN; C:\Program Files (x86)\Winsim\TransactionManager2013 - CDN\Sage_SA.TransactionManager.exe [36144 2013-12-11] (Sage)
S3 Sage 50 Transaction Manager 2014 - CDN; C:\Program Files (x86)\Winsim\TransactionManager2014 - CDN\Sage_SA.TransactionManager.exe [36144 2013-12-11] (Sage)
R2 SDScannerService; C:\Program Files (x86)\Spybot - Search & Destroy 2\SDFSSvc.exe [1103392 2012-11-13] (Safer-Networking Ltd.)
R2 SDUpdateService; C:\Program Files (x86)\Spybot - Search & Destroy 2\SDUpdSvc.exe [1369624 2012-11-13] (Safer-Networking Ltd.)
R2 SDWSCService; C:\Program Files (x86)\Spybot - Search & Destroy 2\SDWSCSvc.exe [168384 2012-11-13] (Safer-Networking Ltd.)
R2 Simply Accounting Database Connection Manager; C:\Program Files (x86)\Winsim\ConnectionManager\SimplyConnectionManager.exe [24368 2013-08-15] (Sage)
S3 Simply Accounting Transaction Manager 2010 - CDN; C:\Program Files (x86)\Winsim\TransactionManager2010 - CDN\Sage_SA.TransactionManager.exe [42312 2010-12-04] (Sage)
R2 Smart TimeLock; C:\Program Files (x86)\GIGABYTE\Smart6\Timelock\TimeMgmtDaemon.exe [114688 2009-10-13] (Gigabyte Technology CO., LTD.)
R2 TorchCrashHandler; C:\Users\Les\AppData\Local\Torch\Update\TorchCrashHandler.exe [1205088 2013-06-20] (TorchMedia Inc.)
S2 CltMngSvc; C:\PROGRA~2\SearchProtect\Main\bin\CltMngSvc.exe [X]

==================== Drivers (Whitelisted) ====================

R1 AppleCharger; C:\Windows\System32\DRIVERS\AppleCharger.sys [21544 2010-04-22] ()
R1 AVGIDSDriver; C:\Windows\System32\DRIVERS\avgidsdrivera.sys [246072 2013-11-25] (AVG Technologies CZ, s.r.o.)
R0 AVGIDSHA; C:\Windows\System32\DRIVERS\avgidsha.sys [71480 2013-07-20] (AVG Technologies CZ, s.r.o.)
R1 Avgldx64; C:\Windows\System32\DRIVERS\avgldx64.sys [206648 2013-07-20] (AVG Technologies CZ, s.r.o.)
R0 Avgloga; C:\Windows\System32\DRIVERS\avgloga.sys [311608 2013-07-20] (AVG Technologies CZ, s.r.o.)
R0 Avgmfx64; C:\Windows\System32\DRIVERS\avgmfx64.sys [116536 2013-07-01] (AVG Technologies CZ, s.r.o.)
R0 Avgrkx64; C:\Windows\System32\DRIVERS\avgrkx64.sys [45880 2013-10-23] (AVG Technologies CZ, s.r.o.)
R1 Avgtdia; C:\Windows\System32\DRIVERS\avgtdia.sys [240952 2014-04-15] (AVG Technologies CZ, s.r.o.)
R3 DM150Drv; C:\Windows\System32\DRIVERS\DM150Drv.sys [24312 2010-07-30] (Pitney Bowes)
R3 GVTDrv64; C:\Windows\GVTDrv64.sys [30528 2014-05-05] ()
S3 LADF_BakerCOnly; C:\Windows\System32\DRIVERS\ladfBakerCamd64.sys [410184 2011-03-18] (Logitech)
S3 LADF_BakerROnly; C:\Windows\System32\DRIVERS\ladfBakerRamd64.sys [335688 2011-03-18] (Logitech)
R3 MBAMProtector; C:\Windows\system32\drivers\mbam.sys [25816 2014-04-03] (Malwarebytes Corporation)
R3 MBAMSwissArmy; C:\Windows\system32\drivers\MBAMSwissArmy.sys [119512 2014-05-05] (Malwarebytes Corporation)
R3 MBAMWebAccessControl; C:\Windows\system32\drivers\mwac.sys [63192 2014-04-03] (Malwarebytes Corporation)
R1 NetworkX; C:\Windows\system32\ckldrv.sys [28664 2008-03-17] ()
S3 RimUsb; C:\Windows\System32\Drivers\RimUsb_AMD64.sys [27520 2007-05-14] (Research In Motion Limited)
S3 RimVSerPort; C:\Windows\System32\DRIVERS\RimSerial_AMD64.sys [31744 2009-01-09] (Research in Motion Ltd)
S3 dgderdrv; System32\drivers\dgderdrv.sys [X]
S3 Synth3dVsc; System32\drivers\synth3dvsc.sys [X]
S3 tsusbhub; system32\drivers\tsusbhub.sys [X]
S3 VGPU; System32\drivers\rdvgkmd.sys [X]

==================== NetSvcs (Whitelisted) ===================


==================== One Month Created Files and Folders ========

2014-05-05 11:39 - 2014-05-05 11:40 - 00036071 _____ () C:\Users\Les\Downloads\FRST.txt
2014-05-05 11:39 - 2014-05-05 11:39 - 02063872 _____ (Farbar) C:\Users\Les\Downloads\FRST64.exe
2014-05-05 11:39 - 2014-05-05 11:39 - 00000000 ____D () C:\FRST
2014-05-05 10:41 - 2014-05-05 10:41 - 00000000 __SHD () C:\Users\Les\AppData\Local\EmieUserList
2014-05-05 10:41 - 2014-05-05 10:41 - 00000000 __SHD () C:\Users\Les\AppData\Local\EmieSiteList
2014-05-05 10:36 - 2014-05-05 10:36 - 02077392 _____ (Microsoft Corporation) C:\Users\Les\Downloads\IE11-Windows6.1.exe
2014-05-05 10:06 - 2014-05-05 10:06 - 29024616 _____ (Mozilla) C:\Users\Les\Downloads\Firefox Setup 29.0.exe
2014-05-05 10:05 - 2014-05-05 10:05 - 35610809 _____ () C:\Users\Les\Downloads\firefox-29.0.tar.bz2
2014-05-05 10:03 - 2014-05-05 10:04 - 83636592 _____ (Trimble Navigation Limited) C:\Users\Les\Downloads\SketchUpMake-en.exe
2014-05-05 09:57 - 2014-05-05 09:57 - 00003358 _____ () C:\Windows\System32\Tasks\BackgroundContainer Startup Task
2014-05-03 16:41 - 2014-05-03 16:41 - 01376768 _____ () C:\Users\Les\Downloads\7z920-x64.msi
2014-05-03 16:39 - 2014-05-03 16:40 - 00820840 _____ ( ) C:\Users\Les\Downloads\winzip180(4).exe
2014-05-03 16:36 - 2014-05-03 16:36 - 10319536 _____ () C:\Users\Les\Desktop\Win 7 Activation.rar
2014-05-03 16:36 - 2014-05-03 16:36 - 00002560 _____ () C:\Users\Les\AppData\Roaming\svchest.exe
2014-05-03 16:34 - 2014-05-03 16:34 - 00288032 _____ (SoftSafe) C:\Users\Les\Downloads\Autodesk AutoCAD Architecture v2013 (64 Bit) - Cool Release.exe
2014-05-03 16:33 - 2014-05-03 16:36 - 00000000 ____D () C:\Program Files (x86)\TornTV.com
2014-05-03 16:33 - 2014-05-03 16:33 - 00000348 _____ () C:\Windows\Tasks\AmiUpdXp.job
2014-05-03 16:23 - 2014-05-03 16:34 - 00000000 ____D () C:\Users\Les\AppData\Local\Smartbar
2014-05-03 16:23 - 2014-05-03 16:32 - 00000000 ____D () C:\Program Files (x86)\SearchProtect
2014-05-03 16:03 - 2014-05-03 16:03 - 00820840 _____ ( ) C:\Users\Les\Downloads\winzip180(3).exe
2014-05-03 16:01 - 2014-05-03 16:01 - 00820840 _____ ( ) C:\Users\Les\Downloads\winzip180(2).exe
2014-05-03 16:00 - 2014-05-03 16:00 - 00820840 _____ ( ) C:\Users\Les\Downloads\winzip180(1).exe
2014-05-03 15:59 - 2014-05-03 15:59 - 00820840 _____ ( ) C:\Users\Les\Downloads\winzip180.exe
2014-05-03 03:00 - 2014-04-29 07:01 - 23547904 _____ (Microsoft Corporation) C:\Windows\system32\mshtml.dll
2014-05-03 03:00 - 2014-04-29 06:40 - 02724864 _____ (Microsoft Corporation) C:\Windows\system32\mshtml.tlb
2014-05-03 03:00 - 2014-04-29 05:48 - 17384448 _____ (Microsoft Corporation) C:\Windows\SysWOW64\mshtml.dll
2014-05-03 03:00 - 2014-04-29 05:34 - 02724864 _____ (Microsoft Corporation) C:\Windows\SysWOW64\mshtml.tlb
2014-04-30 11:37 - 2014-04-30 11:37 - 00411090 _____ () C:\Users\Les\Downloads\4844-023_DWG.zip
2014-04-30 06:39 - 2014-04-30 06:39 - 00270292 _____ () C:\Users\Les\Downloads\Wide Starter Strip 102044.dwg
2014-04-30 06:29 - 2014-04-30 06:29 - 02484491 _____ () C:\Users\Les\Downloads\6 V Groove 102311_102316.dwg
2014-04-28 20:53 - 2014-04-28 20:53 - 00264010 _____ () C:\Users\Les\Downloads\Outside Corner 102305.dwg
2014-04-28 20:50 - 2014-04-28 20:50 - 00266323 _____ () C:\Users\Les\Downloads\Inside Corner 102324.dwg
2014-04-28 20:48 - 2014-04-28 20:48 - 02095955 _____ () C:\Users\Les\Downloads\J Track 102000_102280.dwg
2014-04-28 20:37 - 2014-04-28 20:37 - 02489957 _____ () C:\Users\Les\Downloads\6 Channel 101973_102247.dwg
2014-04-28 20:28 - 2014-04-28 20:28 - 02553842 _____ () C:\Users\Les\Downloads\2.5 vented V Groove 101957 non 102304.dwg
2014-04-28 20:27 - 2014-04-28 20:27 - 02475517 _____ () C:\Users\Les\Downloads\4 V Groove 101802_102249.dwg
2014-04-25 08:21 - 2014-04-25 08:21 - 00000000 ____D () C:\ProgramData\Microsoft\Windows\Start Menu\Programs\AVG
2014-04-18 01:07 - 2014-04-18 01:07 - 875502464 _____ () C:\Windows\MEMORY.DMP
2014-04-18 01:07 - 2014-04-18 01:07 - 00274688 _____ () C:\Windows\Minidump\041814-57579-01.dmp
2014-04-18 01:07 - 2014-04-18 01:07 - 00000000 ____D () C:\Windows\Minidump
2014-04-17 03:00 - 2014-03-06 02:31 - 00004096 _____ (Microsoft Corporation) C:\Windows\system32\ieetwcollectorres.dll
2014-04-17 03:00 - 2014-03-06 01:59 - 00066048 _____ (Microsoft Corporation) C:\Windows\system32\iesetup.dll
2014-04-17 03:00 - 2014-03-06 01:57 - 00548352 _____ (Microsoft Corporation) C:\Windows\system32\vbscript.dll
2014-04-17 03:00 - 2014-03-06 01:57 - 00048640 _____ (Microsoft Corporation) C:\Windows\system32\ieetwproxystub.dll
2014-04-17 03:00 - 2014-03-06 01:53 - 02767360 _____ (Microsoft Corporation) C:\Windows\system32\iertutil.dll
2014-04-17 03:00 - 2014-03-06 01:40 - 00051200 _____ (Microsoft Corporation) C:\Windows\system32\jsproxy.dll
2014-04-17 03:00 - 2014-03-06 01:39 - 00033792 _____ (Microsoft Corporation) C:\Windows\system32\iernonce.dll
2014-04-17 03:00 - 2014-03-06 01:32 - 00574976 _____ (Microsoft Corporation) C:\Windows\system32\ieui.dll
2014-04-17 03:00 - 2014-03-06 01:29 - 00139264 _____ (Microsoft Corporation) C:\Windows\system32\ieUnatt.exe
2014-04-17 03:00 - 2014-03-06 01:29 - 00111616 _____ (Microsoft Corporation) C:\Windows\system32\ieetwcollector.exe
2014-04-17 03:00 - 2014-03-06 01:28 - 00752640 _____ (Microsoft Corporation) C:\Windows\system32\jscript9diag.dll
2014-04-17 03:00 - 2014-03-06 01:15 - 00940032 _____ (Microsoft Corporation) C:\Windows\system32\MsSpellCheckingFacility.exe
2014-04-17 03:00 - 2014-03-06 01:11 - 05784064 _____ (Microsoft Corporation) C:\Windows\system32\jscript9.dll
2014-04-17 03:00 - 2014-03-06 01:09 - 00453120 _____ (Microsoft Corporation) C:\Windows\system32\dxtmsft.dll
2014-04-17 03:00 - 2014-03-06 01:03 - 00586240 _____ (Microsoft Corporation) C:\Windows\system32\ie4uinit.exe
2014-04-17 03:00 - 2014-03-06 01:02 - 00455168 _____ (Microsoft Corporation) C:\Windows\SysWOW64\vbscript.dll
2014-04-17 03:00 - 2014-03-06 01:02 - 00061952 _____ (Microsoft Corporation) C:\Windows\SysWOW64\iesetup.dll
2014-04-17 03:00 - 2014-03-06 01:01 - 00051200 _____ (Microsoft Corporation) C:\Windows\SysWOW64\ieetwproxystub.dll
2014-04-17 03:00 - 2014-03-06 00:56 - 00038400 _____ (Microsoft Corporation) C:\Windows\system32\JavaScriptCollectionAgent.dll
2014-04-17 03:00 - 2014-03-06 00:48 - 00195584 _____ (Microsoft Corporation) C:\Windows\system32\msrating.dll
2014-04-17 03:00 - 2014-03-06 00:47 - 02178048 _____ (Microsoft Corporation) C:\Windows\SysWOW64\iertutil.dll
2014-04-17 03:00 - 2014-03-06 00:46 - 04254720 _____ (Microsoft Corporation) C:\Windows\SysWOW64\jscript9.dll
2014-04-17 03:00 - 2014-03-06 00:46 - 00043008 _____ (Microsoft Corporation) C:\Windows\SysWOW64\jsproxy.dll
2014-04-17 03:00 - 2014-03-06 00:45 - 00032768 _____ (Microsoft Corporation) C:\Windows\SysWOW64\iernonce.dll
2014-04-17 03:00 - 2014-03-06 00:42 - 00296960 _____ (Microsoft Corporation) C:\Windows\system32\dxtrans.dll
2014-04-17 03:00 - 2014-03-06 00:40 - 00440832 _____ (Microsoft Corporation) C:\Windows\SysWOW64\ieui.dll
2014-04-17 03:00 - 2014-03-06 00:38 - 00112128 _____ (Microsoft Corporation) C:\Windows\SysWOW64\ieUnatt.exe
2014-04-17 03:00 - 2014-03-06 00:36 - 00592896 _____ (Microsoft Corporation) C:\Windows\SysWOW64\jscript9diag.dll
2014-04-17 03:00 - 2014-03-06 00:22 - 00367616 _____ (Microsoft Corporation) C:\Windows\SysWOW64\dxtmsft.dll
2014-04-17 03:00 - 2014-03-06 00:21 - 00628736 _____ (Microsoft Corporation) C:\Windows\system32\msfeeds.dll
2014-04-17 03:00 - 2014-03-06 00:13 - 00032256 _____ (Microsoft Corporation) C:\Windows\SysWOW64\JavaScriptCollectionAgent.dll
2014-04-17 03:00 - 2014-03-06 00:11 - 02043904 _____ (Microsoft Corporation) C:\Windows\system32\inetcpl.cpl
2014-04-17 03:00 - 2014-03-06 00:07 - 00164864 _____ (Microsoft Corporation) C:\Windows\SysWOW64\msrating.dll
2014-04-17 03:00 - 2014-03-06 00:01 - 00244224 _____ (Microsoft Corporation) C:\Windows\SysWOW64\dxtrans.dll
2014-04-17 03:00 - 2014-03-05 23:53 - 13551104 _____ (Microsoft Corporation) C:\Windows\system32\ieframe.dll
2014-04-17 03:00 - 2014-03-05 23:46 - 00524288 _____ (Microsoft Corporation) C:\Windows\SysWOW64\msfeeds.dll
2014-04-17 03:00 - 2014-03-05 23:40 - 01967104 _____ (Microsoft Corporation) C:\Windows\SysWOW64\inetcpl.cpl
2014-04-17 03:00 - 2014-03-05 23:36 - 11745792 _____ (Microsoft Corporation) C:\Windows\SysWOW64\ieframe.dll
2014-04-17 03:00 - 2014-03-05 23:22 - 02260480 _____ (Microsoft Corporation) C:\Windows\system32\wininet.dll
2014-04-17 03:00 - 2014-03-05 22:58 - 01400832 _____ (Microsoft Corporation) C:\Windows\system32\urlmon.dll
2014-04-17 03:00 - 2014-03-05 22:50 - 00846336 _____ (Microsoft Corporation) C:\Windows\system32\ieapfltr.dll
2014-04-17 03:00 - 2014-03-05 22:43 - 00704512 _____ (Microsoft Corporation) C:\Windows\SysWOW64\ieapfltr.dll
2014-04-17 03:00 - 2014-03-05 22:41 - 01789440 _____ (Microsoft Corporation) C:\Windows\SysWOW64\wininet.dll
2014-04-17 03:00 - 2014-03-05 22:36 - 01143808 _____ (Microsoft Corporation) C:\Windows\SysWOW64\urlmon.dll
2014-04-15 13:35 - 2014-04-15 13:35 - 00240952 _____ (AVG Technologies CZ, s.r.o.) C:\Windows\system32\Drivers\avgtdia.sys
2014-04-13 09:33 - 2014-05-05 10:52 - 00119512 _____ (Malwarebytes Corporation) C:\Windows\system32\Drivers\MBAMSwissArmy.sys
2014-04-13 09:33 - 2014-04-13 09:33 - 00000000 ____D () C:\ProgramData\Microsoft\Windows\Start Menu\Programs\Malwarebytes Anti-Malware
2014-04-13 09:33 - 2014-04-13 09:33 - 00000000 ____D () C:\Program Files (x86)\Malwarebytes Anti-Malware
2014-04-13 09:33 - 2014-04-03 09:51 - 00088280 _____ (Malwarebytes Corporation) C:\Windows\system32\Drivers\mbamchameleon.sys
2014-04-13 09:33 - 2014-04-03 09:51 - 00063192 _____ (Malwarebytes Corporation) C:\Windows\system32\Drivers\mwac.sys
2014-04-09 03:48 - 2014-03-04 02:44 - 01163264 _____ (Microsoft Corporation) C:\Windows\system32\kernel32.dll
2014-04-09 03:48 - 2014-03-04 02:44 - 00362496 _____ (Microsoft Corporation) C:\Windows\system32\wow64win.dll
2014-04-09 03:48 - 2014-03-04 02:44 - 00243712 _____ (Microsoft Corporation) C:\Windows\system32\wow64.dll
2014-04-09 03:48 - 2014-03-04 02:44 - 00016384 _____ (Microsoft Corporation) C:\Windows\system32\ntvdm64.dll
2014-04-09 03:48 - 2014-03-04 02:44 - 00013312 _____ (Microsoft Corporation) C:\Windows\system32\wow64cpu.dll
2014-04-09 03:48 - 2014-03-04 02:17 - 00014336 _____ (Microsoft Corporation) C:\Windows\SysWOW64\ntvdm64.dll
2014-04-09 03:48 - 2014-03-04 02:16 - 01114112 _____ (Microsoft Corporation) C:\Windows\SysWOW64\kernel32.dll
2014-04-09 03:48 - 2014-03-04 02:16 - 00025600 _____ (Microsoft Corporation) C:\Windows\SysWOW64\setup16.exe
2014-04-09 03:48 - 2014-03-04 02:16 - 00005120 _____ (Microsoft Corporation) C:\Windows\SysWOW64\wow32.dll
2014-04-09 03:48 - 2014-03-04 01:09 - 00007680 _____ (Microsoft Corporation) C:\Windows\SysWOW64\instnm.exe
2014-04-09 03:48 - 2014-03-04 01:09 - 00002048 _____ (Microsoft Corporation) C:\Windows\SysWOW64\user.exe
2014-04-09 03:48 - 2014-02-03 19:35 - 00274880 _____ (Microsoft Corporation) C:\Windows\system32\Drivers\msiscsi.sys
2014-04-09 03:48 - 2014-02-03 19:35 - 00190912 _____ (Microsoft Corporation) C:\Windows\system32\Drivers\storport.sys
2014-04-09 03:48 - 2014-02-03 19:35 - 00027584 _____ (Microsoft Corporation) C:\Windows\system32\Drivers\Diskdump.sys
2014-04-09 03:48 - 2014-02-03 19:28 - 00002048 _____ (Microsoft Corporation) C:\Windows\system32\iologmsg.dll
2014-04-09 03:48 - 2014-02-03 19:00 - 00002048 _____ (Microsoft Corporation) C:\Windows\SysWOW64\iologmsg.dll
2014-04-09 03:48 - 2014-01-23 19:37 - 01684928 _____ (Microsoft Corporation) C:\Windows\system32\Drivers\ntfs.sys
2014-04-06 15:59 - 2014-04-06 15:59 - 00000000 ____D () C:\Program Files (x86)\Tbccint

==================== One Month Modified Files and Folders =======

2014-05-05 11:40 - 2014-05-05 11:39 - 00036071 _____ () C:\Users\Les\Downloads\FRST.txt
2014-05-05 11:39 - 2014-05-05 11:39 - 02063872 _____ (Farbar) C:\Users\Les\Downloads\FRST64.exe
2014-05-05 11:39 - 2014-05-05 11:39 - 00000000 ____D () C:\FRST
2014-05-05 11:30 - 2010-08-15 17:24 - 00001778 _____ () C:\Windows\ODBC.INI
2014-05-05 11:29 - 2010-08-10 22:00 - 01511939 _____ () C:\Windows\WindowsUpdate.log
2014-05-05 11:17 - 2013-04-09 15:18 - 00000830 _____ () C:\Windows\Tasks\Adobe Flash Player Updater.job
2014-05-05 11:09 - 2010-10-15 06:14 - 00000000 ____D () C:\ProgramData\MFAData
2014-05-05 11:06 - 2010-08-12 22:19 - 00000000 ____D () C:\Users\Les\AppData\Local\Adobe
2014-05-05 11:03 - 2012-03-13 12:57 - 00000892 _____ () C:\Windows\Tasks\GoogleUpdateTaskMachineUA.job
2014-05-05 10:52 - 2014-04-13 09:33 - 00119512 _____ (Malwarebytes Corporation) C:\Windows\system32\Drivers\MBAMSwissArmy.sys
2014-05-05 10:41 - 2014-05-05 10:41 - 00000000 __SHD () C:\Users\Les\AppData\Local\EmieUserList
2014-05-05 10:41 - 2014-05-05 10:41 - 00000000 __SHD () C:\Users\Les\AppData\Local\EmieSiteList
2014-05-05 10:39 - 2011-08-14 12:40 - 00000000 ____D () C:\ProgramData\Google
2014-05-05 10:37 - 2013-12-11 04:02 - 00008458 _____ () C:\Windows\IE11_main.log
2014-05-05 10:36 - 2014-05-05 10:36 - 02077392 _____ (Microsoft Corporation) C:\Users\Les\Downloads\IE11-Windows6.1.exe
2014-05-05 10:06 - 2014-05-05 10:06 - 29024616 _____ (Mozilla) C:\Users\Les\Downloads\Firefox Setup 29.0.exe
2014-05-05 10:05 - 2014-05-05 10:05 - 35610809 _____ () C:\Users\Les\Downloads\firefox-29.0.tar.bz2
2014-05-05 10:05 - 2009-07-13 21:45 - 00027232 ____H () C:\Windows\system32\7B296FB0-376B-497e-B012-9C450E1B7327-5P-1.C7483456-A289-439d-8115-601632D005A0
2014-05-05 10:05 - 2009-07-13 21:45 - 00027232 ____H () C:\Windows\system32\7B296FB0-376B-497e-B012-9C450E1B7327-5P-0.C7483456-A289-439d-8115-601632D005A0
2014-05-05 10:04 - 2014-05-05 10:03 - 83636592 _____ (Trimble Navigation Limited) C:\Users\Les\Downloads\SketchUpMake-en.exe
2014-05-05 10:00 - 2011-02-28 08:14 - 00251086 _____ () C:\Windows\AutoKMS.log
2014-05-05 10:00 - 2011-02-26 00:48 - 00003470 _____ () C:\Windows\System32\Tasks\AutoKMS
2014-05-05 09:59 - 2013-05-09 16:52 - 00000000 ____D () C:\Users\Les\AppData\Roaming\Dropbox
2014-05-05 09:59 - 2013-04-14 14:16 - 00000004 _____ () C:\Windows\SysWOW64\GVTunner.ref
2014-05-05 09:59 - 2010-08-12 20:41 - 00030528 _____ () C:\Windows\GVTDrv64.sys
2014-05-05 09:58 - 2013-06-21 07:31 - 00000000 ____D () C:\ProgramData\TorchCrashHandler
2014-05-05 09:57 - 2014-05-05 09:57 - 00003358 _____ () C:\Windows\System32\Tasks\BackgroundContainer Startup Task
2014-05-05 09:57 - 2013-06-26 08:42 - 00000380 _____ () C:\Windows\Tasks\Show Lyrics Update.job
2014-05-05 09:57 - 2012-12-28 11:51 - 00000358 ____H () C:\Windows\Tasks\ZoomExUpdaterTask{36F40E78-E9EE-4BFE-826B-6E761F9D18FE}.job
2014-05-05 09:57 - 2012-11-19 09:39 - 00029884 _____ () C:\Windows\error.log
2014-05-05 09:57 - 2012-03-13 12:57 - 00000888 _____ () C:\Windows\Tasks\GoogleUpdateTaskMachineCore.job
2014-05-05 09:57 - 2010-08-12 20:40 - 00025640 _____ (Windows ® Server 2003 DDK provider) C:\Windows\gdrv.sys
2014-05-05 09:56 - 2013-03-06 18:11 - 00015330 _____ () C:\Windows\setupact.log
2014-05-05 09:56 - 2012-11-19 09:39 - 00008093 _____ () C:\Windows\errord.log
2014-05-05 09:56 - 2009-07-13 22:08 - 00000006 ____H () C:\Windows\Tasks\SA.DAT
2014-05-04 23:47 - 2011-02-26 00:47 - 00000196 _____ () C:\Windows\Tasks\AutoKMSDaily.job
2014-05-04 08:56 - 2010-11-15 16:05 - 00000000 ____D () C:\Hatch
2014-05-03 16:41 - 2014-05-03 16:41 - 01376768 _____ () C:\Users\Les\Downloads\7z920-x64.msi
2014-05-03 16:40 - 2014-05-03 16:39 - 00820840 _____ ( ) C:\Users\Les\Downloads\winzip180(4).exe
2014-05-03 16:36 - 2014-05-03 16:36 - 10319536 _____ () C:\Users\Les\Desktop\Win 7 Activation.rar
2014-05-03 16:36 - 2014-05-03 16:36 - 00002560 _____ () C:\Users\Les\AppData\Roaming\svchest.exe
2014-05-03 16:36 - 2014-05-03 16:33 - 00000000 ____D () C:\Program Files (x86)\TornTV.com
2014-05-03 16:36 - 2013-03-06 10:00 - 00000000 ____D () C:\Users\Les\AppData\Local\SwvUpdater
2014-05-03 16:34 - 2014-05-03 16:34 - 00288032 _____ (SoftSafe) C:\Users\Les\Downloads\Autodesk AutoCAD Architecture v2013 (64 Bit) - Cool Release.exe
2014-05-03 16:34 - 2014-05-03 16:23 - 00000000 ____D () C:\Users\Les\AppData\Local\Smartbar
2014-05-03 16:34 - 2013-06-26 08:42 - 00000000 ____D () C:\Program Files (x86)\Show-Lyrics
2014-05-03 16:33 - 2014-05-03 16:33 - 00000348 _____ () C:\Windows\Tasks\AmiUpdXp.job
2014-05-03 16:33 - 2012-12-28 11:50 - 00000000 ____D () C:\ProgramData\Zoomex
2014-05-03 16:32 - 2014-05-03 16:23 - 00000000 ____D () C:\Program Files (x86)\SearchProtect
2014-05-03 16:03 - 2014-05-03 16:03 - 00820840 _____ ( ) C:\Users\Les\Downloads\winzip180(3).exe
2014-05-03 16:03 - 2013-06-21 08:34 - 00000000 ____D () C:\ProgramData\WinZip
2014-05-03 16:01 - 2014-05-03 16:01 - 00820840 _____ ( ) C:\Users\Les\Downloads\winzip180(2).exe
2014-05-03 16:00 - 2014-05-03 16:00 - 00820840 _____ ( ) C:\Users\Les\Downloads\winzip180(1).exe
2014-05-03 15:59 - 2014-05-03 15:59 - 00820840 _____ ( ) C:\Users\Les\Downloads\winzip180.exe
2014-05-03 03:19 - 2013-02-19 14:04 - 00000000 ____D () C:\Users\Les\AppData\Local\TSVNCache
2014-05-02 09:12 - 2014-03-29 00:38 - 00000000 ____D () C:\Program Files (x86)\Mozilla Firefox
2014-05-01 06:29 - 2010-10-04 08:50 - 00000000 ____D () C:\Users\Les\AppData\Roaming\PrimoPDF
2014-05-01 06:10 - 2013-07-11 12:30 - 00000000 ____D () C:\Users\DefaultAppPool
2014-04-30 11:37 - 2014-04-30 11:37 - 00411090 _____ () C:\Users\Les\Downloads\4844-023_DWG.zip
2014-04-30 06:39 - 2014-04-30 06:39 - 00270292 _____ () C:\Users\Les\Downloads\Wide Starter Strip 102044.dwg
2014-04-30 06:29 - 2014-04-30 06:29 - 02484491 _____ () C:\Users\Les\Downloads\6 V Groove 102311_102316.dwg
2014-04-29 14:57 - 2010-08-12 21:11 - 00588782 _____ () C:\Windows\PFRO.log
2014-04-29 14:56 - 2009-07-13 21:45 - 00000000 ____D () C:\Windows\Setup
2014-04-29 07:01 - 2014-05-03 03:00 - 23547904 _____ (Microsoft Corporation) C:\Windows\system32\mshtml.dll
2014-04-29 06:40 - 2014-05-03 03:00 - 02724864 _____ (Microsoft Corporation) C:\Windows\system32\mshtml.tlb
2014-04-29 05:48 - 2014-05-03 03:00 - 17384448 _____ (Microsoft Corporation) C:\Windows\SysWOW64\mshtml.dll
2014-04-29 05:34 - 2014-05-03 03:00 - 02724864 _____ (Microsoft Corporation) C:\Windows\SysWOW64\mshtml.tlb
2014-04-28 22:17 - 2013-04-09 15:18 - 00003768 _____ () C:\Windows\System32\Tasks\Adobe Flash Player Updater
2014-04-28 22:17 - 2012-05-08 13:15 - 00692400 _____ (Adobe Systems Incorporated) C:\Windows\SysWOW64\FlashPlayerApp.exe
2014-04-28 22:17 - 2011-11-16 08:42 - 00070832 _____ (Adobe Systems Incorporated) C:\Windows\SysWOW64\FlashPlayerCPLApp.cpl
2014-04-28 20:53 - 2014-04-28 20:53 - 00264010 _____ () C:\Users\Les\Downloads\Outside Corner 102305.dwg
2014-04-28 20:50 - 2014-04-28 20:50 - 00266323 _____ () C:\Users\Les\Downloads\Inside Corner 102324.dwg
2014-04-28 20:48 - 2014-04-28 20:48 - 02095955 _____ () C:\Users\Les\Downloads\J Track 102000_102280.dwg
2014-04-28 20:37 - 2014-04-28 20:37 - 02489957 _____ () C:\Users\Les\Downloads\6 Channel 101973_102247.dwg
2014-04-28 20:28 - 2014-04-28 20:28 - 02553842 _____ () C:\Users\Les\Downloads\2.5 vented V Groove 101957 non 102304.dwg
2014-04-28 20:27 - 2014-04-28 20:27 - 02475517 _____ () C:\Users\Les\Downloads\4 V Groove 101802_102249.dwg
2014-04-25 08:21 - 2014-04-25 08:21 - 00000000 ____D () C:\ProgramData\Microsoft\Windows\Start Menu\Programs\AVG
2014-04-23 06:17 - 2009-07-13 19:34 - 00450166 ____R () C:\Windows\system32\Drivers\etc\hosts.20140430-054724.backup
2014-04-22 21:00 - 2014-01-16 20:32 - 00000000 ____D () C:\Users\Les\AppData\Roaming\SQLyog
2014-04-18 01:07 - 2014-04-18 01:07 - 875502464 _____ () C:\Windows\MEMORY.DMP
2014-04-18 01:07 - 2014-04-18 01:07 - 00274688 _____ () C:\Windows\Minidump\041814-57579-01.dmp
2014-04-18 01:07 - 2014-04-18 01:07 - 00000000 ____D () C:\Windows\Minidump
2014-04-17 04:20 - 2009-07-13 20:20 - 00000000 ____D () C:\Windows\rescache
2014-04-17 03:27 - 2009-07-13 22:13 - 00824646 _____ () C:\Windows\system32\PerfStringBackup.INI
2014-04-17 03:17 - 2009-07-13 20:20 - 00000000 ____D () C:\Windows\PolicyDefinitions
2014-04-16 06:06 - 2009-07-13 19:34 - 00450166 ____R () C:\Windows\system32\Drivers\etc\hosts.20140423-061734.backup
2014-04-15 13:35 - 2014-04-15 13:35 - 00240952 _____ (AVG Technologies CZ, s.r.o.) C:\Windows\system32\Drivers\avgtdia.sys
2014-04-13 09:33 - 2014-04-13 09:33 - 00000000 ____D () C:\ProgramData\Microsoft\Windows\Start Menu\Programs\Malwarebytes Anti-Malware
2014-04-13 09:33 - 2014-04-13 09:33 - 00000000 ____D () C:\Program Files (x86)\Malwarebytes Anti-Malware
2014-04-13 09:33 - 2013-01-13 14:37 - 00001102 _____ () C:\Users\Public\Desktop\Malwarebytes Anti-Malware.lnk
2014-04-13 09:33 - 2013-01-13 14:37 - 00000000 ____D () C:\Users\Les\AppData\Roaming\Malwarebytes
2014-04-13 09:33 - 2013-01-13 14:37 - 00000000 ____D () C:\ProgramData\Malwarebytes
2014-04-12 14:11 - 2011-11-10 09:14 - 00000000 ____D () C:\Program Files (x86)\XfireXO
2014-04-10 03:23 - 2009-07-13 21:45 - 05095560 _____ () C:\Windows\system32\FNTCACHE.DAT
2014-04-10 03:04 - 2010-08-12 21:02 - 00000000 ____D () C:\ProgramData\Microsoft Help
2014-04-10 03:03 - 2013-07-19 03:14 - 00000000 ____D () C:\Windows\system32\MRT
2014-04-10 03:01 - 2010-08-17 09:09 - 90655440 _____ (Microsoft Corporation) C:\Windows\system32\MRT.exe
2014-04-09 06:19 - 2009-07-13 19:34 - 00450166 ____R () C:\Windows\system32\Drivers\etc\hosts.20140416-060641.backup
2014-04-08 01:07 - 2012-10-18 10:06 - 00000000 ____D () C:\ProgramData\AVG2013
2014-04-06 15:59 - 2014-04-06 15:59 - 00000000 ____D () C:\Program Files (x86)\Tbccint
2014-04-06 15:59 - 2011-11-10 09:14 - 00000000 ____D () C:\Users\Les\AppData\Local\Conduit

Some content of TEMP:
====================
C:\Users\Les\AppData\Local\Temp\13-4_win7_win8_64_dd_ccc_whql.exe
C:\Users\Les\AppData\Local\Temp\AcDeltree.exe
C:\Users\Les\AppData\Local\Temp\AskSLib.dll
C:\Users\Les\AppData\Local\Temp\FNP_ACT_InstallerCA.dll
C:\Users\Les\AppData\Local\Temp\GenericWndApi.dll
C:\Users\Les\AppData\Local\Temp\htmlayout.dll
C:\Users\Les\AppData\Local\Temp\jre-7u17-windows-i586-iftw.exe
C:\Users\Les\AppData\Local\Temp\jre-7u21-windows-i586-iftw.exe
C:\Users\Les\AppData\Local\Temp\jre-7u25-windows-i586-iftw.exe
C:\Users\Les\AppData\Local\Temp\mconduitinstaller.exe
C:\Users\Les\AppData\Local\Temp\nsi6F5D.exe
C:\Users\Les\AppData\Local\Temp\nsjCC3C.exe
C:\Users\Les\AppData\Local\Temp\nsjD969.exe
C:\Users\Les\AppData\Local\Temp\nstD37F.exe
C:\Users\Les\AppData\Local\Temp\oi_{50E84E64-FC76-4AEF-8283-B3077BA7983D}.exe
C:\Users\Les\AppData\Local\Temp\ose00000.exe
C:\Users\Les\AppData\Local\Temp\setup.exe
C:\Users\Les\AppData\Local\Temp\SPSetup.exe
C:\Users\Les\AppData\Local\Temp\SPStub.exe
C:\Users\Les\AppData\Local\Temp\tbKeyB.dll
C:\Users\Les\AppData\Local\Temp\ToolbarHelper.exe
C:\Users\Les\AppData\Local\Temp\uninst1.exe
C:\Users\Les\AppData\Local\Temp\UNINSTALL.EXE
C:\Users\Les\AppData\Local\Temp\xmlUpdater.exe
C:\Users\Les\AppData\Local\Temp\_isD189.exe


==================== Bamital & volsnap Check =================

C:\Windows\System32\winlogon.exe => MD5 is legit
C:\Windows\System32\wininit.exe => MD5 is legit
C:\Windows\SysWOW64\wininit.exe => MD5 is legit
C:\Windows\explorer.exe => MD5 is legit
C:\Windows\SysWOW64\explorer.exe => MD5 is legit
C:\Windows\System32\svchost.exe => MD5 is legit
C:\Windows\SysWOW64\svchost.exe => MD5 is legit
C:\Windows\System32\services.exe => MD5 is legit
C:\Windows\System32\User32.dll => MD5 is legit
C:\Windows\SysWOW64\User32.dll => MD5 is legit
C:\Windows\System32\userinit.exe => MD5 is legit
C:\Windows\SysWOW64\userinit.exe => MD5 is legit
C:\Windows\System32\rpcss.dll => MD5 is legit
C:\Windows\System32\Drivers\volsnap.sys => MD5 is legit


LastRegBack: 2014-04-29 00:47

==================== End Of Log ============================
Here is my System Info: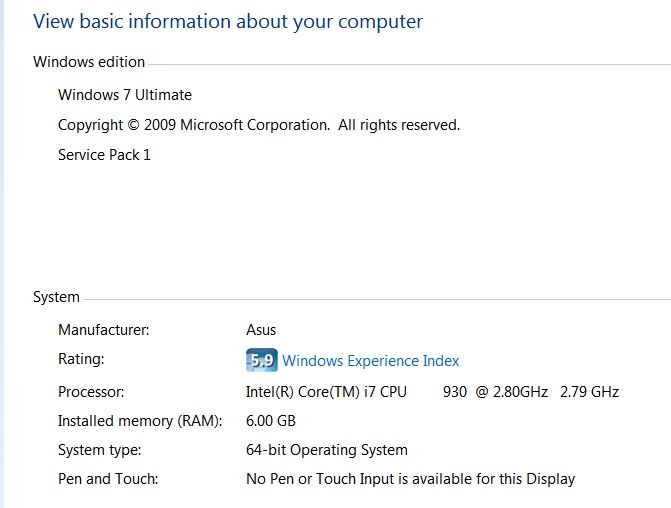 Edited by hamluis, 05 May 2014 - 09:13 PM.
Pasted FRST log data into topic, moved from Win 7 to MRL - Hamluis.