I have a 750w FSP Group power supply. FSP Group is like LiteOn in the sense that OEM's use them alot. Unlike LiteOn they actually make semi quality stuff and just seem to only cut back on looks and other minor things for cost.
Later this year I'll try to add in another AMD HD7950 after I upgrade my CPU/board. I need to know if it can handle it seeing as the recommend PSU for a 7950 Crossfire is 750w and givin the amount of paraphernalia I have it might be pushing it.
Specs of the upgraded system I hope the PSU will handle.
i5-4670k @ 4GHz
2- Gigabyte 7950's @ 1GHz
4- 2GB 1333 RAM sticks
2- 2.5" SATA HDD's 5400rpm
2- 2.5" SSD's
3- 3.5" SATA HDD's 7500rpm
1- 3.5" IDE HDD 7500rpm
1-Blueray Reader/ everything else reader/writer
1-PCIe x1 SATA/IDE raid card
4- 120mm 1200RPM 3pin case fans.
8- Various USB paraphernalia
The PSU has been in use for about 4 months. Found it sitting in a box after 2 years in a spare room- someone had bought a OEM pc and replaced this PSU with a 1000w after 6 months of use. (no defects, just needed a bigger one). Not sure how all that will effect capicitor aging.
I think I should note that all of the connectors are used up except for a dual 6 pin cable (I have a 8 pin adapter). The current GPU dosen't use a adapter as it also has a 8/6 pin dual cable.
Picture of PSU label.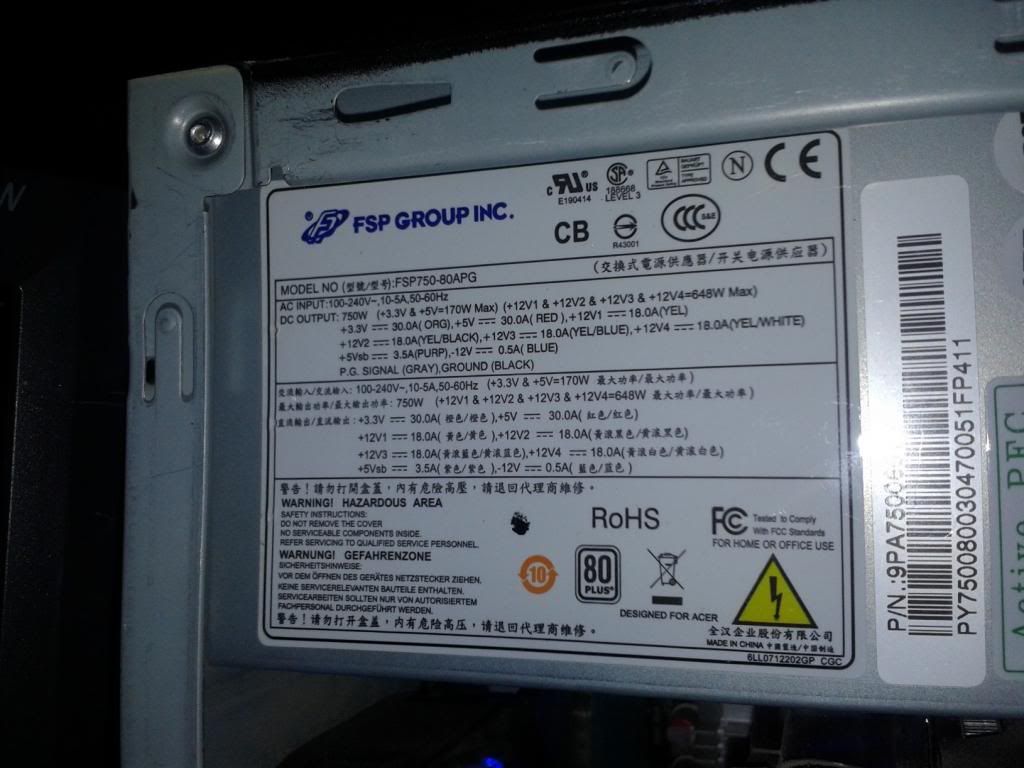 I know there are calcs for this. This just seems to close for comfort for me to trust one with poltentialy frying my system.