Malwarebytes today released version 2.0 of their flagship product Malwarebytes Anti-Malware. This new version includes a new streamlined user interface, bundled anti-rootkit scanner, bundled Chameleon service, and detection and removal engine enhancements. With this release, the paid version of Malwarebytes Anti-Malware Pro has been rebranded as Malwarebytes Anti-Malware Premium. At this time, this release is only for consumer/home users with business editions being available later in the year.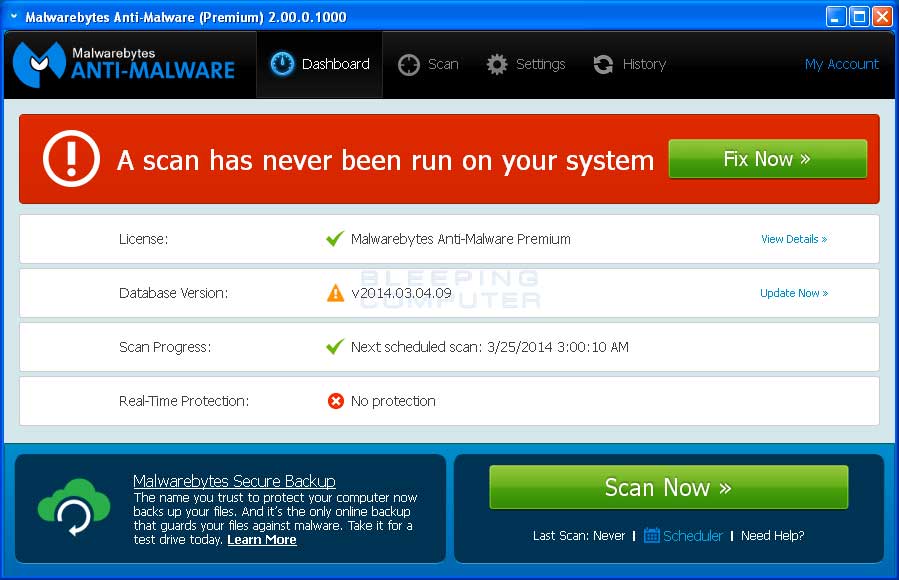 With the release of version 2.0 Malwarebytes now includes built-in Anti-Rootkit technology, Chameleon, and a new Heuristic engine. The anti-rootkit technology allows MBAM to search for malware that attempts to hide itself from the operating system. Though this type of technology is not new for anti-malware and anti-virus software, it is a welcome addition to Malwarebytes. Chameleon is a feature that is used to start MBAM even if there are viruses attempting to block it from running. Last, but not least the heuristics engine allows MBAM to find suspicious programs even when they are not currently in their definitions.
Malwarebytes has also stated that they will continue to support Windows XP users even after Microsoft stops supporting them. As Microsoft will no longer be issuing security updates for Windows XP after April 8, 2014, new security holes may potentially put Windows XP users at greater risk. As Malwarebytes has stated that over 20% of its user base still uses Windows XP, they are committed to continuing to offer protection for this operating system.
Last, but not least, with the introduction of version 2.0 Malwarebytes has changed their subscription model from a lifetime subscription to an annual subscription that includes protection for 3 PCs. The price remains the same at $24.95, but now requires a yearly renewal. For those who wish to continue using the 1.75 you can purchase a 2.0 license that can be used to activate the older version. Malwarebytes Anti-Malware 1.75 is still available in our download section.
For those who wish to discuss this product on a more technical level, we have created a topic dedicated to this version of the software. This topic can be found here: 
Malwarebytes 2.0 Discussion Topic