UPDATE 2014-03-07 01:12 UTC:  It appears that some individuals received emails which notified them of the upcoming change.  Why others have not received such emails at this time is unknown.  Original article follows:
Joining the ranks of many Internet-based corporate business models, Dropbox has quietly added new language to their Terms of Service today.

The part which affects you as a consumer is language included to force 'business-friendly' arbitration when resolving legal disputes between consumers and Dropbox.

The new Terms of Service takes effect on March 24, 2014. After that date, you as a consumer will not be able to sue Dropbox unless you take advantage of a small window of opportunity to opt out. Dropbox is offering an opt-out solution before the new Terms of Service go into effect.

What rights are you giving up if you don't opt-out?

Here is the new language from Drobox Terms of Service:
We Both Agree To Arbitrate. You and Dropbox agree to resolve any claims relating to these Terms or the Services through final and binding arbitration, except as set forth under Exceptions to Agreement to Arbitrate below…

Arbitration Procedures. The American Arbitration Association (AAA) will administer the arbitration under its Commercial Arbitration Rules and the Supplementary Procedures for Consumer Related Disputes. The arbitration will be held in the United States county where you live or work, San Francisco (CA), or any other location we agree to.

Arbitration Fees and Incentives. The AAA rules will govern payment of all arbitration fees. Dropbox will pay all arbitration fees for claims less than $75,000. If you receive an arbitration award that is more favorable than any offer we make to resolve the claim, we will pay you $1,000 in addition to the award. Dropbox will not seek its attorneys' fees and costs in arbitration unless the arbitrator determines that your claim is frivolous.

Exceptions to Agreement to Arbitrate. Either you or Dropbox may assert claims, if they qualify, in small claims court in San Francisco (CA) or any United States county where you live or work. Either party may bring a lawsuit solely for injunctive relief to stop unauthorized use or abuse of the Services, or intellectual property infringement (for example, trademark, trade secret, copyright, or patent rights) without first engaging in arbitration or the informal dispute-resolution process described above.

No Class Actions. You may only resolve disputes with us on an individual basis, and may not bring a claim as a plaintiff or a class member in a class, consolidated, or representative action. Class arbitrations, class actions, private attorney general actions, and consolidation with other arbitrations aren't allowed.
To summarize, you can forget about joining a class action suit whether you opt-out or not.

Here is the opt out link if you choose to do so: https://www.dropbox.com/arbitration_optout

You will have to log in to your Dropbox account and then the following page will open: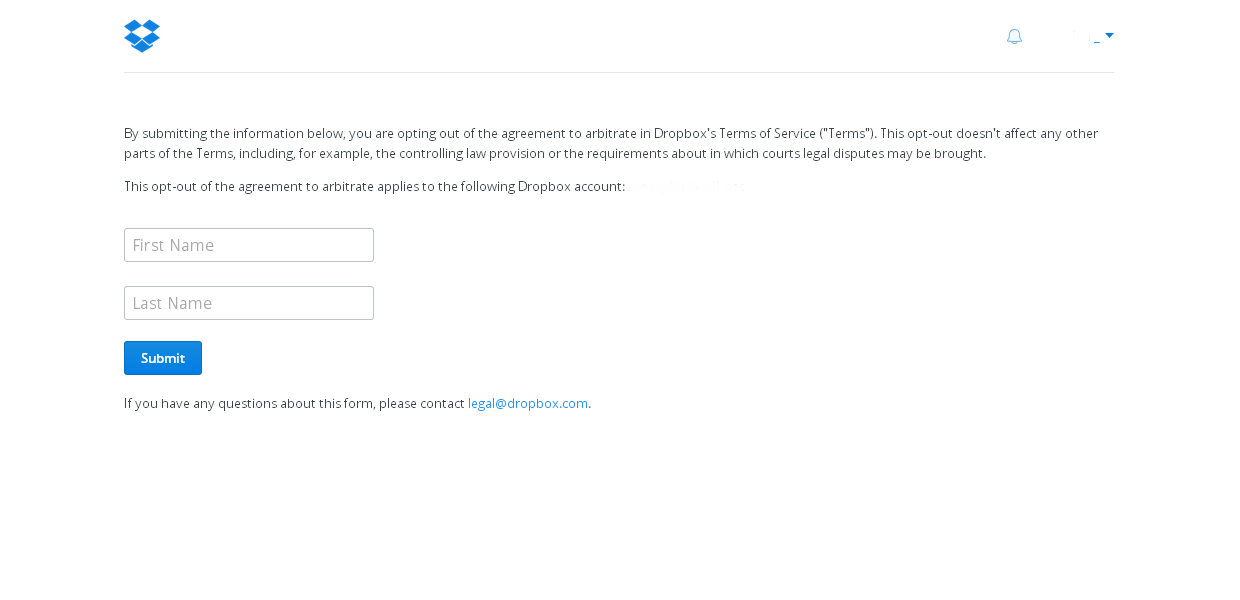 Fill in your first and last name and click submit. It will then take you to your Dropbox dashboard.

That's it. You have opted out of arbitration as your only legal recourse should you encounter disputes with Dropbox.

However, Class Action is still dead.