Mt. Gox, one the leading Bitcoin exchanges, has suddenly shut down their site. When you visit
MtGox.com
you are greeted with a message stating that the site has been turned off to protect their organization, all of the
@MtGox
twitter statuses have been deleted, and Mark Karpeles, CEO of Mt. Gox, has resigned from the Bitcoin Foundation. For those who had their bitcoins stored at Mt. Gox it does not look promising for you as rumors of 744,408 bitcoins being stolen from the organization have started circulating.
When you visit
MtGox.com
you will be greeted with the following message: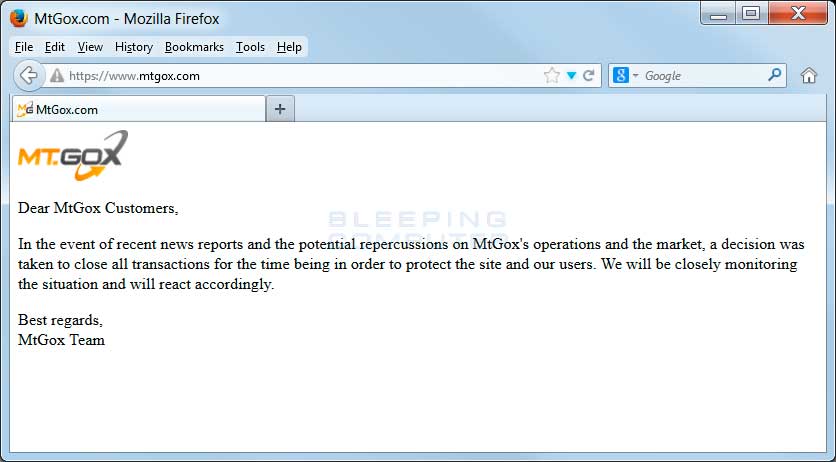 The text of this message is: 
Dear MtGox Customers,

In the event of recent news reports and the potential repercussions on MtGoc's operations and the market, a decision was taken to close all transactions for the time being in order to protect the site and our users. We will be closely monitoring the situation and will react accordingly.

Best regards,
MtGox Team
Prior to this message being shown, visitors who went to Mt.Gox were greeted with a blank page. If you looked at the source of the page's html, you would have seen a placehold that appears to be for an new release on Mt. Gox being acquired. 
<!-- put announce for mtgox acq here -->
The above place holder further corroborates a supposedly leaked crisis strategy document from Mt. Gox, which can be found
here
. This document states that 744,408 bitcoins have been stolen due to transaction malleability. Whether or not this document is actually leaked from Mt. Gox has not been verified.
This month Mt. Gox suspended the ability for users to withdraw Bitcoins from their Mt. Gox wallets due to a technical issue in bitcoin called transaction malleability. Transaction malleability is the ability for scammers to change the transaction ID for a bitcoin transaction. These transaction IDs were meant to be a simply way for a support person to look up a transaction, but were not meant to be the sole method of identifying a transaction. Thieves were using transaction malleability to make it appear that they never received withdrawals from Mt. Gox. They would then contact Mt. Gox support and state that the withdrawal was never received and Mt. Gox would resend the transaction. This allowed the scammers to receive double the amount of bitcoins then they were supposed to. As you can imagine, if this went on for long enough, the ledgers at Mt. Gox would be severely out of synch with the bitcoin blockchain that the rest of the world used. As Mt.Gox continued to send more bitcoins than their deposits, they were left with a huge deficit of bitcoins.
Though this problem has existed for quite some time, only Mt. Gox has been affected by it due to their custom wallet software. Other Bitcoin exchanges such as BitStamp and Coinbase have reported that they have not been affected by this situation and their operations are running as normal.