Let me first say i am a new member but not new to the site. I am an IT Technician and i use Bleeping Computer more often in my day to day research then any other site out there. Thanks for having one of the best computer forums on the web!!
With that being said im still stumped...
Here is a quick run down of my machine:
Cooler Master Scout II case - Brand New from newegg
Biostar TA970
AMD Phenom II X6 1090T
NVIDIA GTX560ti
GSkill 8GB DDR3 1600, latency 9 
Corsair HX850 psu - Brand New from newegg
500GB & 1T HDDs
5 cooler master sickle flow 2000rpm fans - Brand New from newegg
2 corsair High performance 1650rpm fans - Brand New from newegg
1 corsair High Pressure 2300rpm CPU fan. - Brand New from newegg
pics of machine: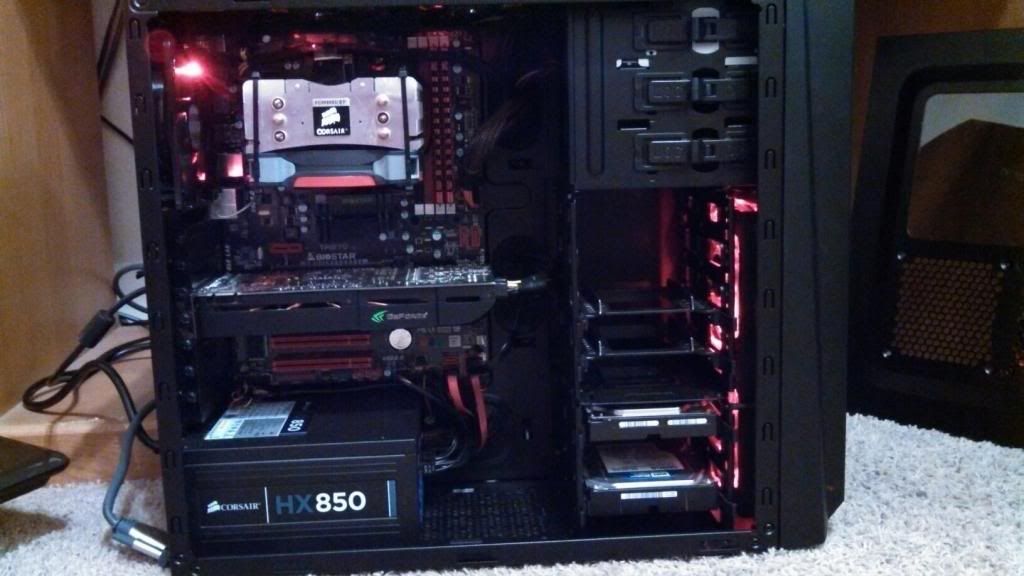 I just moved the MOB, processor, and video card over from my old coolermaster case about a week ago. Never had these issues in my old case and it was running a cheap 500w power supply and only had 3 fans total. 
******  Problem ******
My computer can run for half the day then randomly it will shut it self down. Does not happen all the time either so its difficult to get it to replicate the issue. Usually it happens while watching movies or netflix for many hours. When it does this windows (7 sp1) tries to close out of the open windows/programs, such as the browsers, and video players then it shuts down. No windows shut down screen, just a black screen as if you hit the power button. Sometimes it will fire back up on its own but more often then not it stays off. 
I can fire the machine up normally immediately afterwards with no issues, windows does not even say that it did not shut down properly when i restart the machine. As quickly as i can get the machine to fire up (which is pretty fast for non SSD HDDs) to the desktop and pull up my temp monitors they all read well within acceptable operating temps.  
 I know the usual culprit for a computer randomly shutting down is usually due to an overheating issue/ thermal shut down. However my machine is running cool. I have 3 temp monitors running, CPUID, Core Temp, & GPU-Z. My cpu gets to around room temp (~22c or 70-75f). My GPU gets a bit warmer at around 46-50c (114- 120f). According to CPUID my mob is staying plenty cool in 3 of the four sensor locations and im assuming the 4th temp sensor is near the video card (gtx560ti) since its usually within a couple of degrees from the GPU temp. 
Ive even applied new Arctic Silver 5 thermal paste to my heatsink and CPU thinking that may have been the culprit even tho my CPU temps are well within range. Ive also checked to MOB for damaged or swollen capacitors. Everything looks fine. 
Im at a loss of what to test or look for next and any input into the issue is greatly appreciated! 
Edited by hamluis, 10 February 2014 - 12:23 PM.
Moved from Win 7 to Internal Hardware - Hamluis.