A couple of days ago I purchased a brand new 1TB external USB HDD to replace a smaller one that no longer has enough capacity.
I connected it to my computer (running Windows 7 x64) and removed the complimentary but unwanted software, emptied the Recycle Bin, clicked on the Safely Remove Hardware icon and selected the device to eject it.  Up popped the wonderfully helpful error dialog box: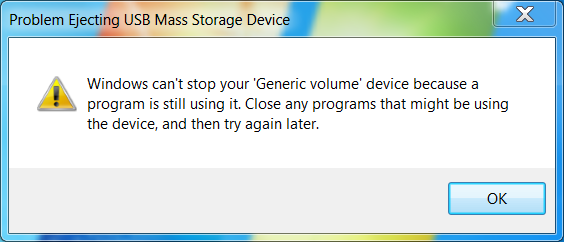 This was irritating because I had closed down all my running programs; however it was not the first time that Windows has thrown a wobbly and done this.  I started up my file unlocking program and found that Explorer.exe still had a couple of handles open to the drive, so I clicked the unlock button and then went back to try to eject the device.
I got the same error dialog and on restarting the file unlocking program found that Explorer.exe still had the drive locked.  I'm starting to think that the drive might be faulty, so I ran chkdsk – no errors.  I then started the Disk Management console to see what that showed – single volume, healthy, primary partition, active.
I know that the active flag signifies that the volume is bootable, but why would an external drive be shipped from the manufacturer with the active flag set?  Could it be that Windows does not like bootable HDD's being ejected?  Anyway, using partition manager software I set the volume to inactive and was then able to eject the device normally.
I finish with a question:  If an external HDD with the active flag set (but without a boot loader) is connected to a computer at boot time and the boot priority in the BIOS is for removable devices before the fixed HDD, could it prevent the system from loading the OS?