A common adware called Conduit SearchProtect, which changes your browser's homepage to Conduit.com, is causing major problems for users of Windows XP who uninstall it. When users uninstall Conduit SearchProtect from Add or Remove Programs in Windows XP, they find on reboot that Windows XP is no longer able to start. Instead they will be greeted with a message stating "
NTLDR is missing. Press Ctrl+Alt+Del to restart
".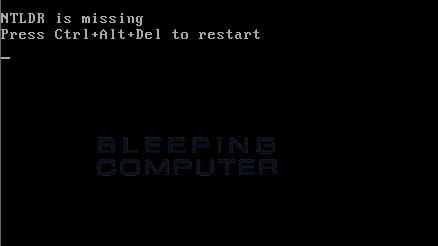 This problem occurs because the Conduit uninstall program not only removes it's own Conduit SearchProtect files, but also removes all the files found in the root of the C: drive. In Windows XP the C:\ folder contains two required programs called NTLDR and ntdetect.com that when deleted prevent Windows from starting. As Windows Vista and newer versions do not contain any files in the C:\ folder that are required to start Windows, Windows is able to start normally.
The command that performs this buggy install is: 
"C:\PROGRA~1\SearchProtect\Main\bin\uninstall.exe" /S
If you have Conduit SearchProtect installed on your computer, do not uninstall it via the Add or Remove Programs control panel. Instead use a program like
AdwCleaner
or
Junkware Removal Tool
to remove Conduit SearchProtect. These tools remove the software using their own uninstall routine and are not affected by Conduit's buggy uninstaller. When using the previous links to download AdwCleaner or JRT, just wait a few seconds and the programs will automatically download for you.
For those affected by this bug, you can fix Windows XP by copying the NTLDR and ntdetect.com files from a Windows XP CD. The files are located under the \I386 folder and you can use the Windows Recovery Console or other bootable disk to copy the files to the C:\ folder. Once the files are copied back you should be able to restart your computer and get back into Windows.
Thanks to Cody of
TeamRocketOps
for bringing this to my attention!