Hi jillmarten

Please can you look and see if you can find the logs created when you run TDSSkiller. This should be on your computer in the following path C:\TDSSKiller.Version_Date_Time_log.txt.

I would also like to see the MSRT report:

In Windows 7:
 
Click the Start Button
Type or copy/paste the following into "Search Programs and Files" Box, then Hit Enter
c:\windows\debug\mrt.log
Post back the contents of the MRT log that opens in Notepad
Step 1

Download ADWCleaner to your desktop:
http://www.bleepingcomputer.com/download/adwcleaner/

NOTE: If using Internet Explorer and get an alert that stops the program downloading, click on the warning and allow the download to complete.

Close all programs and click on the AdwCleaner icon.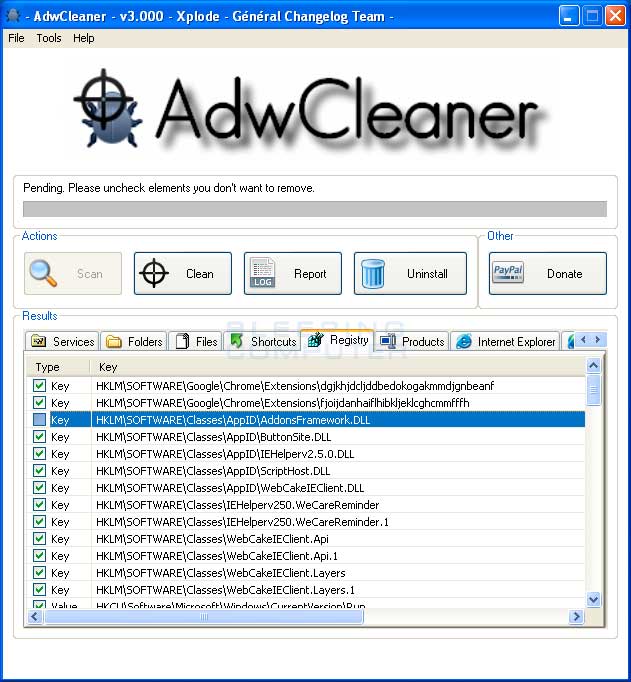 Click on Scan and follow the prompts. Let it run unhindered. When done, click on the Clean button, and follow the prompts. Allow the system to reboot. You will then be presented with the report. Copy & Paste this report on your next reply.

The report will be saved in the C:\AdwCleaner folder.

Step 2

Perform an Online Antivirus Scan with ESET:


Note:ESET recommends disabling your resident antivirus's active protection component BEFORE scanning , how to do so can be read here. Use Internet Explorer to navigate to the scanner website because you must approve install an ActiveX add-on to complete the scan. If you are using Vista or Windows 7 or 8, launch Internet Explorer by right-clicking the Start Menu icon & selecting "Run as Administrator".
Please go here then click on Run ESET ONLINE SCANNER
Select the option YES, I accept the Terms of Use then click on START
When prompted allow the Add-On/Active X to install.
Make sure that the option Remove found threats is checked.
Now click on Advanced Settings and select the following:

 
Scan for potentially unwanted applications
Scan for potentially unsafe applications
Enable Anti-Stealth Technology
Now click on START
The virus signature database... will begin to download. Be patient this make take some time depending on the speed of your Internet Connection.
When completed the Online Scan will begin automatically.
Do not touch either the Mouse or keyboard during the scan otherwise it may stall.
When the scan is complete,

If no threats were found:
Check in "Uninstall application on close"
Close program
If threats were found:
Select "list of threats found"
Select "Export to Text File" & Save the Report to your Desktop as ESETScanLog"
Select Back
Place a checkmark in "Uninstall application on close"
Select Finish & Exit the program
Copy and paste ESETScanLog.txt in your next reply
Step 3
Download

zoek.exe from here: http://hijackthis.nl/smeenk/ and save it to your Desktop.
 
Close/disable all anti virus and anti malware programs so they do not interfere with the download or execution of Zoek.exe
You can find instructions how to disable your security applications

>>Here<<

or

>>Here<<

Unzip the folder (Right Click > Extract all > Next > Next > Make sure Show Extracted Files is tick and Click Finish ).
Double click zoek.exe to start the program.
Copy and paste the following script in the code box:
Note: This script is written for usage on this users computer, do not use it on another computer even if the problems are similar :!:




autoruns;
standardsearch;



Close any open browsers.
Click the "

Run script

" button and wait patiently.
When finished the logfile will be opened in notepad.
If a reboot is needed the logfile will be opened after reboot.
The zoek-results.log can also be found on your systemdrive (normally C:\).
Please post the logfile for further review in your next reply
Edited by seedy21, 26 January 2014 - 03:44 PM.