Hello,
Before I describe the issue, let me explain. F1Challenge '99-'02 is a very old game, but it is the most important piece of software in the world to me. And that's no exaggeration!
OK, the issue:
F1Challenge runs well on my new HP Envy laptop with Windows 8 Home installed. The problem occurs after a race. F1Challenge normally saves replays and updates player statistics after a session, but during this process the game crashes to the desktop with this error message: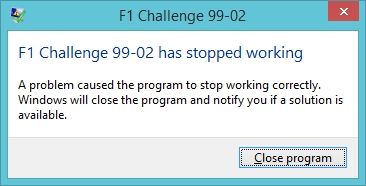 I suspect that the issue involves permissions. I tried running as administrator, and I've turned off UAC for the time being. The install folder is marked "read only," and I have been unable to change that status. I have tried running the program in Windows XP compatibility mode, but the same problem occurs.
Your help would be much appreciated.