Flash drive seems to have been compromised, not really sure how.  I didn't do anything out of the ordinary with it.  I've removed it numerous times in the fashion I last did so, which is with nothing else but Winamp running at night.
Here is in order, where I find myself:
The Flash Drive
1.)  Putting the Flash Drive in USB:  I receive the message "There might be a problem with some files on this device or disc.  This can happen if you remove the device or disc before all files have been written to it."  

I click on "Scan and Fix" within that same message box and get the message of "The disc check could not be performed because Windows cannot access the disk" in a new box.
2.) Attempting to Format Flash Drive:  I tried formatting the flash drive"The System cannot find the specified File"
Other notes:  I also noticed there is neither any capacity nor any memory taken up: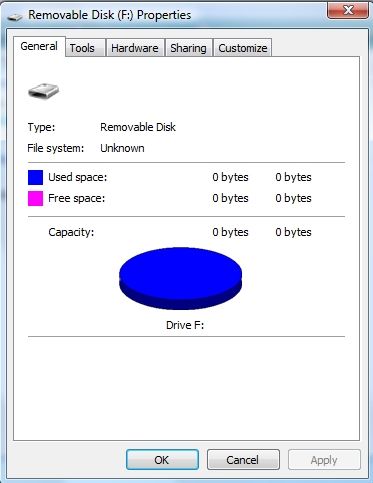 One other note, any suggestions made regarding the command prompt, I am curious:  Is it normal to not be able to backspace the initial command prompt, for example, I see "C\User\David>"  However, I am unable to backspace this, though I'm unfamiliar with the command prompt, so maybe that's unnecessary (and I'm logged in as an Administrator).
Edited by DTownDave22, 08 November 2013 - 04:57 PM.