This is my first post, so if something is wrong with it, please let me know and I will edit it to fit. Thanks for understanding. 
Edit: Sorry, missed the system specs announcment the first time. 
Specs: 
Lenovo T61p 
Intel T7300 CPU 
4GB Samsung DDR2-667 RAM 
Nvidia FX570m GPU 
Hatachi 160GB 7200 RPM HDD 
9 Cell Battery PSU 
What is wrong? 
I am using my Thinkpad T61P for work and as a desktop replacement machine, but I need to make some changes to make it acceptable to run on a daily basis. There are several things that I simply am not willing or able to do to fix it though. The first is to buy a new system. I work outdoors and need the laptop to be out in the truck all day, and that generally means that it gets damaged quite often, and replacing $1500+ machines multiple times a year is not worth it (to me). It is quite easier to just buy a different mach for $250 or less when they break. (this is an economic decision and I understand it, I hope you do too.) I guess what I am saying is that I am not wealthy, and I don't have money for new machines when something gets broken. (by broken it is generally either broken chassis or busted LCDs.) 
What have I done to track the problem? 
I started with testing the system to see what it is capable of. Running programs that I use all day to see how they perform on this machine, and tracking temps to make sure nothing is too far from comfort.  
With Google Chrome, everything was acceptable except for flash video. Flash videos had an issue of when going full screen they display the video stays the same size and is surrounded by black screen. It only happens on chrome, so it is not an issue with the computer and I am fine with watching flash video in a different browser. No hard feelings there. CPU use is flat nothing (as in maybe 1% more) and RAM usage by chrome never reaches 100% (using task manager for numbers). So I am fine here. 
With office (abiword and MS Office) there is no bottleneck at all either, so that is fine. 
With games, CNC3 (favorite game) runs CPU to 100% and gets almost 40FPS on medium settings. That is fine with me. ETS2 is not likely to run at all, but 18WOS:ALH will likely
run fine (as it ran maxxed wiht a T7200 and NVS135m on past computers), so that is not that bad. Same type of game experience. I don't expect to run many games, and ETS2 runs on the desktop, so no foul there. All that can be expected from an aging computer. 
With basic system performance, there is some work to be done. More below. 
CPU: 
This is an issue, but only a little bit. The processor is a touch slow for my wants, but it is fine (I like to have a little overhead instead of just enough), however that is not the major issue. The major issue is temperatures are too high. At full load (CNC3) it runs in the upper 80s (*c as seen via realtemp). There are actions that I can take to reduce temperature, like changing the thermal paste, and cleaning out the heatsink, but I have a question (below in solutions). 
GPU: 
It works, however there is a driver issue. More in solutions. 
RAM: 
It works fine. 4GB is more than enough for my uses, and 8GB, while nice, requires buying more RAM that just isn't justified on a P/P ratio (as in $120+ is too much to maintain an overhead). More speed here would not really net anymore benefits on a daily basis. 
Storage: 
This is where the problem really is (other than processor).  The installed 160GB hard drive (it is a 7200RPM SATAI Hatachi) is dead slow in sequential reads and writes. Here is a bench mark done when diagnosing the problem.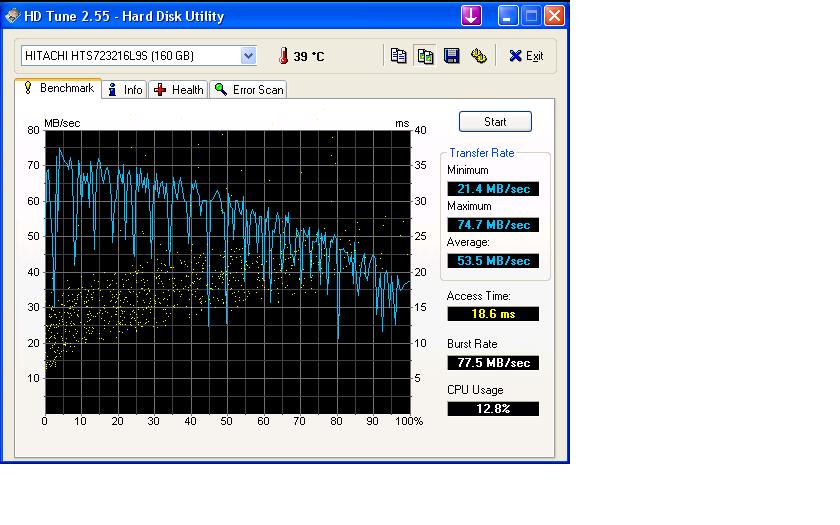 Don't get me wrong, I am fine with hard drives, but this is as slow as an IDE hard drive, which is too slow on a daily basis. Using a Samsung 830 to diagnose, it is definitely a drive problem. Here is the bench to be show. 
See solutions for findings. 
Solutions: 
Processor: 
Here, I have a few ideas on what could be done.  I am running a T7300, which has stock vCore of 1.225V at full load and a core speed of 2 GHz.  A little research shows that a T9300 will work with the motherboard, but a modded BIOS is needed to avoid an error message (I am already running said BIOS to enable SATA II usage), and it should run a little cooler (I think as it is a smaller lithography with the same TDP) maybe. Either way, it has higher cache and higher core speed should allow the overall experience better. Getting a new processor (T9300) only cost $40 ish, so the performance to investment should be pretty good (and I can sell the old one, making the investment very small indeed) 
Hard Drive: 
Seeing as the SSD shows that the read/write issue is the drive and not the system, the solution is to replace the drive. I personally do not want to use an SSD, as personally I have not seen a large enough improvement in battery life or boot times (other than in this one case) to justify several hundreds of dollars when 4x the volume is the same price with hard drives. Just stating that to avoid misunderstandings. 
Max size of the drive is 9.5mm tall (from Lenovo specs), so I should be able to pull a 1TB in there, if I am lucky. Something like these maybe? http://www.newegg.com/Product/Product.aspx?Item=N82E16822236561 and 
Edited by wolfeking, 17 October 2013 - 05:28 AM.