Our world is crammed full of man-made miracles that border on the unbelievable, but there is ONE structure that beats them all, hands down - The Statue of Liberty,  a colossal 305 feet, ground to torch neoclassical sculpture situated on Liberty Island in the middle of New York Harbor, in Manhattan, New York City.
This enormous and beautiful effigy outstrips anything else on the Planet. Not only is it a superb creation of man`s ingenuity and artistic achievement, but it  demonstrates an  entire philosophy, concept and meaning to the very definition of Freedom. America is the only country on Earth which can honestly boast of "Freedom" with genuine sincerity and has paid for it heavily in blood and countless Trillions of dollars in generous aid the whole world over. On 9/11, the Statue of Liberty looked on at the entire holocaust with the symbolic defiance and determination of a nation that would never be beaten.
There could not be a better representative symbol of America than The Statue of Liberty to inspire every citizen to have genuine pride in their great nation. For many tens of millions of visitors, immigrants and soldiers returning from combat or overseas service, the first sight of America has been The Statue of Liberty. It must have been a real tear jerker, even for the toughest.
The statue, designed by Frédéric Auguste Bartholdi and dedicated on October 28, 1886, was a gift to the United States from the people of France, is a gift that is unprecedented in the history of this world.
May long she live and with a big THANK YOU to France.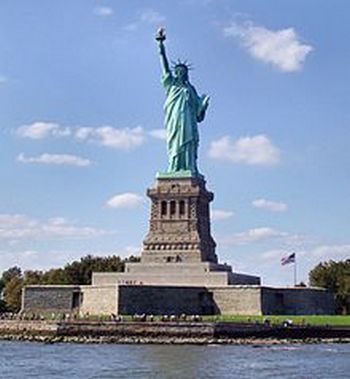 Edited by yabbadoo, 19 September 2013 - 12:20 PM.