I came home last night and found that I was getting alerts that my CPU was overheating at 97 celcius. So I opened the computer, cleaned out all the dust, took a look at the CPU (which was not scorching hot), and put it back together. The computer was off for a good 30 minutes and when it came back on it showed the same alert. So I kept the computer off for an hour and when I started it up again, immediately it said that the CPU was overheating. Finally, I turned it off overnight and when I turned it on 7 hours later, it immediately said it was overheating when it got to the BIOS. Once it booted into Windows, I took a screenshot using core temp.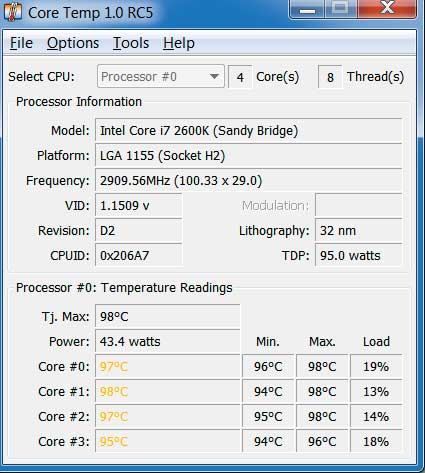 Is it possible for CPU heat sensors to fail? Are the sensors actually found in the CPU or in the motherboard? From what I reading I think its the CPU itself, but want to confirm before I replace the CPU.
If anyone can help or confirm my suspicions I would appreciate it.