Hi,
I need some help on troubleshooting a computer.  It is an old Dell Optiplex GX280 running Windows XP Pro SP3 and has on board video.  Here is what the screen looks like.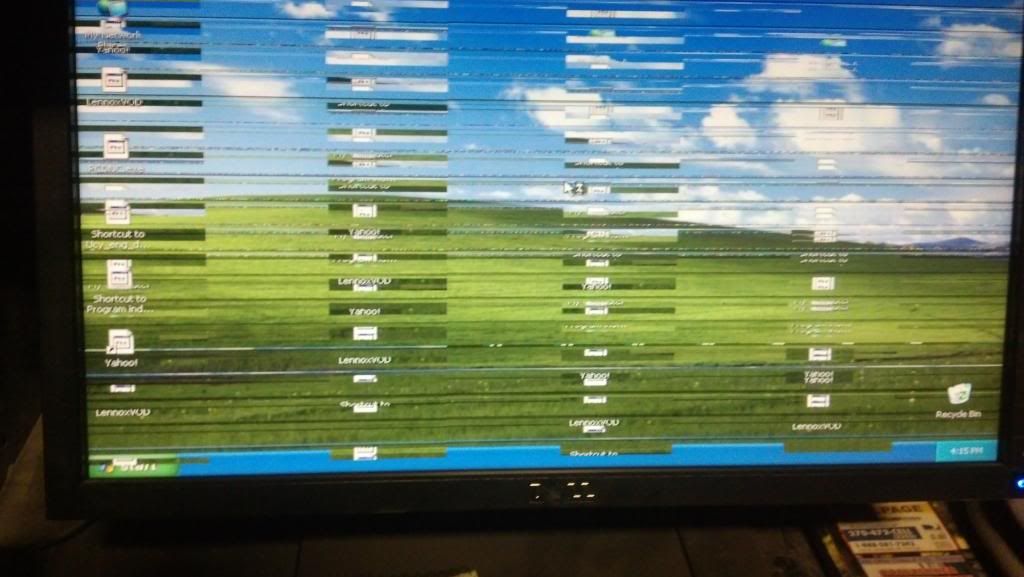 This is everything I have checked so far.  It is not the monitor I have swapped with a known good monitor and it does the same thing.  This happens in the BIOS setup screen, safe mode, and safe mode with networking.  I have reset the BIOS settings back to default.  It happens at random times sometimes as early as when you first boot up and sometimes you can get booted into windows before it happens.  It also is gradual starting out as a few stray lines here and there and progressively getting to the point of the picture above.  The computer will also BSOD on you if you leave it running once the lines start to appear.  The BSOD error messages are different everytime and don't seem to point to a specific problem.  No changes to the drivers have been made prior to this happening, it just started doing it on its own.  This computer is in a hot environment.  I have also opened up the tower and cleaned it out with a can of air.
I have read in a few forums it could be a bulged/blown capacitor on the motherboard.  I will have to open it back up to check that but I haven't done that just yet.  Could this be a corrupted video driver? Windows OS issue (however it happens outside of windows)?  BIOS,CMOS,Chipset issue? Motherboard issue?
Also once when it rebooted it started up in a 4bit 640x480 graphics mode and windows looked like it was in a cartoon looking mode and the lines would not appear.  Once  I changed the graphic properties back to 32bit and changed the resolution it went back to having the lines pop up and eventually blue screening again.  
Any help, information on what direction I should take on troublshooting this would be appreciated.