Cavalry horse COMANCHE, was the only living thing that survived Custers Little Big Horn massacre. He was bought in1868 by the US Army in St.Louis Missouri.
Captain Myles Keogh of the 7th Cavalry (killed in the battle)  bought him for his personal mount.
The Little Big Horn battle took place on Sunday 25th June 1876.
When found, Comanche had a number of wounds, 3 serious - one through the neck, one through his front shoulders and one went right through his rear just in front of the hind legs. I think it was one arrow and two bullets, the rest were flesh wounds. He was found two days after the battle wandering about very weak from his wounds amongst Custers 200 dead soldiers and a number of dead horses. All the fit horses were taken by the Indians.
Comanche was wounded many times before the Little Big Horn, arrows, bullets and flesh wounds but survived all these to retain his fitness as a cavalry horse.
He was nursed back to health - it took over a year in a special stable with loving medical care and he had to have slings to help him recover. After that was treated to a luxurious life as the proud and cherished mascot of the 7th Cavalry. He lived for 15 years after the battle and died of natural causes.
Comanche is one of only two horses in American history to be given full military honours on their death.
The picture below was taken on the actual battle field, dead horses are shown in the back ground.
This poor horse must have suffered a life of pain with all the wounds he received but still carried out his duties as if nothing had happened. He was declared unfit for service after this final battle.
He is now preserved in a glass case at the University of Kansas Natural History Museum on public display.
Many people have claimed to have survived the battle of The Little Big Horn, but none have been officially corroborated.
COMANCHE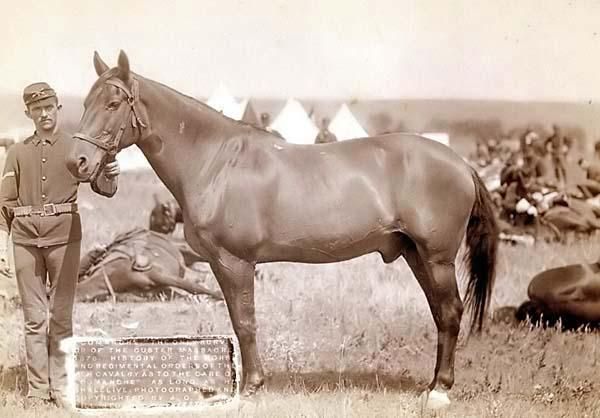 Edited by yabbadoo, 18 August 2013 - 04:24 PM.