Yesterday, I received this email (screenshot below) from "Paypal" and clicked on the link as the sender seems to match the routine emails I get from the official Paypal notifications. I decided to log into my Paypal account immediately to see that everything was in order since I did not recall requesting a password rest and was still able to do so at that time without any problems. Then around 4 hours after I first received the email, I got another notification on my address saying that some amount of money was transferred to a paypal_department account as well as that my password and email have been changed. I tried to login my Paypal a second time but found that I was not able to do so anymore.
I called Paypal to ask for assistance regarding this issue and less than a minute after I was able to regain access to my account, I again got another notification that my password and email was once again changed! After trying to contact Paypal once again, they advised that all of the activity seems to be coming from only one IP which the agent says, means that some virus/malware/spyware has gotten into my system! Ran a virus check using the stock Microsoft Security Essentials but everything seems clean.
My Paypal is now frozen to prevent any other suspicious transactions but I still have some money that I need to withdraw from there and I am scared of doing so until I have this all sorted out. For now, I am using another laptop since it is very likely that my original laptop is infected. Any help how to remove this malicious virus/malware/spyware is truly appreciated. Thanks a lot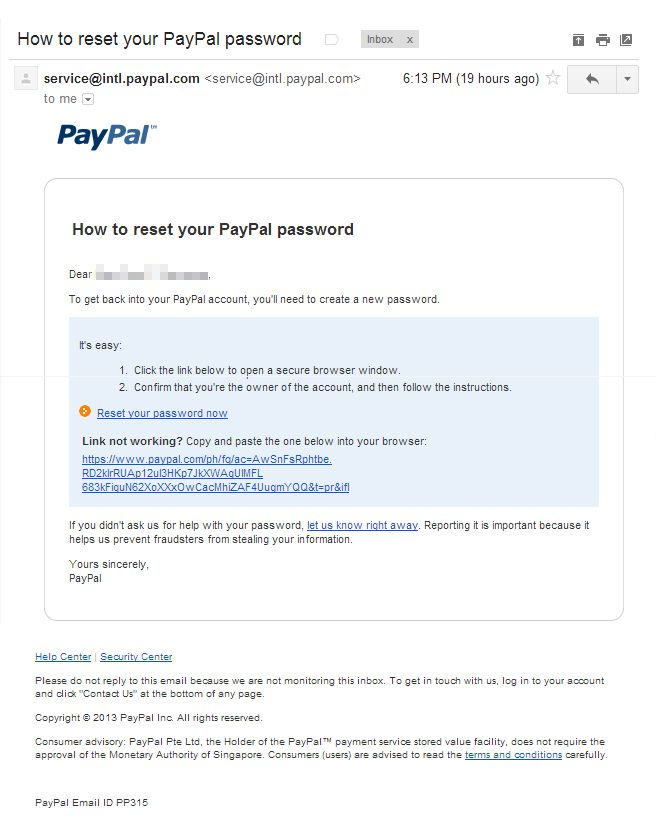 Update: Forwarded this email to spoof review of Paypal and apparently, it is a legitimate email. I have no idea how the hacker managed to get into my email if that's the case, as my laptop is always with me and is secured with a password. I am also not one to randomly click on unknown links. 
Edited by swtangel, 15 August 2013 - 11:47 PM.