I use AVG 2013 Free and just cannot find out what to do when the report lists a number of threats. I have tried to get this elementary information from the AVG Free Forum, but it is easier getting blood out of a stone. I have also surfed all over the web looking for this simple explanation, including the AVG Users Manual, but still no luck.  So I am appealing to any BC members who use this AV to supply the information.
No problem in running a scan. Any threats are listed nice and easy to see in impressive detail. The problem is "What do I do next ?"
There is a box saying "Archive selected" and "Archive all". What exactly do these mean ? I Archived all, nothing changed on the report and I could not find  any trace of an archived report. Disappeared  down a black  hole.
There is a "View details" which  brings up all details of the threat - Fine, a job well done.
There is a "Remove selected" and "Remove all" - haven't a  clue what these mean. "Remove" can mean several things including Delete. Presumable the imprecise Czech/English choice of an explicit word.
I actually hit "Remove all", never played Russian Roulette before so I  thought it worth a go. All the nasty red blobs were immediately converted to nice green ticks and I had to reboot for AVG to do what AVG does best. So I did this and the report then showed all those naughty threats with lovely green ticks.
When I clicked "View details", to my amazement all the threats were now labelled "Healed" ! Absolute magic. So the mysterious "Remove all" had signalled some intensive surgery to be carried out  and now all those diseased items were restored to health and presumably back on duty where they came from in the first place.  
Is this what AVG means us to do, but does not tell us about ? Why ?
Another rash presumption on my part is to assume that IF the AVG Surgeon cannot cure the patient, it is then transported to the "Virus Vault" and destined for eternal damnation.
Please you AVG users, take me back to simple sanity and tell me what you reckon about all this as a result of your experience. Perhaps it is only for FREE customers that AVG reserve this calculated torment.
A million thanks
Yabba
BEFORE :-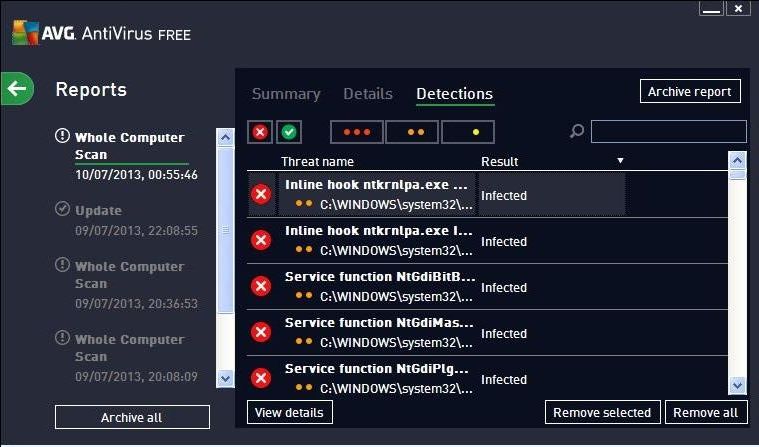 AFTER :-
When bringing up the "Details", all the "Secured" items show "Healed".
Edited by yabbadoo, 18 July 2013 - 03:18 AM.