Hello. I bought a CyberPowerPC Gamer Xtreme 1077 back in 2011, and it has recently started to run very loudly. I've given it several thorough cleanings, to no avail, and, by opening up the case and listening to each fan individually, I've come to the conclusion that the one that sounds like it's trying to achieve flight is the one in the Power Supply.
It's a rather inconsistent problem. Sometimes I'll get a string of noisy starts, other times I'll get two or three hours of work in before the fan starts running loudly, and I haven't figured out any rhyme or reason to the differences in noise level.
A quick, general, perusal of the internet suggests that I should either oil the fan of my Power Supply or, as I'm not a trained professional, replace it lest I kill myself/fry my PC tampering with the gods' gift of electricity, but which of those is my best approach is really my second question. I have virtually no experience on the hardware end. This is the first computer I've used that hasn't been A) a hopelessly lost cause like my Dad's decrepit computer or
under the careful supervision of a dedicated, Batmanesque IT department, so I'll let that inform whether I should repair or replace the PSU.
The first question is just how do I get to the damn Power Supply? All the wires coming out of the PSU are threaded through a frame that's holding up the CPU and hard drive, so they sit between that and the access panel on the right of the machine (looking at it from the front) that I can't seem to open. When I unscrew the PSU and take off the other side of the case, I've got maybe about an inch or two of slack from those cables, which is barely enough room to look at the thing, much less take it out and replace it/perform any sort of maintenance on it.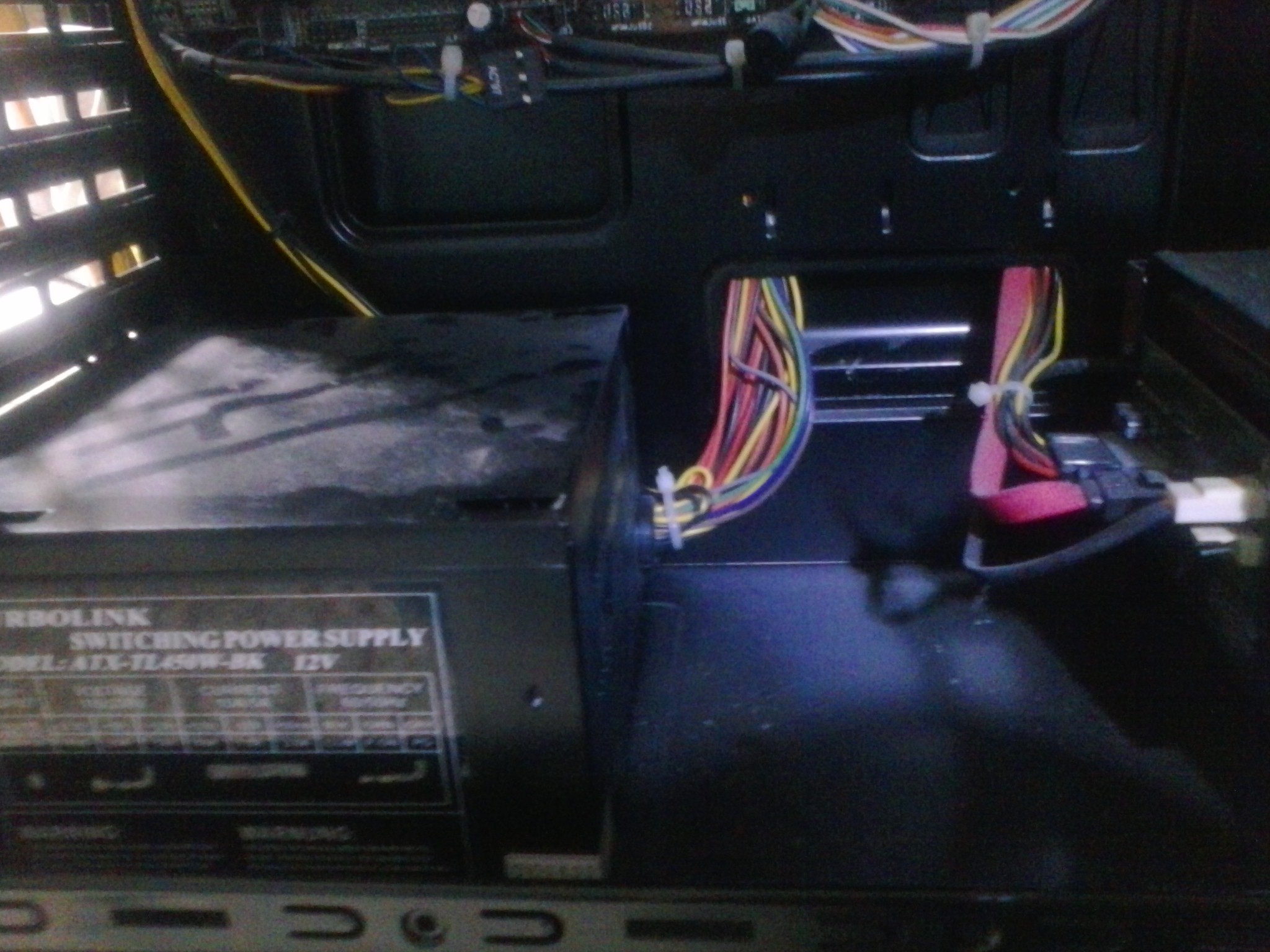 So far, the PC has avoided any of the catastrophic failures that seem to have plagued other CyberPowerPC customers that I've been reading about while looking for help with this relatively minor issue, and the noisy fan has been my only trouble. I haven't yet found a pressing need to (or had the spare cash to) upgrade or replace any of the components, so everything is as it was in 2011. Specs presented below, if it helps.
General Spec
Brand: CyberpowerPC
Model: Gamer Xtreme 1077
Type: Gaming & Entertainment
Processor: Intel Core i5 760(2.80GHz)
Processor Main Features: 64 bit Quad-Core Processor
Memory: 4GB (2x2GB) DDR3 1333
Hard Drive: 1TB SATA-II 3.0Gb/s 7200RPM HDD
Optical Drive 1: 24X DVD±R/±RW Dual Layer Drive
Graphics: ATI Radeon HD 5450 1GB PCI-Express Graphics Card
Audio: Sound card - Integrated
Ethernet: Gigabit LAN
Power Supply: 450W
Keyboard: Xtreme Gear USB Keyboard
Mouse: Xtreme Gear USB Mouse
Operating System: Windows 7 Home Premium 64-bit
Special Features: Xion Predator AXP970 Gaming Case
Motherboard
Chipset: Intel H55
CPU
CPU Type: Intel Core i5
Installed Qty: 1
CPU Speed: 760(2.80GHz)
L3 Cache Per CPU: 8MB
CPU Socket Type: LGA 1156
CPU Main Features: 64 bit Quad-Core Processor
Graphics
GPU/VPU Type: ATI Radeon HD 5450
Graphics Interface: PCI Express 2.0 x16
Memory
Memory Capacity: 4GB DDR3
Memory Speed: DDR3 1333
Form Factor: DIMM 240-pin
Memory Spec: 2GB x 2
Memory Slot (Total): 2
Memory Slot (Available): 0
Hard Drive
HDD Capacity: 1TB
HDD Interface: SATA II
HDD RPM: 7200rpm
Optical Drive
Optical Drive Type: DVD±RW
Optical Drive Spec: 24X DVD±R/±RW Dual Layer Drive
Audio
Audio Chipset: Integrated
Communications
LAN Chipset: Integrated
LAN Speed: 10/100/1000Mbps
Front Panel Ports
Front USB: 2
Back Panel Ports
PS/2: 2
Rear USB: 4
RJ45: 1 port
Expansion
PCI Slots (Available/Total):
1 x PCI Express x16
1 x PCI Express x1