Hi Ronda,
Music to me eyes! You are most welcome for the assistance but don't forget it took both of us.
I am not familiar with Free Internet Tuner which I guess is good? The only thing I would caution you about is being careful not to allow the sneaky little programs they try to install (like toolbars).
I will address all the clutter on your desktop and provide recommendations for your consideration, but first.....
Now that your computer is running well it is my great pleasure to proclaim to you the
Good News
!
===================================================
All Clean
--------------
Your machine appears to be clean. Please take the time to read below on how to secure the machine and take the necessary steps to keep it clean
Please do the following to remove some of the tools we used during our time together:
Following this step you may remove any other remaining tools or logs.
Delete the tools used during the disinfection:
Press windows key + r on your keyboard at the same time. In the run box type combofix /uninstall, then press OK.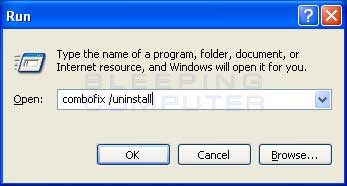 This will remove Combofix and other tools we used from your computer.
Lawrence Abrams
, the founder of BleepingComputer.com, has developed an excellent tutorial which will provide you with the information you need to know to keep your computer secure and clean. Please take the time to read:
Simple and easy ways to keep your computer safe and secure on the Internet
.
In addition, here are some more links you might find of interest:
I will leave this topic open for just a day or so in case you have any further issues then it will be closed shortly thereafter.
Thank you for placing your trust in BleepingComputer. It was a pleasure serving you.