Hey Bleeping Computer Community. =)
Let me start by saying thanks for all the resources on this website. I've used them to good effect more than once.
I'm an experienced (and I would say, fairly sensible) computer user and usually solve most of my own problems; I also like to keep a clean system, and mind my security with constant (right from the start of this Windows install) real-time protection from Avast AV and Comodo Firewall/Defense+ as well as regular checks from Malwarebytes AntiMalware, ESET Scanner, SuperAntiSpyware and aforementioned AV. I have a problem with my Windows 7 computer that I haven't been able to fix myself, after a day or so of trying. In fact, in hindsight, I think it could be a recurring thing that's haunted me across several fresh windows installations on this system.
My problem is with short, semi regular freezes in my system. Usually, they only affect audio/video streaming of big files, but on bad days everything else freezes up too.
I've used Resplendence Latency Mon and DPC Latency Checker to look where these freezes were coming from, and found that several of my drivers are using way more time than they should, as well as a couple of processes suffering from regular Hard Page Faults. A couple of screenshots:
What DPC Latency Checker makes of my response times when I'm not doing anything special: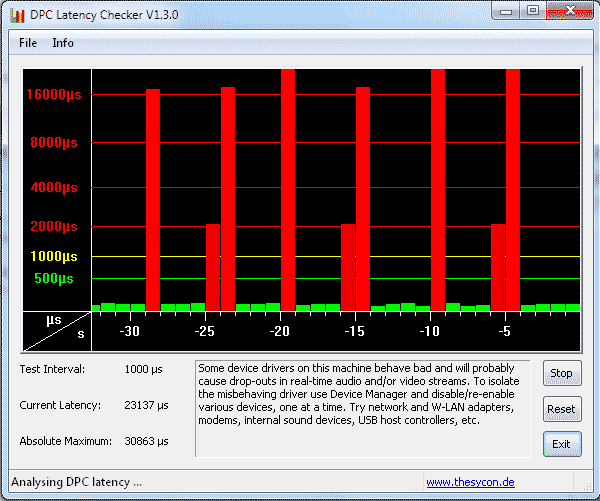 Latency Mon narrows this down to a couple of drivers: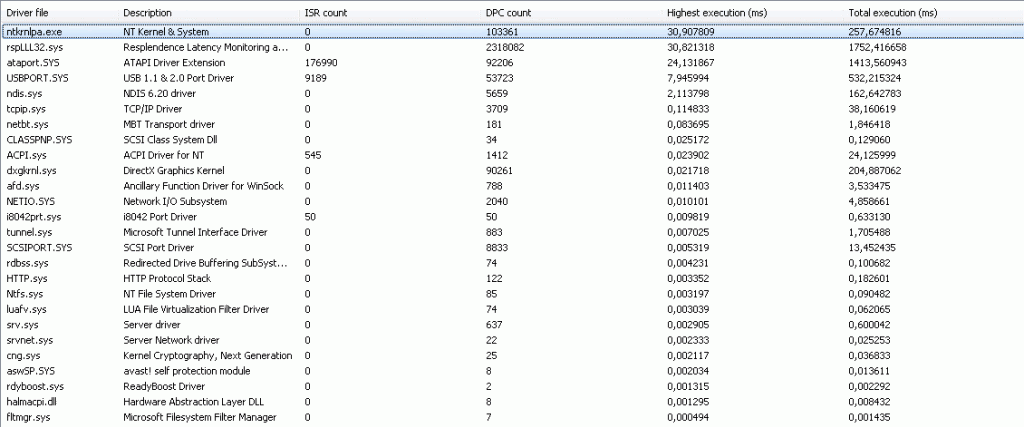 Hard Page Faults captured over a maybe 20 minute check:

Now, I know how to follow instructions and have tried everything these programs and most people discussing them online suggest. All the drivers involved are fully updated. I've shut down an old DeamonTools driver and my unused secondary LAN slot, which helped a little. I've updated by BIOS and turned off CPU Throttling, which are suggested because of a possible power issue, to no apparent effect. I've done a clean startup and checked again, with the same results.
I think this problem has been going on with this system for a long time, with the spikes usually staying just below the surface of noticeable effect. Since I've had this windows installation, there have been days when I would start up to these freezes - restarting would fix it, so I never looked further until now. Before that, the XP installation I replaced with this one died from freezes like these rendering it unusuable, when restarting no longer helped.
I don't know where to look for the problem anymore. Any help would be much appreciated, and let me know if any more info is needed.
Edited by R4za, 06 March 2013 - 11:06 AM.