Hello,
For a while ow my computer has been crashing at least once a day, sometimes more. It seems to happen randomly no matter what program I am using. I use Chrome and I have noticed that certain pages seem to crash often and give me the chrome error page. I don;t use this computer for much beyond word processing, internet browsing, and video games (League of Legends, mostly). In LoL I am crashing pretty often, sometimes with a Bugsplat message, sometimes just straight to desktop with no message.
Here's a screenshot of the event viewer for the crash: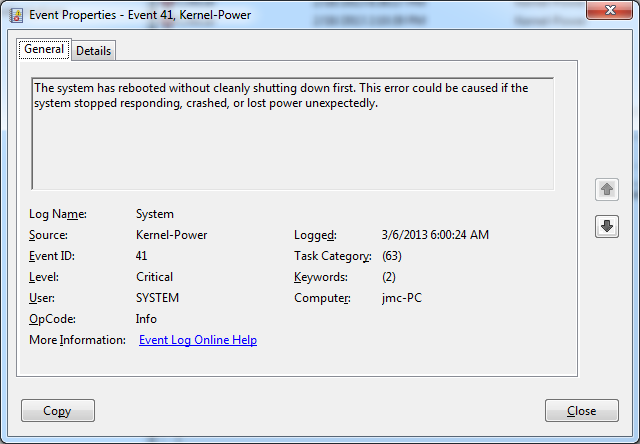 I thought it was a memory problem so I ran Memtest86 for a couple of hours and didn't get any errors. Mainly I am trying to find out if there's anything that could give me a hint as to which piece of hardware is failing. I'm guessing it might be video card memory or something wit the motherboard, but I have no idea really.
I also generated a dxdiag file and can post that if it would be helpful.
Thanks in advance for any help.