For about a week or so now my wifi signal randomly turns itself off and takes 5 minutes to turn itself on again. Once during that time, by pure coincidence -if I recall correctly MSE icon was orange and I did the weekly manual scan to get it back to green-, opened Microsoft Security Essentials and noticed there had been THREE items found and put to quarantine all at the same time, the exact same time the wifi signal turned itself off. It has happened again twice before starting this topic.
Here's a printscreen of the last time it happened (an hour prior to the start of this post), it's in Portuguese but I'm assuming the language is the only thing that changes when it comes to MSE and the virus' names are the same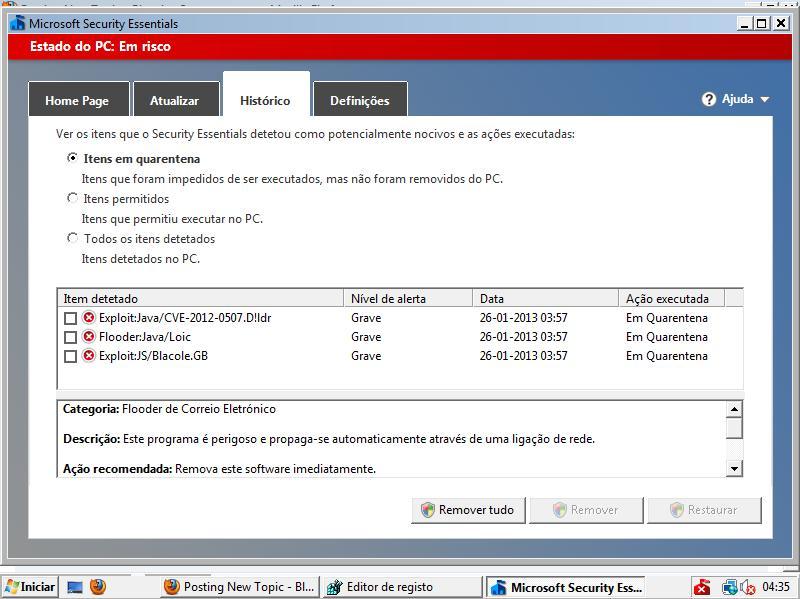 The names of the viruses in the image above are:
Exploit:JAVA/CVE-2012-0507.D!ldr
Flooder:Java/Loic
Exploit:JS/Blacole.GB
I had heard of the exploit virus coming from JAVA so on Monday (Jan 21st) I uninstalled it, thinking the problem would disappear. I then searched on google how to safely remove such files and the indications were vague so I couldn't do it by myself in fear I would compromise and potentially ruin the PC.
I would attach a log right away if I had found such instructions to do so. Since I didn't I will wait until I get a reply with further instructions.
Thank you in advance.
EDIT: As I wrote this post, Microsoft Security Essentials detected the same three threats at 04:37.
EDIT2: To start this post I was running the PC on safe mode with networking, after I finished it I restarted the PC in normal mode and now the MSE quarantines the three threats every minute but it doesn't turn off the Wifi -for now anyway-. I'm not sure if this information is relevant but I thought I'd include it just in case. Should I run the Pc always in safe mode until the problem is resolved? Or just keep it off? Thanks again.
Edited by kathpt, 26 January 2013 - 12:32 AM.