Hi all, hopefully you can help. I have an interesting issue I haven't been able to figure out. I have an Airlink 101 AR675W router with the latest firmware installed which is connected my leased cable modem. There is a variety of devices using the network here including an iPad, two Android phones, an HP netbook, an HP printer, an HP laptop, a PS3, etc. Of all these devices, only the PS3 is hard wired to the router, the rest all use Wifi. Only the HP laptop has issues, and I can't sort it out.
The laptop with the issue is less than 6 months old (HP DV6, Win7 64 bit, i7 2.3 GHz, 8 GB) , shows link speed to the router of ~240-300 mbps, but web page loading, downloads, etc are intermittently slow. When it's "acting up", speed test sites show ~1.5 mbps download, yet 3+ mbps upload still. When it's not "acting up", the same sites show 20+ mbps download with 3+ mbps upload. The interesting thing to me is that even when the laptop is running slow, ALL the other devices run normally and are plenty fast at 20+ mbps. Connecting directly with an ethernet cable gives proper speeds. I have also tried rebooting all devices (modem, router, laptop) with no change.
The drivers are all up to date on the laptop, the firmware on the router is up to date, etc. Restarting the laptop as a "clean boot" makes no difference for wireless speeds, nor does safe mode with networking. I have tried temporarily disabling all firewalls with no change also. There are no devices that I have been able to determine cause any kind of interference either, the router is sitting in the middle of the living room floor about 5 feet away for testing with no cables nearby, we have no cordless phones in the house (other than cell phones), no baby monitors, time of day and network traffic doesn't seem to be an issue (since other devices perform fine), etc. I have used channel analyzers to determine the best channel to avoid interference from neighboring wifi also. I just can't seem to pin down what is going on, and why it's so intermittent.
Any ideas would be great! Thanks in advance!
EDIT: Here is an example of what I'm talking about (same server even).
~8:00 PM on 12/14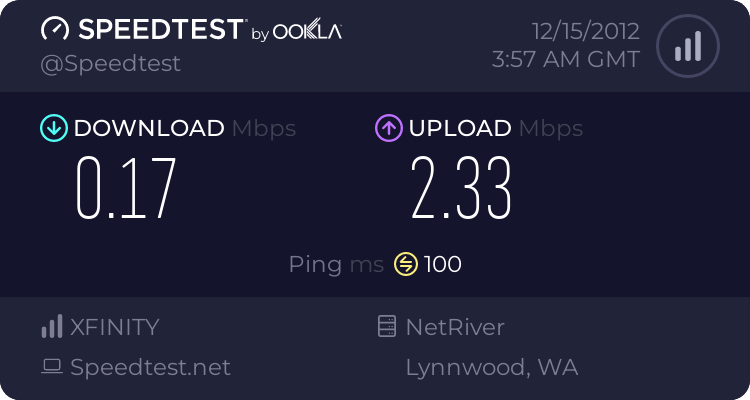 Versus
~8:30 PM on 12/6