Greetings,
(Running Win7 x64, Outlook 2007, MSE and a bunch more)
It seems that FAR too often, I hear my hard drive being accessed....to the point I'd call it thrashing. But, it's probably some setting I have set, and some program (Win7? Outlook? Win Backup?) is just doing what I told it to do...regardless, I want it to STOP! (lol?)
I am not having performance issues since my RAM, CPU, Disc and MoBo combo seems to be handling this repetitious task handily. Still, it just seems to be happening too much...like every 10 or 15 minutes for 5 minutes of munch munch munch munch...(I have not timed it - just guessing)
I opened up the Resource Monitor and see that the Disc area reports that under the Image column, either "System" OR "OUTLOOK.EXE" are the most active.
(I am unfamiliar with the meaning or significance of the "PID"s)
I have run chkdsk /f on both of my data drives ("D" and "R"), and have run Outlook's Inbox Repair Tool. (scanpst I think it's called)
I have right-clicked every folder in Outlook and disabled archiving everywhere I could find - and did the same thing from the main menu's Tools>Options>Other>Auto Archive area .....and even after saying "no" to archiving, several of my archive folders (names I created like "Archive 003") STILL seem to be busy per the Resource Monitor information.
This is driving me crazy - like the death by 1000 cuts, or the water drop torture. It almost seems almost like a Windows backup thing? I'm afraid I am losing my mind and plead for a methodical, step-by-step plan to discover what's happening, and, of course, the solution.
I have booted into Safe Mode while physically disconnected from the router. Waited a bit. Started Outlook (OL)...watched files become active within Resource Monitor. Wondered why the archive folders that I created some time ago (ex: Archive 003, 004, 005, etc) were displayed at all. Made adjustments to Resource Monitor so I could see stuff (with Safe Mode Giant fount). Then it started...munch munch munch munch munch.
Noticed at first about 8 "OUTLOOK" files running, then 4, then 10 or 15? -then more...
One of the most active is always D:\program Files\Outlook\Active Outlook Folders\Outlook.pst
Skipped over the Safe Mode with Networking test.
Re-started normally. All was calm. Started OL and several files appeared....4, then 8 (I think). Again I wonder why the "Archive 00X" folders I've made are active.
I believe there is a relationship between all the thrashing/extra activity and send/receive mail (<--set for every 10 minutes; executes when OL is started, too)
MANY entries go active after I hit send/receive (F9). Turned off Outlook's send/receive and all was quiet for a LONG time...maybe 15 minutes? Then, like the zombies...it came back: munch munch munch munch munch munch.
Indexing is turned off (no boxes checked) in Outlooks Search Options. I was hoping I could turn it off...but it's already off..........munch munch munch munch munch munch munch munch. Closed OL for some peace.
Ran Malwarebytes AntiMalware and it came up clean. I use MSE for real-time coverage.
Please see the attached images. I hope they can provide substantial clues.
Help!?!
TIA
drcarl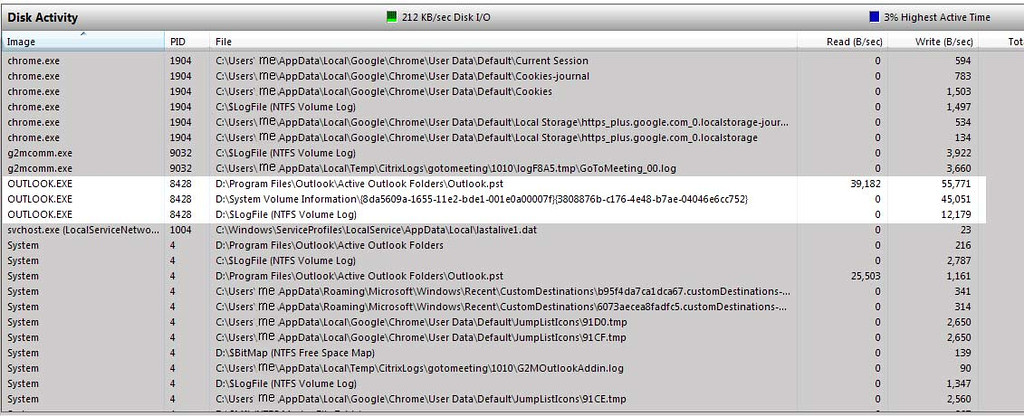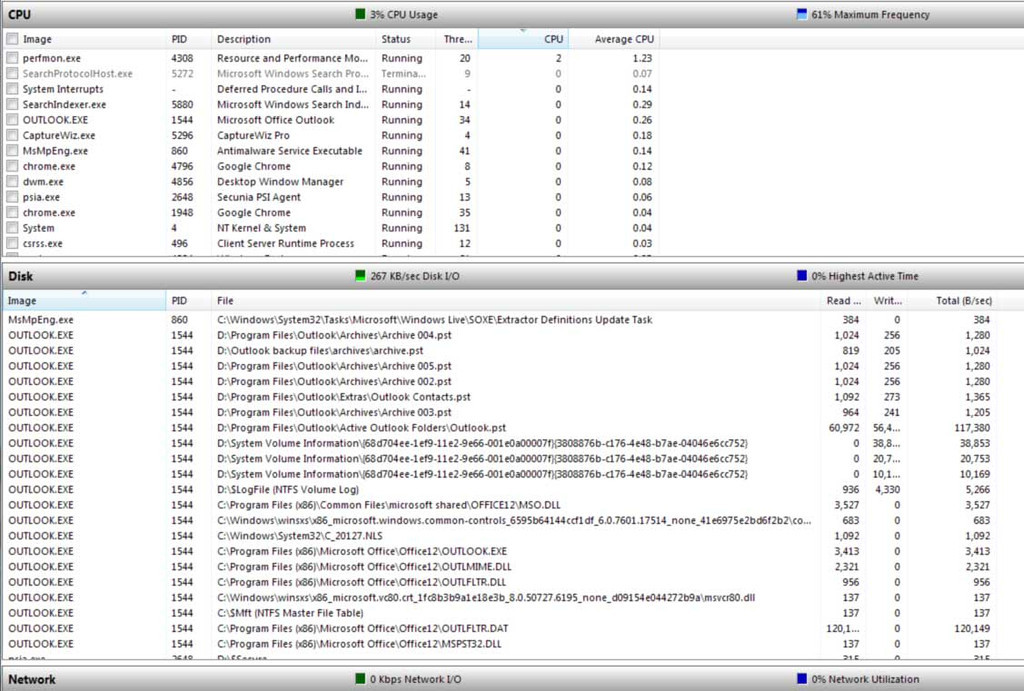 This is right after "send/receive" mail. Is this normal? I know the thrashing is not...
http://drcarl.smugmug.com/photos/i-C7Rq7fN/0/XL/i-C7Rq7fN-XL.png