I have been playing with storage spaces, which is a software raid solution that is built-in to windows. What I first thought to be a very interesting and useful feature has been shown to be a buggy nightmare. I am simply amazed that this made it into RTM in this state. If anything, the bugs should have been worked out and Storage Spaces released in the first service pack for Windows 8.
For an overview, Storage Spaces allows you to create Raid-0, Raid-1, Three way mirroring that requires 5 drives (Raid-6?), and Raid-5 software fault tolerance in Windows 8. There approach has some very strange and confusing flaws in my opinion.
1. When a drive becomes full, it takes the drive offline rather than just saying the drive is full when you try to use it. If you try to bring it online, it states that you need to add two more drives if its a mirror or another drive if its a simple volume (spanned) volume. What if you do not have any drives laying around or can't afford new ones?
You can get around this by simply changing the storage space to be larger than the actual physical space on the drives and then deleting some files in order to free up space. Why should we have to do this in the first place?
2. It allows you to create virtual drives that are larger than the actual physical space associated with the storage pool. Why add this extra confusion? If I have two 60 GB drives and want to mirror them, don't let me make a 1 TB mirror. It just doesn't make sense and leads to more confusion.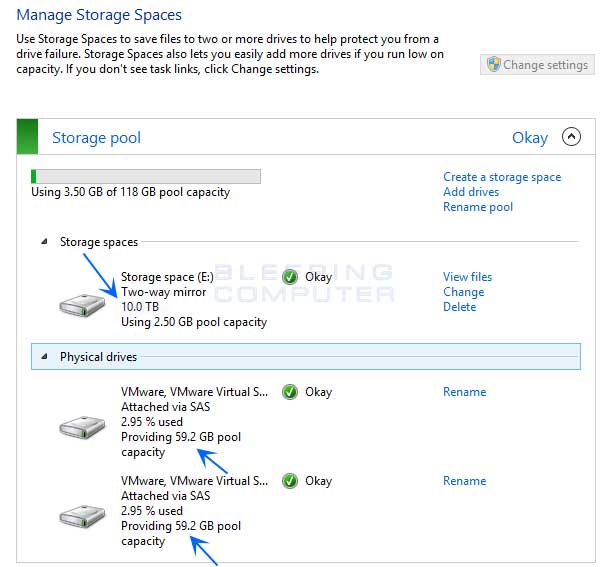 3. Why on earth do they allow you to make two different raid solutions with each having their own accessible drive letter when using the same storage pool?!?!?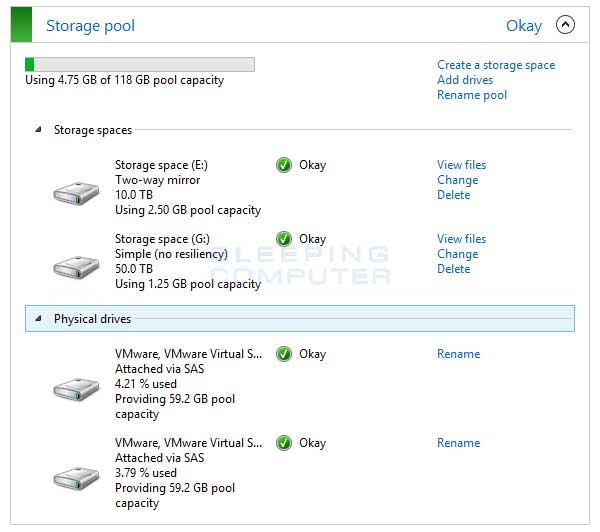 4. Reporting is not accurate. As shown in the picture below, my total storage pool is 8.5 GB, yet its showing full when I use 7.5 GB?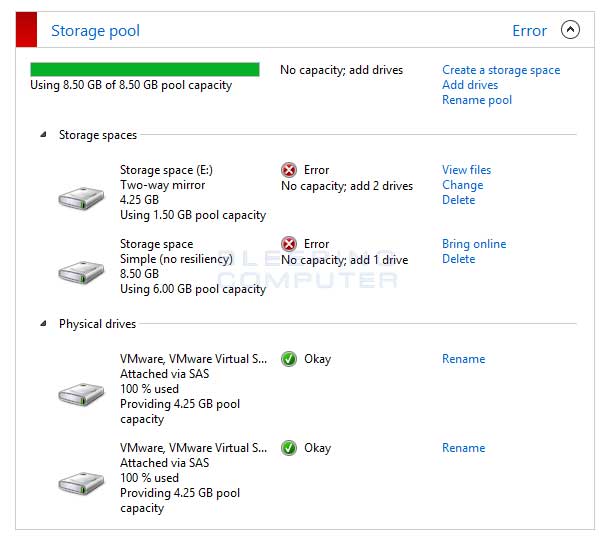 Overall, I am really disappointed in Storage Spaces and would not recommend it for anything critical at this point unless you are comfortable with dealing with these flaws.