I am trying to install BT5r3 in dual boot with windows 7 however they updated the installation wizard and there is not a single tutorial on the web that explains how to do this any more.
for starters this is how my drives are set up in windows 7
c:\ 561.71 gb, 51 gb free, NTFS where windows 7 and programs are installed
D:\ 14.63 gb, 1.83 gb free, NTFS recovery drive setup by HP
G:\ 97 mb, 87 mb free, FAT32 HP tools, has BIOS stuff in it ...not sure what the point is never touched it
H:\ 19.5 gb, 19.4gb free, NTFS I partitioned this in windows to put backtrack on ...if only it could be that simple
system tools 199 mb, 165mb free, NTFS I dont have a clue what this is! it is only visible in disk management and I can't explore it like the other partitions
in the old installer you got this
backtrack wiki image of installer
apparently the slide to select your partition tool was TOO SIMPLE AND EASY. now the wizard has changed
________________________________________________________________________________________________________________
/dev/sda1 windows 7 (loader)
/dev/sda2 windows vista (loader) see below
/dev/sda3
/dev/sda4 windows vista (loader) this is a refurb computer so I dont know it's whole history but I have found no evidence of another OS on it and if i was missing 36gigs i definitely would have known about it
that is what backtrack sees in step 4 I select specify partitions manually and move to the next step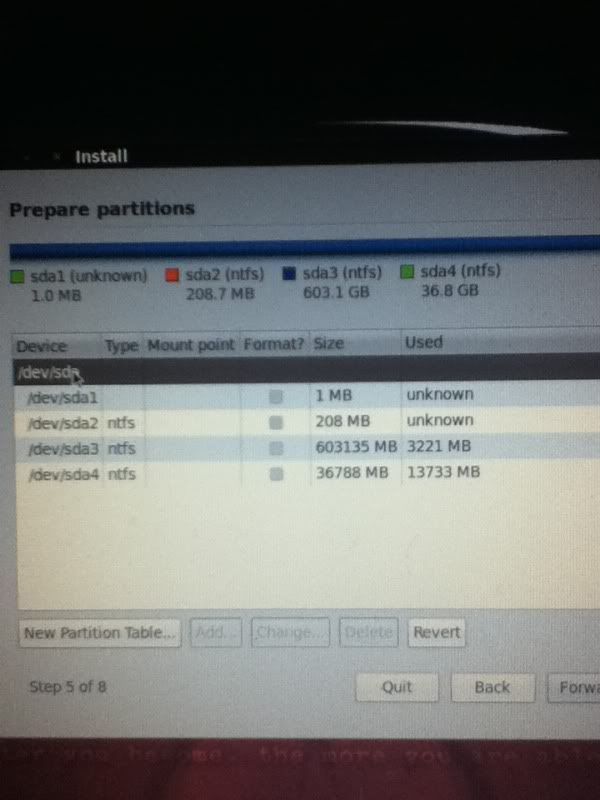 if I select /dev/sda I can use the new partition table and revert options
if i select any of the /dev/sdaX I can use the change,delete and revert options
at no time does the add option become available
I selected /dev/sda3 as that seems to be the majority of my HDD i selected change (definitely dont want to delete anything and i haven't done anything so i dont even want to know what revert is.
selecting change brings up a new window
the first field is new partition size in MB i enter 25600
the next field is use as with a drop down default selected is do not use the partition then it has listed
ext4 journaling file system, ext3 journaling file system, ext2 file system, ReiserFS journaling file system, JFS journaling file system, XFS Journaling file system, FAT16 file system, FAT32 file system, NTFS, and swap area
i selected NTFS as it's the only system im familiar with for large drives
next is a check box for format the partition i left unchecked
the last field is mount point with a drop down with the options /dos and /windows
if you select different file systems the last drop down has different options
this is where I decided not to poke around in the dark when my main operating system and all my data is on the line
can anyone provide me some insight on how to use this new PIAPOS installation wizard before i make a new fangled walltop computer because if i keep at this it's not going to be sitting on my desk for long its going to be thrown through a wall
and the backtrack team in all it's brilliance has gone back to previous versions and put this installer in I already tried to go back to bt5r2 and planned to use apt-get commands to upgrade the distro but ran into the same wizard. IDK how far back they went but I decided to stop wasting DVDs
i have read the back track wiki and read or watched over 30 tutorials/walkthroughs/ guides and I have only found one that uses this type of installer and it did not help me but he said
"That should get you to this window, where all existing partitions on the target hard drive should be listed. The system used for this tutorial had an existing installation of a Linux distribution on it, but I will be deleting the partitions, freeing up all available space."
so that still doesn't help me here is the link if you wanted the full article he also does his partitions EXTREMELY strange i dont understand this at all
from linuxbsdos.com
I am trying install the bt5r3 64bit GNOME version if anyone has an old ISO with the older easy type of installer they could send me that would be great too at this point I DONT CARE any version of bt5, 32 bit or 64, KDE or GNOME if i can end this 3 day headache its more then welcomed onto my system
HP Pavillion DV7 6000 series
AMD 3400m 64 bit proccessor
6 gigs ram
700 gig HDD
windows 7 64 bit home premium
I am a new user to linux and plan to triple boot with ubuntu or mint as well for my real learning for now im relying off google so if it comes down to using linux to get this installed right treat me as a noobie