In this post I would like to present three Win7 Pro configuration features I believe indicate a complex system compromise. I could write several pages of observations which begin about six months ago when my integrated laptop cam light began to come on by itself. I strongly suspect the compromise includes a back door as I have observed the configuration changes are dynamic, active, and responsive to my efforts at mitigation and forensic analysis. I will provide as much background detail as needed but the course the malware and its operator(s) take changes and has continually improved and adapted becoming less and less detectable with each operating system reinstall. I've reinstalled and reconfigured windows 7 upwards of 15 or so times. Since disconnecting my integrated cam there seems to be much less interest (at least the changes made are less noticable and less aggressive). I've had a very stable and function OS with this build but I do not believe any of my efforts have had much effect on the overall infection.
The three features I'd like to present are relatively static compared to other changes I've seen. These are the same each time. There is probably much much more but I'm not a tech and don't know what I'm doing when it comes to this kind of thing. I just keep trying to wipe, reformat, and reinstall the OS. The first issue I present is a partition I have that I can not remove. I've tried Hiren's Boot Rescue CD and Darik's Boot and Nuke and wiped, zeroed, low level formatted, and written to the hard drive in an effort to clear the 100 MB partition shown below. All to no avial. It survives everything. It starts a fresh install with around 25MB and has increased to its present volume over the past four days. Here is what I show:

Secondly, on the root of every drive I have a file called "$RECYCLE.BIN" that is installed. If I plug in removeable media it also gets an "empty" folder of the same name. Its a non-hidden folder which is installed at the root at every drive or removable media I connect to my pc.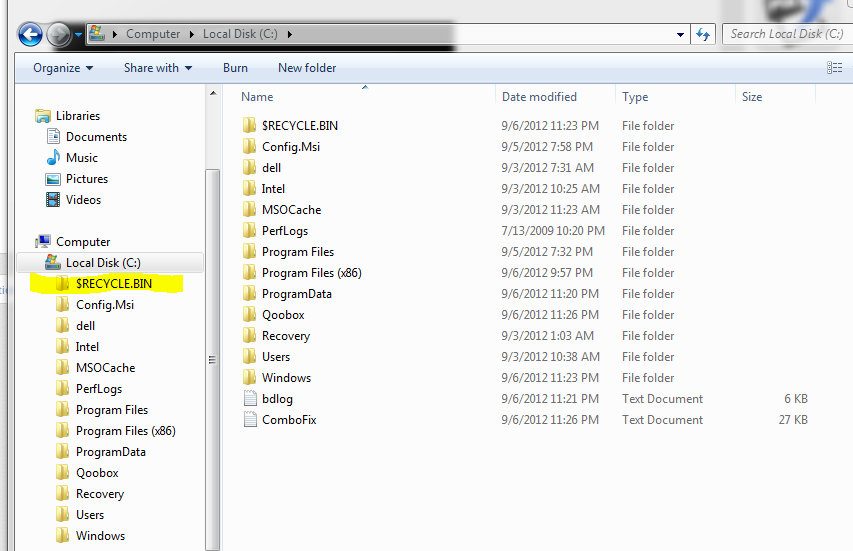 Third: I have upwards of 30 locked registry keys. Two are HKEY_USERS that have a windows live mail "progid" and the other 30 or so are all HKEY_LOCAL_MACHINE\Software keys.
Taken just these three facts I'm very curious for opinions and any advice on how I should proceed to invesigate this further and provide more useful information that could help to identify and resolve this. Thank you for reading.
/HP
Edited by Honorable Patches, 07 September 2012 - 12:37 AM.