Been having some issues with my PC for the past few months now, and even after all of this time I have no idea what is wrong. Basically, my PC randomly restarts, or at least tries to. I will be doing something, my monitor will go black and I will hear my tower fans crank up like it does when starting. Sometimes it loads, sometimes it doesn't. If it doesn't I just turn it off for 10 seconds, then it usually loads fine.
At first, I was hoping it was a software issue. My hard drive needed to be replaced anyways, so I upgraded that and did a fresh install of Windows 7. This did nothing. It seems like it is a hardware issue, but what is causing it... I am completely loss on.
There is no real rhyme or reason as to why it reboots. Last night I went to turn it on, and within 5 minutes it rebooted. 5-10 minutes after that again. After the second reboot I was able to play a game with no issues for 2 hours. Lately it has been doing it more while I am gaming, but I have had it happen when I was surfing the web, or even left the computer idle.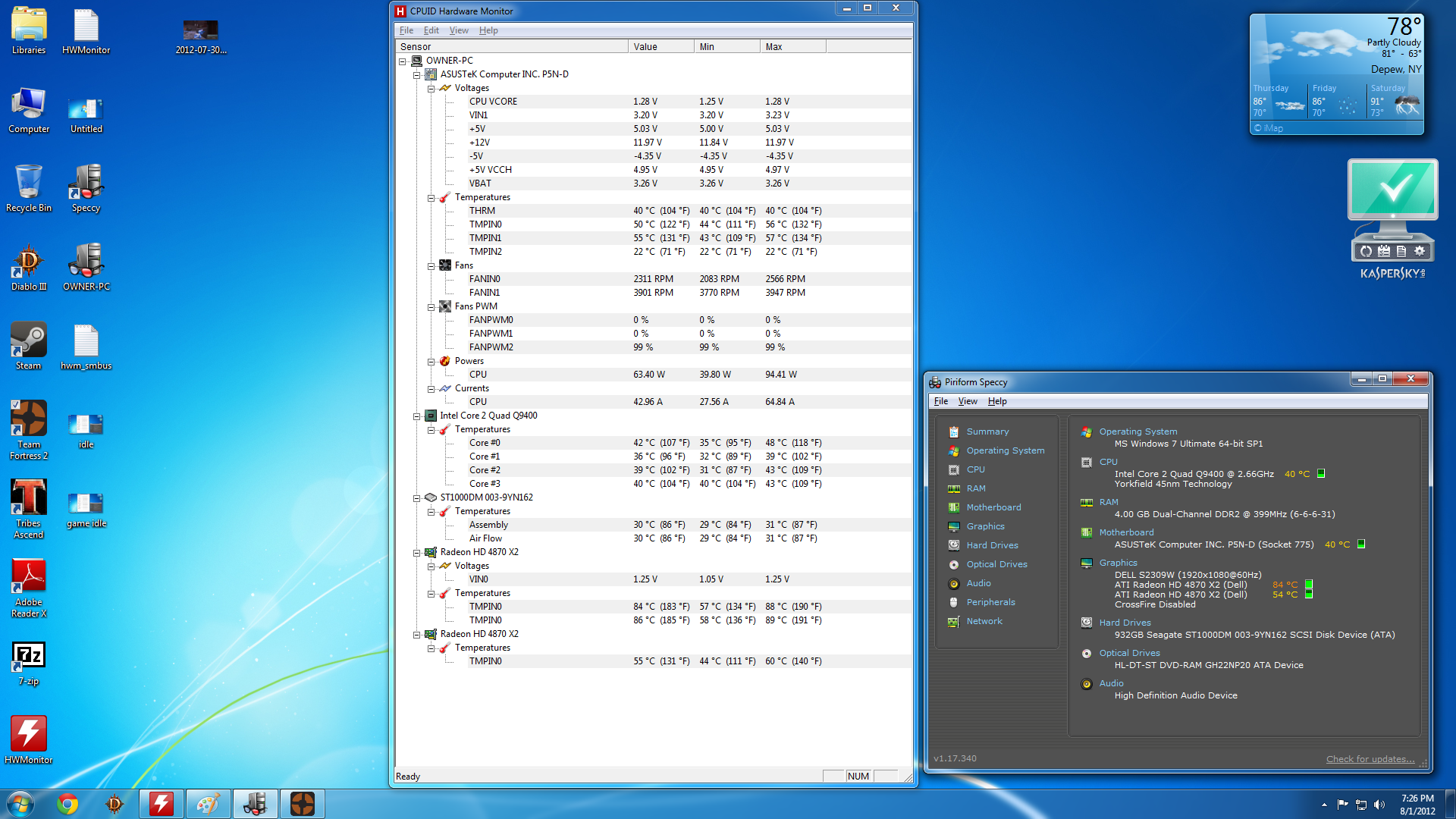 This is after an hour of gaming. Most of my parts can be seen in that screen. My GPU looks slightly high, but it seems like that is normal for the X2s. Last night's first crash was as I loaded a map for TF2. I checked my temp on the GPU right before and it was at 75, so I don't think overheating is a problem. I also did BSOD on that crash, and got the error seen in the second picture. This is the first time I've seen this. IF I get a BSOD, it usually does not specify an error. I do have the computer to NOT automatically restart upon failure, but its almost as if it is not even recognizing that it is failing, and I get no BSOD.
After some googling it looks like that error may be in relation to my video card, but there are also people saying that replacing the card did not work.
I really am lost. I can't figure out what is causing it and repeat it. I left it on two days, watched a 4 hour video, played games without having issues but there are the random times where I can't do anything. Looking for any tips or suggestions. I am thinking it is my PSU or video card, but I guess it really could be anything. PSU is a 750 watt so the power should be enough. Everything is about 3 years old on the system except the hard drive now.