I'm assisting my daughter via remote connection. Her desktop is using 64-bit Windows 7 Home version running McAfee "Security As A Service" & Windows Firewall. All browsing done via IE9 and confirmed no updates are available via Windows.

Problem: At random times she's unable to access www.facebook.com and gets a connection error but when that occurs, can still access via m.facebook.com. Other websites such as google.com, cnn.com, and a few others experienced no service interruption. During the facebook problems her laptop would still browse correctly. So home router should be clear.

Efforts to date: I've run the following scans in this order, McAfee(disabled when using other scanners), SuperAntiSpyWare, MalwareBytes(only result was cookies), Microsoft Security Essentials, Kaspersky, HiJackThis, Windows Defender. All were updated to latest version before scanning. In addition I ran a browser check using https://browsercheck.qualys.com/?scan_type=js (results had Flash & Java already up to date); attempted to use http://secunia.com/vulnerability_scanning/online/ "Online Software Inspector" but the java applet wouldn't function correctly so the scan wouldn't start(verified java operation at their support website). I also reviewed the browser security settings, the original setting was to "Medium" but later I adjusted any enabled ActiveX controls to "prompt". This was in the attempt to stop an unauthorized control from starting and perhaps giving me a clue where the problem may lie. At this time I've undone the security custom settings by resetting to "Medium" and restarting the browser. There are no uncommented entries in the hosts file and it appears to only contain the default entries. At various points the computer has been rebooted.

I have limited experience with the fancier tools(MalwareBytes/HiJackThis) but to my untrained eye nothing conclusive appeared in either scan. Results are posted below.

During the problems I was able to capture some ping & traceroute info to compare against times the facebook page did work. Results posted below scanner tool results. Now these were a smidge interesting but I wasn't exactly sure what they were telling me.

Last part, I may have inadvertently created a problem but can't correct it yet. All websites work with the exception of facebook but before the website wouldn't connect now it gives me the following error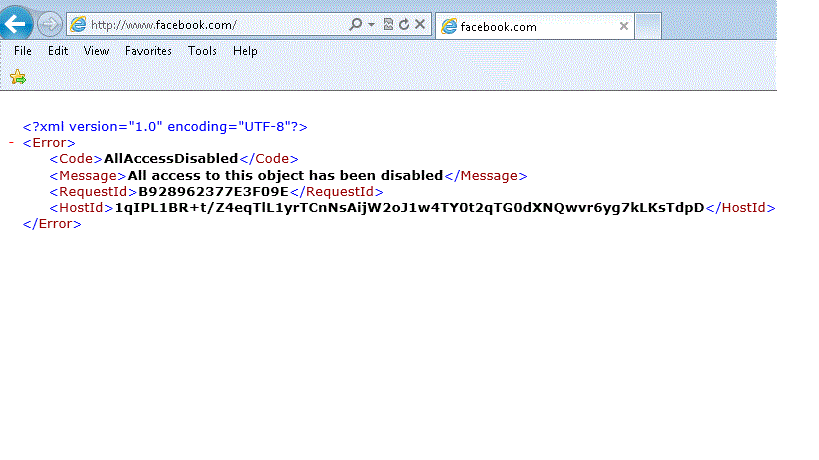 . I list it because when facebook doesn't work this is the error I get now but it's still a random occurrence. After the newest error I installed Chrome(which was able to surf facebook).

Long post, but I'm guessing the problem is ultimately with IE. My thanks in advance.
Edited by properrogue, 17 June 2012 - 02:48 PM.