ComboFix still won't run. It's behaviour has not changed. I downloaded it again, right clicking and just typing jibberish for the file name when I save it from BleepingComputer.com. Even though it says the folder is not located where it's expected to be, the folder is created but it seems to be some sort of copy of my computer which can result in an infinite loop of entering my computer, going to c:\, going to the combofix folder, which acts like my computer.

You can even right click and manage this folder. I'm not sure if this is normal behaviour for ComboFix.
It's not.
Delete your current copy of ComboFix .
Download a fresh copy as per the following instructions. DO NOT RUN IT just now.
Download
ComboFix
from any of the links below but rename it to
Wrinkled.exe
before
saving it to your desktop. <- Important.
Link 1
Link 2
==================================
Disable your Anti-Virus and Anti-Spyware applications, usually via a right click on the System Tray icon. They may otherwise interfere with our tools

Double click on the renamed ComboFix.exe & follow the prompts.

As part of it's process, ComboFix will check to see if the Microsoft Windows Recovery Console is installed. With malware infections being as they are today, it's strongly recommended to have this pre-installed on your machine before doing any malware removal. It will allow you to boot up into a special recovery/repair mode that will allow us to more easily help you should your computer have a problem after an attempted removal of malware.

Follow the prompts to allow ComboFix to download and install the Microsoft Windows Recovery Console, and when prompted, agree to the End-User License Agreement to install the Microsoft Windows Recovery Console.
**Please note: If the Microsoft Windows Recovery Console is already installed, ComboFix will continue it's malware removal procedures.

Once the Microsoft Windows Recovery Console is installed using ComboFix, you should see the following message: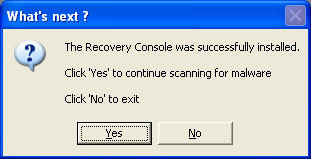 Click on Yes, to continue scanning for malware.
When finished, it shall produce a log for you. Please include the
C:\ComboFix.txt
in your next reply.
Note: If you have difficulty properly disabling your protection programs, refer to this link -->
http://www.bleepingcomputer.com/forums/topic114351.html
Do not mouse click combofix's window while it's running. That may cause it to stall
====
Follow the following instructions to disable AVG completely.
http://forums.avg.com/ww-en/avg-forums?sec=thread&act=show&id=94159
===
When completed run the ComboFix.exe (Wrinkled.exe)
Can you now run it to completion and post a log?