so, this started happening maybe 2 months ago, I don;t remember if I did something different or if it spontaneously happened. But anyways, when I'm on google's homepage, and I start to type in the search bar, once I've typed a couple words an odd pop-up window shows up asking me to save a file (refer to the attached pic). On top of this, it will open up multiple windows showing the same pop up. I'm not certain but it may open one window per word typed. It doesn't happen every time either (of course..). but maybe you guys can help.
Browser: Firefox v.10.0.2
OS: Windows 7 Professional x64
Laptop: Toshiba Satellite L670 Customized
Mfg part#: PSK3AU-055014
RAM: 8GB Dual-Channel DDR3
CPU: Intel i5 CPU M460@2.53GHz
Motherboard: Toshiba NALAA (CPU)
Storage: 488GB Toshiba MK5065GSX
Video Card: Intel HD Graphics (Integrated)
Sound Card: Intel Display Audio
Firewall: Windows Firewall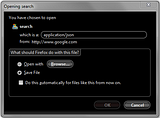 Edited by k.campbell, 16 February 2012 - 11:55 PM.