I have an HP Pavillion DV9000 Laptop. About a year ago, the motherboard went bad on it... apparently this is common for the DV9000 series. The computer fix-it guys replaced the motherboard with a newer motherboard (chipset??) and were able to salvage my computer.
About a week ago, my computer was slowing down drastically and I got a feeling a crash was imminent. I backed up all my files and sure enough, a few days later it wouldn't start up. So I freshly installed a copy of Win XP I got from a friend (I lost all of my reinstall discs). Now the computer is mostly up and running great, but:
Many of the drivers for various things on the computer seem to be missing, like the graphics card driver, the built in wifi/ethernet, etc. I am able to access the internet now because I bought a USB wifi dongle earlier today. Here's a snapshot of my device manager: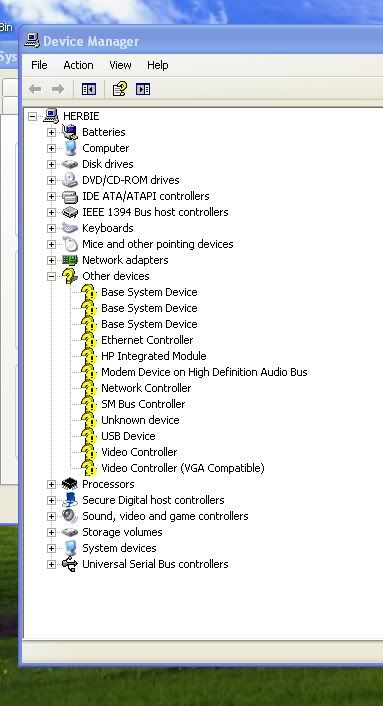 I already went through all the items with a '?' in the device manager and tried clicking on "Reinstall Driver" and having windows update search the internet for a driver to no avail.
I also checked the HP website for driver updates but none seem to recognize anything in my computer, though I only searched for DV9000 drivers (I don't know if I have an updated motherboard now, I assume I do). Your help is greatly appreciated.
Edited by hamluis, 19 January 2012 - 07:49 PM.
Moved from XP to Internal Hardware.