I have three problem that come up every time I start my computer, take a look on this screenshot...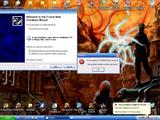 1. SCSI/RAID Host Controller
I have no idea what this is about or what to do with it, I click on "next" to search but found nothing.
2. RUNDLL
What is this? What can I do with it?
3. Automatic Update
I know what to do with this but thing is, it won't work, I mean, I click on Control Panel to check on automatic update and it already on "automatic (recommended)" Everyday at 3pm...it just won't update at all?
Really need some help about this, because this start doing my head in. Thank for taking your time reading and trying to help.
Ps. Some may had already ask before, so, sorry for repeat it again.