Since programming is probably my favorite computer topic, and the fact this section really lacks (judging on what i have seen so forgive me if i have missed a lot since not joined that long) is any really conversational topics. So my question is what are you currently writing? Why? And what language.
I personally first opened an IDE up in 97 (vb6) and started messing around with connecting to MSN chat rooms. Such a shame closed now
Had such fond memories so decided to take GUI parts from my favorite MSN chat client, and mix them with the MSN theme to start creating an IRC client. In the few months i have been working on my client i have learned a great deal. Firstly learning the IRC protocol is a 100% must. Connecting via a TCP client takes minutes of learning. Then what? if you do not know IRC then how do you expect to send commands? Get information? Authenticate? It is these little things new programmers forget that make writing a client so hard.
After studying the protocol(as much as one needs at a time) It has been nothing but easy programming. The best thing i have learn't when writing my client that it's 80% string building. Once you have the outputted response it's a simple case of splitting and rebuilding the string. The rest of an IRC clients features are nothing but face value and can only be limited to the programmers imagination and knowledge of said language. Nothing to do with IRC.
Any way enough rambling. here are a few screen pic's (the client is likely around 3% finished since the possibilities are limitless.)
Application: IRC Client VS Msn Chat
Why: Fond memories
Language: VB.NET
Spectate (IRC Mode +m) is on and -v users cannot speak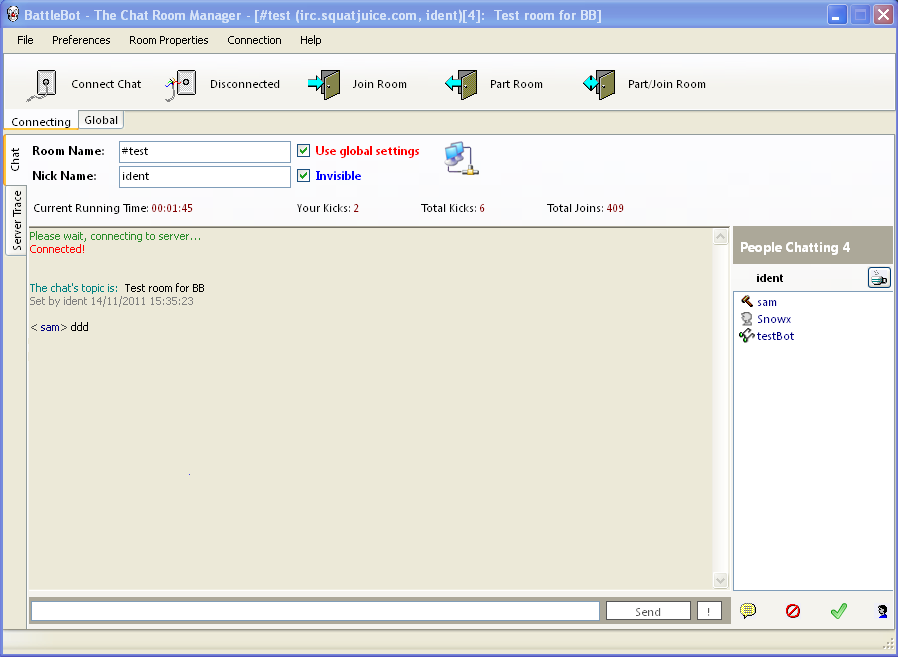 Edited by ident, 17 November 2011 - 03:42 PM.