Hi,
I'm new around here. Your site was highly recommended by a Google search so I thought I'd check it out.
Here's my problem; Halloween night, or rather the morning after, when I booted my computer, I noted that my network access had been shut down and there seemed to be an inordinate amount of hard drive activity. I suspected a virus so I ran all the scans I could (Avast!, Malwarebytes, Spybot, Super AntiSpyware & a few others) but none found anything. Not knowing what to do next, I did a System Restore to a week before the trouble started. This seemed to clear everything or at least buy me some time until the next deploy date (Oct. 31st 2012?). I have a 2nd and 3rd machine (video editing setup and a laptop) on a WiFi so I thought I'd better check them. Sure enough, the same symptoms appeared on the editing machine but not on the laptop. (did a System Restore on the edit machine)
Note: the 1st machine runs Vista Home premium, the edit machine & laptop run Windows 7, if that has any bearing.
Three days ago, this showed up on the 1st machine's desktop (the other machines are fine):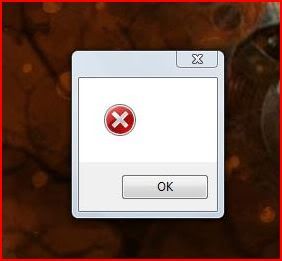 I can 'X' (close) the window or click 'OK' (it closes) and doesn't appear to be doing any harm except annoying me.
I Googled 'white X in red circle' and came up with a bunch of hits referring to the Ultra Antivirus 2009 but it has a different behaviour (shows up in Task Bar, reports infections & nags to buy their software, etc.)
Any ideas about what it is or what to do about it would be much appreciated.