Hi y'all.
I bought an Acer Aspire 5100 off of ebay for parts for my other Acer laptop. However I didn't know the laptop I was buying on ebay would be in such great condition so I want to see if I can revive it. As I said before I bought it, so I am not the previous owner and do not know what kind of problems might have caused this to happen, but was hoping you guys can help me out.
Okay so every time I power up the laptop after the BIOS screen I get this error:
For Realtek RTL8139(X)/8130/810X PCI Fast Ethernet Controller v2.13 (020326)
PXE-E61: Media test failure, check cable
PXE-M0F: Exiting PXE ROM.
This just keeps cycling over and over and never boots.
I have tried going into the BIOS Setup to check the boot order, but when I press (F2) like it asks me to nothing happens. No matter when I press it or how many times I press it I cannot get into the BIOS Setup.
I tried clearing the CMOS by using the Motherboard Jumper on the laptop labeled (J2) and I get this: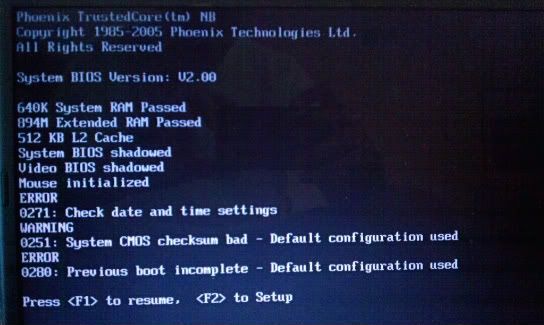 I try pressing [F1] and [F2] and once again nothing happens. I thought it might be the keyboard so I removed it and replaced it with my other Acer Aspire 5100 keyboard and it still doesn't work
So what can possibly be causing this and how can I go about testing it.
Thank you.
=========================
Here are my system specs:
ACER ASPIRE 5100 LAPTOP
AMD Turion 64
ATI Raedon Xpress 1100
RAM 1GB
Operating System Unknown, Most likely Windows XP