These tips and tricks are currently being used with the
Windows 8 Developer Preview build
.
How to Disable the Windows 8 Metro User Interface and get the normal Windows Start Menu back
:
Start the Windows Registry Editor by starting the Windows Task Manager. Once the Task Manager is open, click on
File
, then
Run
, and type
regedit
and press the
OK
button. The Windows Registry editor will open and you should navigate to this key:
hkey_current_user\software\microsoft\windows\currentversion\explorer
Under that key you should see a value labeled
RPEnabled
. Change this value's data from
1
to
0
. You should now have the normal desktop with the normal Windows Start Menu.
To enable the Metro User Inteface, simply reverse the change by setting RPEnabled to 1.
Credits to: Union_Thug and herg62123
How to shutdown or restart Windows 8
:
Hover your mouse button over the lower left corner of your screen. This will bring up the new pseudo Windows 8 Start Menu. Select
Settings
and when the settings screen appears, you can click on the
Power
button to Shutdown or Restart the computer.
This screen is shown below: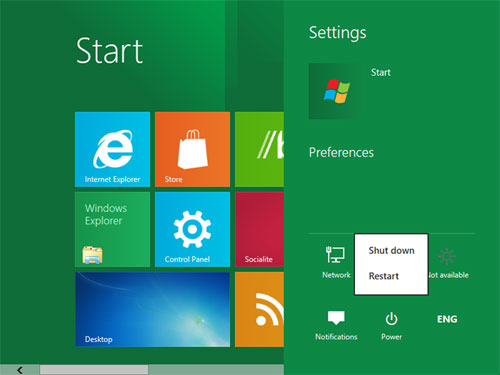 I can't run the Windows 8 Metro UI apps! Here is how to fix it
:
In order to run the Metro UI apps you must be at a resolution that is natively offered by Windows 8. That means it must be a resolution that is offered in the Screen Resolution of the Windows 8 Control Panel. As many people are testing Windows 8 through a virtual machine product such as VMWare 8, we may have adjusted the screen resolution to one that is not normally supported or offered by Windows 8. Once you do that, you will no longer be able to access the Metro UI apps. Instead when you click them, nothing will launch.
To fix this issue, simply go to the desktop, right-click on the empty desktop and select
Screen Resolution
. This will bring up the Screen Resolution Control Panel where you can change your Windows 8 resolution to a standard format recognized by the operating system. Once this is done you will then be able to launch all of the normal Metro UI apps. One note, though, is that when you select your resolution it must be 1024x768 or greater or the apps won't work.
Create a Start Menu Toolbar on the Taskbar in Windows 8
Create an Instant Shut Down Computer desktop shortcut