I've just got an unknown malware on my Windows 7 laptop - have spent the past few hours trying to remove it to no avail. Have used Malwarebytes' Anti-Malware and SuperAntiSpyware (used them in safe mode - haven't tried them in normal mode) which removed some trojans and cookies but this malware is still continuing so I'm assuming they didn't detect it.
It runs through little notifications appearing at the bottom right saying that my computer is unprotected and that personal data could be at risk.
It also seems to hijack different programs to deliver me pop-up notices - it's using the icon for my Dell webcam software for its pop-up notices. See image at the bottom of the post for what I mean by this. The text on the pop-ups is as follows:
'Internal conflict alert! Internal software conflict detected! Some application tries to get access to system kernel (such behavior is typical to Spyware/Malware). It may cause crash of your computer.'
Kind of seems similar to one of the ANG Antivirus malwares but not the same and my computer hasn't detected ANG when I've searched for it. Granted I might not have searched hard enough or it might be under a different name.
Both Windows Defender and Avast (free version) have been disabled, I think by the malware, they won't run even when I click the run button (Avast ignores the click, WD says there's an error).
The weird thing is that it isn't trying to get me to buy anything and when I click the notifications it doesn't open a webpage or anything. (Yet.) But it's really driving me crazy with frequent pop-ups and the worry of what it might do next, please someone help!?
I have HijackThis, and it lets me do the scan but for some reason won't save a log file (it says my system denies access to the Hosts file, I don't know how to fix this). If anyone could help me get a HijackThis log file in order to help get rid of the malware this would also be very helpful.
Thanks.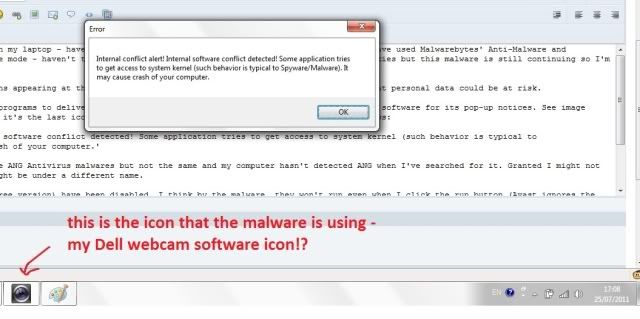 Edited by frustrated11, 25 July 2011 - 11:27 AM.